October is already knocking on the door, and 2019 is starting to feel like a wrap. But premium airline passengers—and just about anyone who wishes to splurge for a bit of comfort—can look forward an exciting line-up of new airport lounges scheduled to land just in time for the holiday season.
Here's the lowdown on eight global lounges, which, despite routine construction delays, are very likely to open their doors in 2019.
Club Aspire, London Gatwick South (LGW)
The lounge scene at London Gatwick airport South Terminal is continuing to evolve, with a complete portfolio of facilities ranging from casual to posh.
On the lower-end of the spectrum, the recent My Lounge caters to a young, casual crowd with an open deck and a game room. For a more discerning clientele, Clubrooms offers a-la-carte dining and restaurant-style service.
Both clubs are operated by the dominant local operator, No. 1 Traveller. Competitor Swissport—an airport services heavyweight—is responding with the imminent opening of Club Aspire.
The new Club Aspire at London Gatwick South Terminal will complement the Club Aspire located in the North Terminal, and welcome all passengers on a pay-in basis, regardless of airline or class of service. The operator accepts online bookings as of September 30th.
Developed in partnership with Airport Dimensions (formerly known as Airport Lounge Development), Club Aspire feature power outlets aplenty, a hearty English breakfast buffet, hot entrees, light snacks, salads, and refreshments throughout the day.
A generous complimentary selection of alcoholic drinks will be available, including the exclusive SPEY Tenné single malt whisky. According to Swissport, "With a sweet, warm honey taste, and an elegant yet balanced chocolate and vanilla aftertaste, the SPEY Tenné is much sought after and widely regarded and loved amongst whisky lovers."
Qantas First Class Lounge Singapore (SIN)
There's much to love about the Qantas Singapore Lounge. With a dining experience curated by Neil Perry, a full cocktail bar, and exclusive services for Platinum One Qantas Frequent Flyers including shirt pressing and shoe shining, the club was designed to impress.
But it is chronically crowded. The facility was never planned for what has become Qantas' second largest hub, with two A380s making a stopover everyday between Australia and Europe. The airline routinely has to turn away Club members and Gold passengers in economy, sending them to the less glamorous SATS Premier Lounge.
Qantas is responding, and in no small manner. In August, the carrier expanded the club so it can accommodate a whopping 570 guests. But the real treat will be the opening of a separate First Class lounge in November, which will the Qantas' fifth First Lounge worldwide, alongside Sydney, Melbourne, Auckland, and Los Angeles.
Located near the D gates (a 5-minute walk from the business lounge which is near the C gates), the Qantas First Lounge will boast an open kitchen, a-la-carte dining with western and Asian specialties, two cocktail bars, and shower suites with LED mood lighting.
The club will host 240 customers: an enormous capacity considering the small footprint of First Class cabins, but in virtue of oneworld rules, Emerald members traveling on any oneworld flight, even when flying in economy, will have access. This includes British Airways passengers on BA 12, BA 15, and BA 16.
The Centurion Lounge and Escape Lounge Phoenix (PHX)
Announced with fanfare in June 2019, the new partnership between American Express and MAG USA—the company that runs nine Escape Lounges in the US—will give rise to two new clubs at Phoenix airport Terminal 4. Both are scheduled to open in November 2019.
The Centurion Lounge concept, exclusively for American Express Platinum and Centurion Card holders, promises to be a convivial and elegantly-appointed space with large windows overlooking the tarmac.
The decor will draw from the design of the nine Centurion Lounges in operation in the US, with warm tones, high-end furniture, natural wood tables, dramatic light fixtures, cube chairs, and American Express memorabilia.
Amenities will include power outlets, fast Wi-Fi, newspapers and magazines, a printer, and shower suites.
Just across the Centurion Lounge, the Escape Lounge at Phoenix Sky Harbor International airport will invite guests to a casually elegant retreat. The two clubs will share an entrance, but the latter will be far less exclusive, with access for all passengers on a pay-in basis.
While the decor of the Escape Lounge will be more casual and less elaborate than the design of the Centurion Lounge, the amenities promise to be similar. Like the Centurion Lounge, the Escape Lounge will be outfitted with power outlets at every seat, high-speed Wi-Fi, newspapers and magazines, business amenities, and showers. In addition, families will find a selection of games for kids, and solo travelers will be able to borrow noise cancelling Bose headphones.
United Club and Delta Sky Club New Orleans (MSY)
A new terminal is emerging at New Orleans airport. It's fashionably late. Construction on the 972,000 square-foot, 35-gate facility began in January 2016, with a scheduled opening in May 2018. Fast-forward through a few mishaps and millions of dollars, and we're now officially looking at a grand opening in the fall 2019.
Assuming the date holds, United and Delta have both announced new lounges in the new, state-of-the-art terminal. For Delta, the move will mark an improvement over the current SkyClub in the current terminal. Guests will enjoy more modern surroundings, and we expect a more substantial food selection.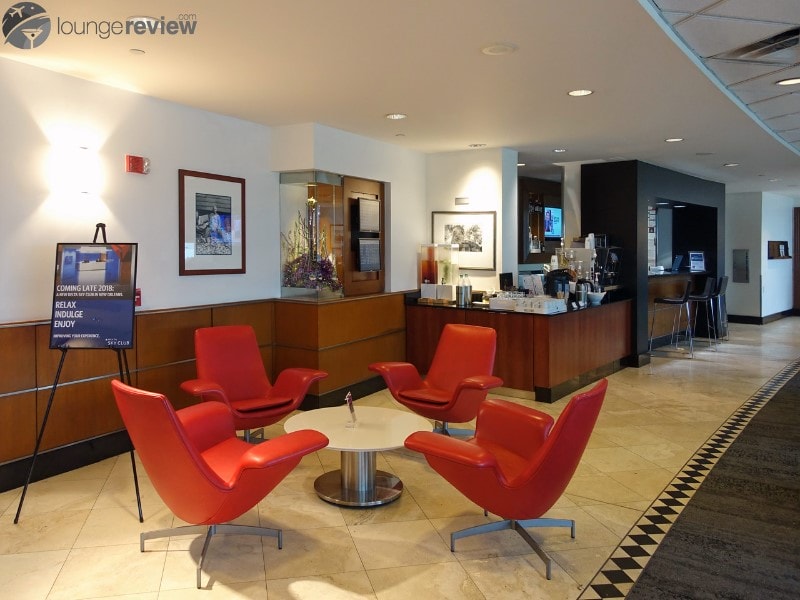 For United, the new United Club at MSY will mark the second time this year that the airline adds a new airport location to its United Club network in 15 years, on the heels of the opening of the United Club at Raleigh-Durham airport a few weeks ago.
Turkish Airlines Lounge, Miami (MIA)
Nothing makes us salivate more than the arrival of a new Turkish Airlines Lounge. Turkey's flag carrier has earned a reputation for elegant facilities, sumptuous food, and, at their Istanbul home base, an abundance of luxurious amenities including private bedrooms, massages, and cooked-to-order meals.
In the US, Turkish Airlines operates a single lounge at Washington Dulles airport since 2016, and it's such a step up above the main carrier United's facilities, that many Star Alliance Gold passengers are known to make the trek to Concourse A just to enjoy a piece of baklava.
The second North American Turkish Airlines lounge is slated to open at Miami airport. It will be operated by Airport Dimensions, formerly known as Airport Lounge Development. The company, a subsidiary of Loyalty and Travel Experience giant Collinson, is best known for their expansive network of The Club lounges, such as The Club SJC or The Club LAS.
Turkish Airlines and Airport Dimensions are still mum about the details. The lounge was slated to open in September, though construction is unsurprisingly delayed. We hear there's still a chance that the club will open its doors by the end of the year.
Best of all, it's likely that the Turkish Airlines lounge Miami will welcome Priority Pass members, just like the Dulles location: Airport Dimensions' parent Collinson runs the Priority Pass program.
Over at their Istanbul hub, Turkish Airlines is preparing to unveil two new lounges, which are expected to open in 2020.
The Turkish Airlines Exclusive Lounge will be a haven for business class travelers who are also Turkish Airlines Miles&Smiles Elite or Elite Plus members, with space for just about 200 guests. It's expected to feature a-la-carte dining and private rooms with en-suite showers.
The Turkish Airlines Arrivals lounge will replace the former Arrivals facility as the now-defunct Ataturk airport. The club will offer arriving business class passengers the opportunity to enjoy a shower and hot breakfast.
While construction on the Airlines Arrivals lounge appears to be progressing smoothly, we're told that there's not much progress on the Exclusive Lounge front yet, so stay tuned.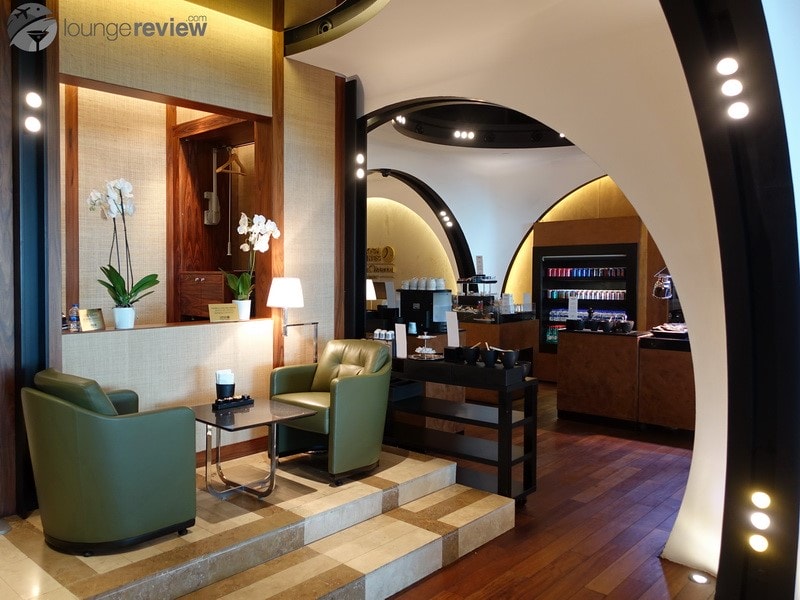 British Airways Lounge Johannesburg (JNB)
The British flag carrier is giving its airport lounge network a bit of TLC, with remodels at every corner of the world. The San Francisco location re-opened in July, featuring a new, complimentary full-service restaurant for First Class passengers.
British Airways shuttered the Galleries First and Club lounges at Johannesburg OR Tambo International airport back in May. The airline has disclosed any specifics about the new lounge, but we know that the legacy Galleries and Terrace concepts are being phased out. The new club could look like its southern sibling at Cape Town airport, or borrow the Concorde Bar concept adopted in Dubai and Singapore, which is exclusively for First Class passengers.
The lounge is expected to re-open by the end of the year. While construction is ongoing, Club World passengers and Silver and Gold Executive Club members traveling in World Traveller Plus and World Traveller are welcome to use the Aspire lounge. First Class passengers have access to the elegant SLOW lounge.
Bottom line
Club Aspire at London Gatwick South, the Qantas First Class Lounge at Singapore airport, The Centurion Lounge and Escape Lounge Phoenix, the United Club and Delta Sky Club at New Orleans airport's new terminal, the Turkish Airlines Lounge Miami, and the British Airways Lounge Johannesburg are all scheduled to open by the end of the year.
Together, these eight lounges represent significant investments in the ground experience both by airlines and independent operators, serving everyone from First Class passengers to pay-in economy flyers.