On Friday, Air Canada unveiled a new lounge concept at Toronto Pearson international airport Terminal 1.
The new Air Canada Café is a bistro-style space exclusively for the airline's domestic Business Class and Star Alliance Gold passengers. The Café experience revolves around a generous selection of grab-and-go fresh food and beverages that guests are encouraged to take away and enjoy on their next flight.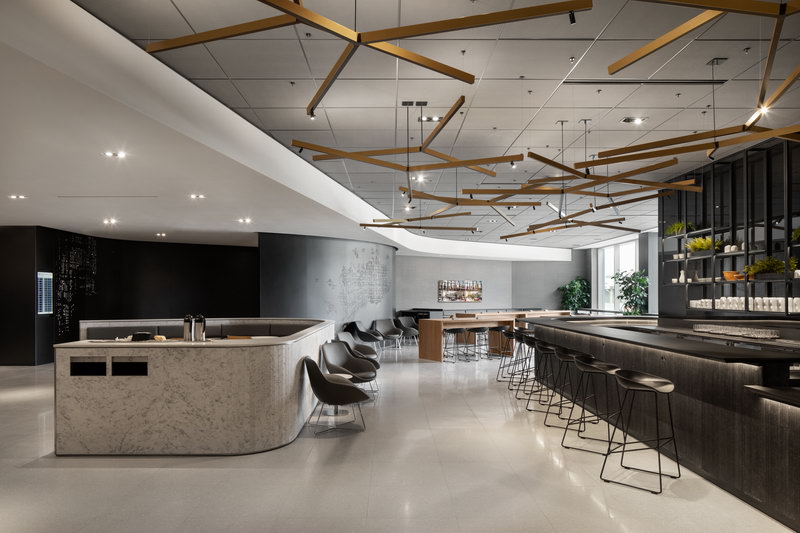 Located near gate D20 in the domestic departures area, the Air Canada Café emulates an urban coffee shop with a vibrant and trendy design, social spaces, and communal tables all outfitted with USB and charging ports.
The space is primarily designed for short stays, but patrons are welcome to linger and enjoy tarmac views and a large mural by Canadian artist Shawn Evans. Customer service agents are available to assist customers with their travel plans.
Air Canada Café food and beverages
The Air Canada Café barista station aims at delighting the most demanding coffee aficionados with specialty Lavazza coffee concoctions including Lavazza Cold Brew, cold brew mocktails, nitro, and a variety of espresso drinks.
Guests will also find a self-service selection of teas, freshly squeezed orange juice, greenhouse organic cold-pressed juice including kombucha, bottled water, flavored water, and soda. All drinks can be enjoyed on premises or carried away.
Before 11 am, the Café offers yogurt, fresh fruit and Goûter premium pastries. Throughout the day, patrons will be treated to a selection of cold items including freshly prepared salads, sandwiches, OKA fine cheese, and Lindt chocolate truffles.
It's unclear if Air Canada will be enforcing any limitations on how many items customers may take away—while the intent is to provide guests with an alternative to the on-board snack or meal, the concept is ripe for abuse.
Air Canada Café v.s. Maple Leaf Lounge
The Air Canada Café differs from Maple Leaf Lounges in multiple ways:
Café guests are encouraged to take food and drinks to go, where as taking food away from Maple Leaf Lounges is frowned upon.
The Café does not serve alcohol, but the selection of drinks is far more expansive than at Maple Leaf Lounges, and includes barista-crafted specialty coffee and organic juices.
The Café is primarily designed for short stays. There are still over 100 seats, but none of the traditional airline lounge amenities such as a business center, showers, or newspapers and magazines. (However, complimentary Wi-Fi is available along with access to online press.)
Finally, the Café is the exclusive territory of domestic business class guest and Star Alliance Gold members. Maple Leaf Lounge members are not admitted.
Air Canada Café YYZ access rules
Open daily from 5:15 am to midnight, the Air Canada Café at Toronto airport functions independently from Maple Leaf Lounges. To gain access to the Café, you'll need to be either:
An Air Canada domestic Business class or Premium Rouge passenger.
An Air Canada Altitude Super Elite 100K, Elite 75K, or Elite 50K customer.
A Star Alliance Gold member.
Guests are not allowed, and the Café is off-limits to Maple Leaf Lounge members, one-time pass holders, Elite 35K passengers, United Club members, and credit card holders.
The Air Canada Café is also not a traditional Star Alliance Gold lounge: while Star Alliance Gold customers are welcome, they must fly Air Canada in order to gain access.
Airline Cafés: a new trend?
Andrew Yiu, Air Canada's Vice President of Product, described the Air Canada Café as an "innovative product, one we are sure will create buzz not only for our customers, but the entire industry."
The reality is more nuanced. While the concept is indeed new to North America, it has several equivalents in Europe.
Lufthansa's Senator Cafe at Munich airport is similar to the Air Canada Café in virtually every regard. The cozy and intimate space, which is also restricted to Business Class and Star Alliance Gold customers, features a barista station, smoothies and juices, and a selection of food items to eat in or to take-away. Unlike Air Canada, Lufthansa also offers alcoholic beverages for consumption on premises. The Senator Cafe is designed for short stays; most passengers just order a drink and leave.
A stone's throw away from the Senator Cafe, Lufthansa operates Delights to Go, a true grab-and-go outlet. The access rules are more generous (virtually all elites and premium passengers get in), and guests can order food and beverages at the touch of a screen. The facility, which is essentially a glorified vending machine, does not have the appeal of the Senator Cafe or Air Canada Café, but is designed for maximum efficiency. In less than a minute, guests can obtain a fresh food item and the drink of their choice.
Further up North, throughout Scandinavia, SAS operates a network of Cafe Lounges. The concept is also designed around short stays with hot drinks and snacks to eat in or enjoy on the go, though the offerings are modest in comparison to the Lufthansa's and Air Canada's cafes.
The concept is likely to spread. Cafe Lounges represent an opportunity for airlines to increase customer satisfaction while potentially cutting costs down the road.
Cafe lounges are attractive for passengers on short connections, millenials who enjoy the coffee shop culture, and business travelers who crave healthier options than food served in the air—all segments that are poorly served by traditional lounges.
Cafe lounges are cheaper to operate than traditional full-service clubs due to their compact size, lack of expensive facilities such as showers, and typical absence of alcohol.
Long term, airlines may realize substantial savings by minimizing on-board catering and making grab-and-go options available at the airport. Customers might enjoy a broader menu, healthier fare, potentially more frequent product rotation, and virtually guaranteed availability of their preferred option.
For now, Cafe Lounges co-exist with traditional lounges and mark another step towards product segmentation, shunning lower-tier frequent flyers and club members in favor of premium passengers.
Bottom line
The new Air Canada Café rounds up Air Canada's impressive portfolio of ground services at Toronto Pearson international airport, with facilities tailored to different customer profiles:
The high-end, ultra-exclusive Signature Suite for international revenue business class passengers rewards the most valuable customers with private restaurant-style dining in an exclusive environment.
The new stylish Café offers premium domestic travelers a selection of grab-and-go fresh food items and handcrafted beverages with an emphasis on healthy fare, as well as a modern and trendy place to charge up devices and catch up on email.
The Maple Leaf Lounges for paying members and lower-tier frequent flyers offer a broader range of amenities, including business facilities and showers, but sport only a modest food selection.
The Air Canada Café emulates a concept already en vogue in Europe, but which has so far no equivalent in North America. It's likely to be popular.