Airport lounges in North America are more popular than ever. Originally intended as exclusive and serene retreats for well-heeled travelers, airport clubs have become chronically crowded. At peak times, popular lounges routinely have to turn customers away, and those who get in might need to fight the crowds to find a seat or grab a snack.
The advent of premium credit cards, pay-per-use lounge access, and the swelling number of elite flyers means that, once a VIP perk, lounges are accessible to just about anyone.
While airlines and lounge operators have been scrambling to expand lounge space, there's only so much real estate available at US and Canadian airports, most of which were never designed for lounges in the first place.
Airlines and lounge operators are dropping the hammer in an effort to get the situation under control. The bulk of the changes are happening this month. Here's a recap.
Delta restricts lounge access for Basic Economy and Gold members, kicks employees out
Delta Sky Clubs might top the charts when it comes to crowding. In Delta's defense, the quality of the product may be a contributing factor. Sky Clubs are a notch above the fray: virtually all locations offer hot food, many lounges feature shower suites, and some locations sport attractive amenities such as open-air decks.
Then again, unlike American and United, Delta currently doesn't have exclusive lounges for Business Class customers, so the Sky Club is the go-to lounge for anyone with club access.
The crowding situation is especially acute at New York JFK airport, where Delta is down to a single Sky Club in Terminal 4 after the permanent closure of Terminal 2, and thus the Terminal 2 Sky Club.
After dabbling with unpopular access restrictions in 2022, Delta took the following measures early 2023:
Delta is no longer selling Sky Club memberships to non-elite members, and has significantly increased membership prices for elite customers.
SkyMiles Gold members are no longer eligible for Sky Club access when flying in economy on international itineraries, on the basis of their boarding pass alone. (Sky Club members and eligible credit card holders continue to receive access.)
Sky Club members booked in Basic Economy may not visit lounges anymore. (Eligible credit card holders continue to receive access.)
Delta employees, employees of other airlines, retirees, and registered pass riders are not admitted anymore when flying non-revenue, whether on leisure or business trips. The airline has also eliminated the Sky Club employee discount membership program.
Delta has also phased out complimentary individual Sky Club memberships as a Choice Benefit perk for SkyMiles Diamond members, while Executive memberships (which include guest access) now require three Choice Benefits instead of two.
Delta will also give Diamond Medallion, Delta 360 members (the airline's top spenders) and Delta One customers priority access to Sky Clubs through a dedicated entry lane when clubs are at capacity.
American Express tightens guest access policy
The Centurion Lounges by American Express are another victim of their own success.
Lauded as the holy grail of airport lounges when they launched in the US thanks to their exclusive ambiance, elevated service, and high-end amenities, The Centurion Lounges now routinely operate at capacity. The smaller locations often have a waitlist, and even the larger clubs sometimes have to turn guests away.
American Express can't drastically limit lounge access–The Centurion Lounge is a major perk of The Platinum Card. Instead, the financial institution is hoping limiting the number of guests that members can bring in. The guest policy has historically been quite generous: Platinum card holders could bring two guests free of charge.
As of February 1, 2023, American Express Platinum Card holders cannot bring guests on a complimentary basis anymore. Members can may purchase access for their guests, to the tune of $50 per adult and $30 per child (ages 2-17, proof of age required.)

American Express Platinum Card holders who spend $75,000 or more on eligible purchases during a calendar year will receive complimentary guest access for up to two guests per visit for the current calendar year, the next year, and through January of the following year.
There are no changes for American Express Centurion Card holders, who can continue to bring two guests or their immediate family.
This new policy follows various other measures that were enacted in the last few years. For example, arriving passengers don't have lounge access anymore (unless connecting to another flight), and standby passengers can't enjoy the lounges either (unless they're confirmed on another flight within three hours.)
Alaska Airlines phases out lounge access for most First Class passengers
Alaska Airlines is the currently the only US carrier that offers complimentary lounge access to all revenue domestic First Class passengers.
As of February 15, 2023 (for tickets booked as of November 18, 2022), Alaska Airlines will phase out complimentary lounge access for First Class customers traveling on flights shorter than 2,100 miles.
Alaska's flights longer than 2,100 miles include flights to Hawaii and transcontinental flights. The vast majority of the airline's flights are shorter than 2,100 miles.
Alaska Airlines First Class passengers (full fare and award tickets) will be able to visit any Alaska Lounge at the departing point and/or any connecting airport, as long as one of their flights is longer than 2,100 miles.
First Class customers whose itinerary does not include a flight longer than 2,100 miles will have the option to purchase a discounted day pass for $30. The pass will be valid at all Alaska Lounges at departing and connecting points.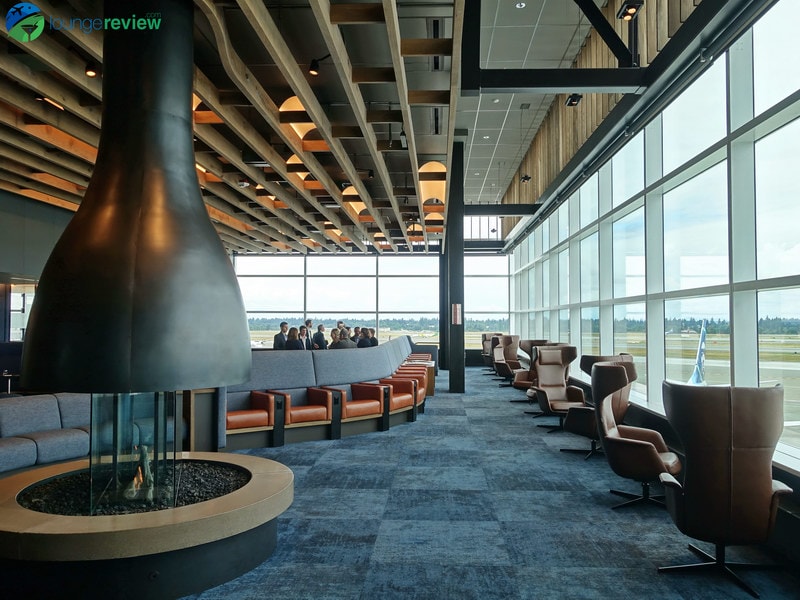 There are no changes to the upgrade policy. Customers who upgraded to First Class cannot visit Alaska Lounges unless they are a member. The new policy applies to award tickets, as well as passengers booked in A, D, F, or P classes of service.
In addition, Alaska is increasing membership costs by $50, on the heels of another price hike that took place late 2021. These policies follow various other crowd-mitigation measures: in 2022, Alaska dropped Priority Pass and stopped selling day passes at the busiest locations.
Air Canada cuts lounge access for Aeroplan Elite 35K status holders
Air Canada Aeroplan Elite 35K members currently get complimentary access to the airline's Maple Leaf Lounges when flying with Air Canada or Star Alliance partners.
That will no longer be the case as of June 1st, 2023. Aeroplan Elite 35K customers will instead receive just two lounge passes every year (which is not a new benefit, as the two guest passes are currently in addition to unlimited lounge access.)
This change amounts to a substantial devaluation of the Aeroplan 35K elite level, though ultimately Air Canada is merely aligning with Star Alliance standards: lounge access comes at the Star Alliance Gold level, i.e. Aeroplan 50K.
Could Plaza Premium soon restrict access to Virgin Atlantic Lounges?
Mark this as a developing story. In 2021, Virgin Atlantic outsourced day-to-day management and operations of their famed Clubhouses worldwide to Plaza Premium Group, the #1 independent airport lounge worldwide. As part of the deal, Virgin Atlantic Clubhouses became pay-in lounges, with complimentary access for American Express Platinum and Centurion card members as well as Capital One Venture X card holders.
As the formerly exclusive Virgin Atlantic lounges became busier, some locations started to treat pay-in customers as second class guests. In some instances, Virgin Atlantic Upper Class customers receive a QR code to order from a generous complimentary menu, while pay-in and credit card customers are directed to a more limited self-service buffet.
A few days ago, Plaza Premium Group quietly announced on their web site that credit card holders were set to lose access to most Virgin Atlantic Clubhouses by February 28, 2023. The company has since reverted the changes and clarified that access rules are, in fact, not changing.
While someone might have pushed the publish button a bit too early, this is probably a sign of things to come. Virgin Atlantic is slated to join the SkyTeam alliance early 2023, and the lounges are bound to become even more crowded. The airline is likely planning changes to their club access policy.

Will airport lounges actually be less crowded?
With vast swaths of travelers supposedly losing airport lounge access, will the clubs actually be less crowded?
The changes are likely to have a positive impact, especially in the short term as the rules take effect and some travelers aren't prepared and get turned away.
Longer term, the picture is still blurry. While, on the surface, entire categories of customers are set to lose lounge access, many travelers actually have redundant lounge access credentials (for example, they can get access on the virtue of their boarding pass, a membership, and/or credit cards.) There are also several ways to effectively bypass the new policies.
Delta hasn't touched one of the cornerstones of their strategic partnership with American Express. American Express Centurion, Platinum, and Delta SkyMiles Reserve credit card holders will continue to receive unlimited lounge access, regardless of ticket type, including Basic Economy. Credit card access is one of the key factors behind lounge crowding. Frequent travelers have a new incentive to sign up for a credit card.
Alliance rules aren't changing. In the case of Delta Sky Clubs, this means that SkyTeam Elite Plus members can still get access, regardless of destination or class of service. Some customers could get lounge access simply by presenting credentials from a partner program. Along the same lines, should Virgin Atlantic phase out pay-in or credit card access, large numbers of Elite Plus status customers will eventually gain access to Clubhouses when the airline joins SkyTeam.
American Express may be phasing out complimentary guest access for Platinum Card members, but authorized card users still get unlimited access. Specifically, Platinum Card members can add up to three authorized users for $175 per year, or just about $60 for unlimited lounge visits. Many frequent flyers are likely to find it worthwhile and cost effective to enroll authorized users.
Delta's plan to add expedited entry lanes for Diamond Medallion, Delta 360 members, and Delta One customers is a tacit acknowledgment that many clubs will continue to be crowded.
And there's the elephant in the room: a large number of travelers in the US also carry a premium credit card that comes with a complimentary Priority Pass memberships. Should Delta, Alaska, and American Express indeed manage to limit crowding at their own lounges, Priority Pass lounges are likely to see an even greater influx of customers. Many of these clubs are already operating at capacity.

Bottom line
In a bid to fight airport lounge crowding, Delta Airlines, Alaska Airlines, and American Express are tightening access rules this month.
Delta SkyMiles Gold members are no longer eligible for Sky Club access when flying in economy on international itineraries, Sky Club members booked in Basic Economy may not visit lounges anymore, American Express Platinum Card holders cannot bring guests on a complimentary basis anymore, and Alaska First Class passengers will no longer have access unless traveling on a flight longer than 2,100 miles. Air Canada will phase out lounge access for Aeroplan 35K members in June.
You can't blame airline and operators for enacting measures against lounge crowding. Airport lounges are supposed to elevate the travel experience and provide a peaceful space to work or relax. Lines at the door, noise, and chaos dramatically impact the quality of the experience for customers and make it stressful and challenging for staff to perform at their best.
Most airlines and operators are looking to expand their lounge portfolio and footprint, but finding real estate is complex and expensive. The only way to limit crowding is to limit who gets in.
Then again, it's unclear if any of the cuts will make a lasting impact. Ultimately, credit card access remains king, and both Delta and American Express customers can simply keep their privileges by signing up for a credit card or adding authorized users at a relatively modest cost.
Confused by ever-changing airport lounge access rules? Check out our Lounge Access Wizard!