While the darkest days of the COVID-19 pandemic are hopefully behind us, there are still few hints of a "new normal." With a patchwork of government regulations and ever-changing rules, fears of a second wave, and general uncertainty, the travel industry has been decimated and is bracing for some of its darkest years ahead. Still, businesses are eager to get back to work, and travel is slowly picking up.
For the airline industry, catering to premium customers is paramount, and lounges are slowly re-opening, but it won't be business as usual. Here's what to expect.
---
In this post:
Most airport lounges are still closed
Re-opening airport lounges poses unique challenges. Clubs are typically designed to pack in as many customers as possible, which is very much at odds with the concept of social distancing. The traditional line-up of amenities—buffets, showers, newspapers and magazines—is a poor fit for life during a pandemic.
The vast majority of airport lounges still remains closed due to local regulations, lack of demand, or as a cost-saving measure. In the US, United and Delta operate a handful of clubs at major hubs, while American Airlines has just re-opened select locations. Around the world, Air France has re-opened a couple lounges at Paris Charles de Gaulle, Lufthansa is operating a single lounge at their Frankfurt and Munich hubs, Singapore Airlines has consolidated operations at Changi Airport, and Cathay Pacific is keeping two clubs in operation in Hong Kong.
---
Know before you go: loungereview.com is updated daily with the latest information on COVID-19 closures. Use the search box at the top of your screen to locate a lounge, and we'll tell you if it is operating.
---
Contactless check-in and lobby experience
Airlines are updating lounge reception areas with social distancing markers, hand sanitizer dispensers, and signage outlining service adjustments and protective measures. Some operators are also outfitting reception desks with plexiglas shields, in order to protect customers and staff alike.
COVID-19 is accelerating the industry trend towards digital credentials. At most lounges, customers are invited to scan their own boarding pass. The pandemic might also spell the end of a relatively recent innovation: fingerprint check-in. In the US, both Delta and Alaska Airlines have partnered with CLEAR to offer biometric access. While the technology also supports iris scans, the equipment hasn't been installed at lounges, so CLEAR access will not be available in the foreseeable future.
Mask use is generally required everywhere, though the measure is mostly symbolic in the sense that guests are allowed to take off face coverings while eating and drinking.
Layout changes, capacity restrictions, and social distancing measures
Airlines and lounge operators are making changes in order to facilitate social distancing.
This starts with maximizing real estate, and thus, some airlines are re-opening their largest lounges first. At Frankfurt airport, Lufthansa re-opened the sprawling Lufthansa Senator Lounge in Concourse A, while the more intimate Business Lounges around the terminal remain shuttered. At Seattle-Tacoma airport, the lights remain on at Delta's Sky Club in Concourse A—one of the carrier's largest lounges worldwide.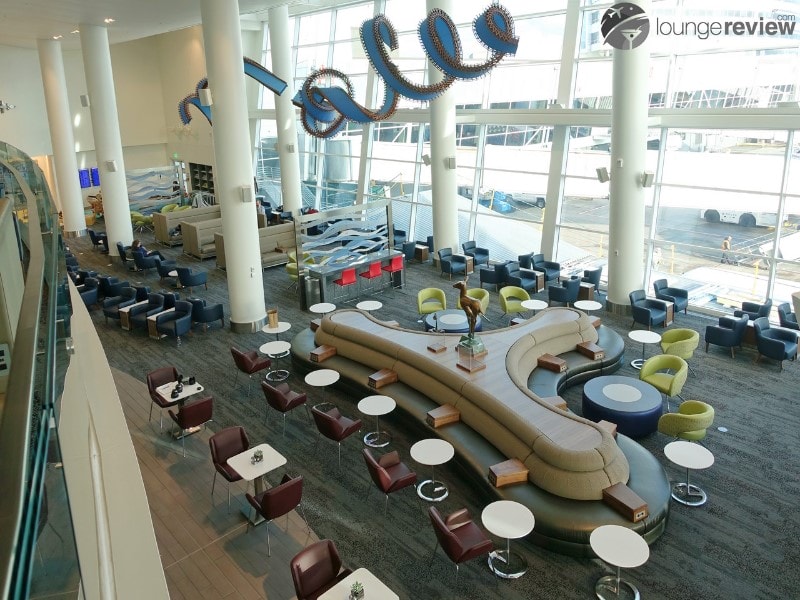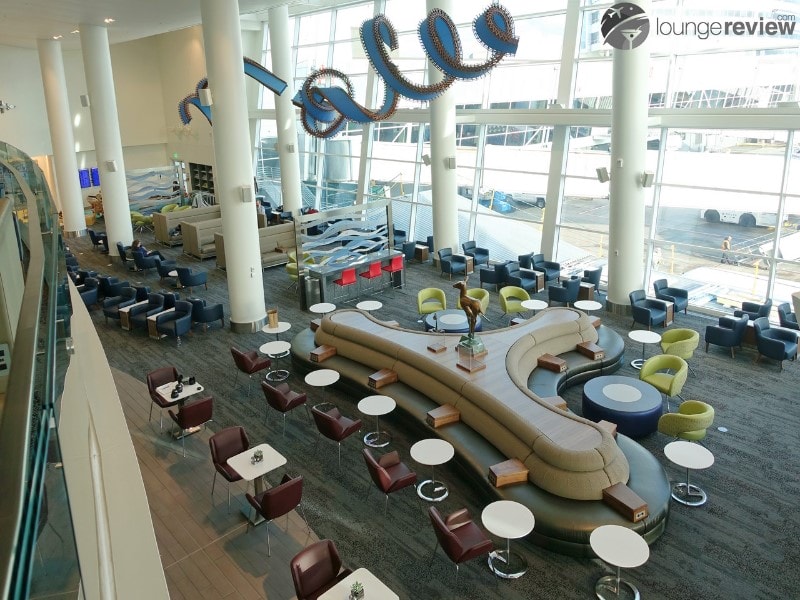 Wherever possible, operators are adjusting the layout of airport lounges in order to increase the distance between seats. Some operators are going even further—the two Aspire Lounges at Amsterdam airport now feature a one-way system in order to minimize face-to-face interactions between guests. At Zurich airport, the Aspire Lounge in the Schengen area—which is currently the only open club within the entire airport—imposes a limit of two guests per table.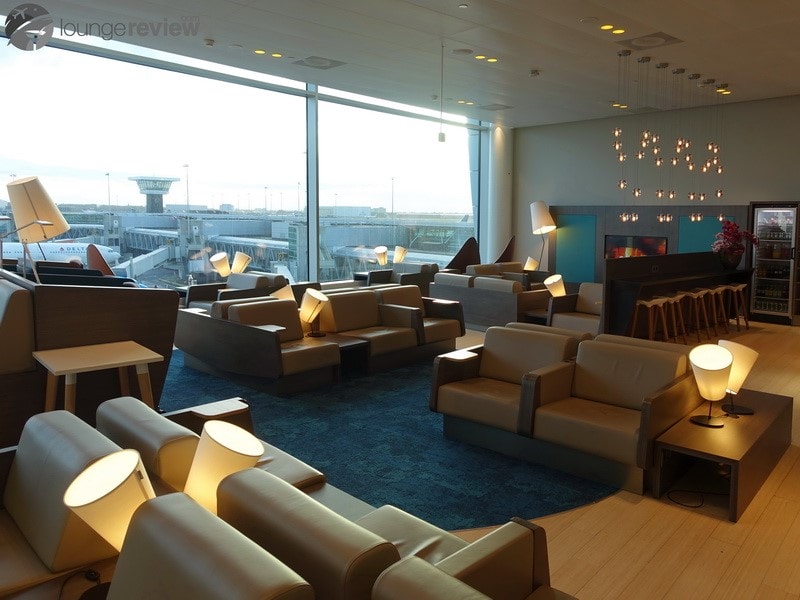 The concepts are sound on paper, but may not always make much sense in reality. With airline traffic picking up faster than lounges are re-opening, some clubs are reportedly already crowded. To some extent, it's easier to practice social distancing within the public concourse than within the confines of a club, as drastic schedule cuts have left many gates underused. As for one-way traffic, it remains to be seen if the concept is actually enforced; but it's an interesting idea nevertheless.
Some airlines and operators are reducing the capacity of their lounges in order to maintain social distancing. Air New Zealand has set a cap of 100 guests at all domestic lounges. Other operators are considering temporary adjustments to guest policies. The ability to purchase access, or enter courtesy of a membership such as Priority Pass, may also be impacted at certain locations.
When it comes to interior design, perhaps the most unexpected development is the path that British Airways is pursuing. The British flag carrier is auctioning at least 10 pieces of art on display at their London lounges—some have been exhibited for as long as 40 years—including a canvas by painter Bridget Riley, estimated at over a million pounds, and works by Damien Hirst and Peter Doig. That's all about the bottom line.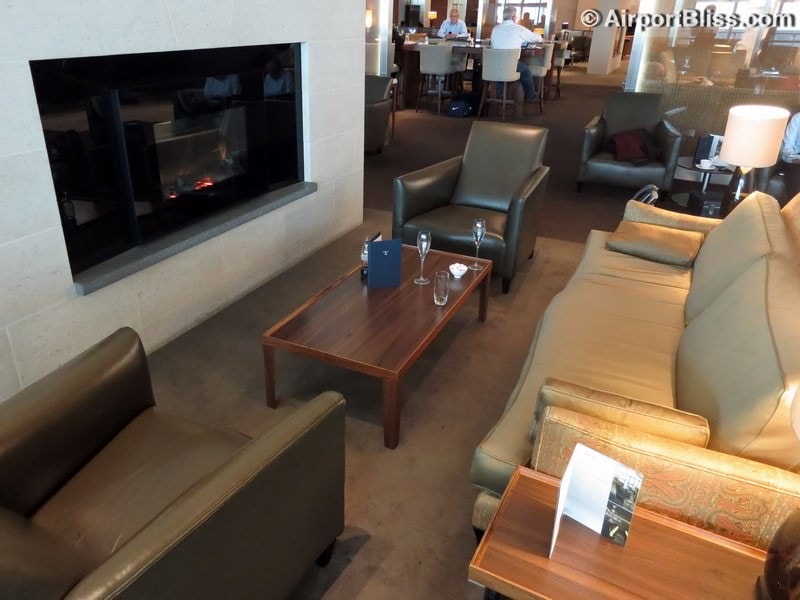 The end of self-service buffet dining
Serving food in the era of COVID-19 is a challenge, and premium passengers should expect significant variance as airlines and lounge operators adjust to the demands of the pandemic and the necessity to cut costs.
Traditional buffet-style dining will be unavailable in the foreseeable future. Most airlines have replaced their offerings with shrink-wrapped or individually packaged snacks. In the US, United is offering a basic snack selection, while American Airlines is providing complimentary "Refuel" and "Refresh" snack boxes that are normally available for purchase on board. Both American and United have shuttered their restaurant service for premium customers, while Delta has eliminated hot food.
The German carrier Lufthansa, who is traditionally known for their generous offering, has trimmed their product to a selection of pretzels and small snacks.
Also expect disposable utensils and glassware. Menus will become a rarity too; American Airlines is rolling out electronic versions linked to a QR code, so guests can browse the selection from their personal devices.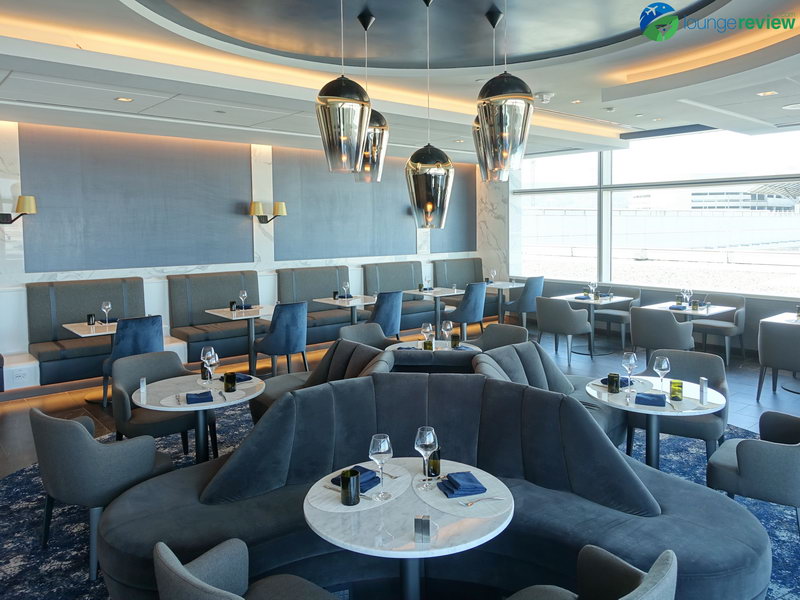 Top-tier airlines are responding in a more measured manner. Singapore Airlines has rolled out table service at the SilverKris Lounge at Singapore Changi Airport Terminal 3 (the only lounge currently in operation), while Cathay Pacific is planning on expanding service at their popular noodle bars. Plaza Premium, the largest independent airport lounge worldwide, is offering set meals and cooked-to-order options.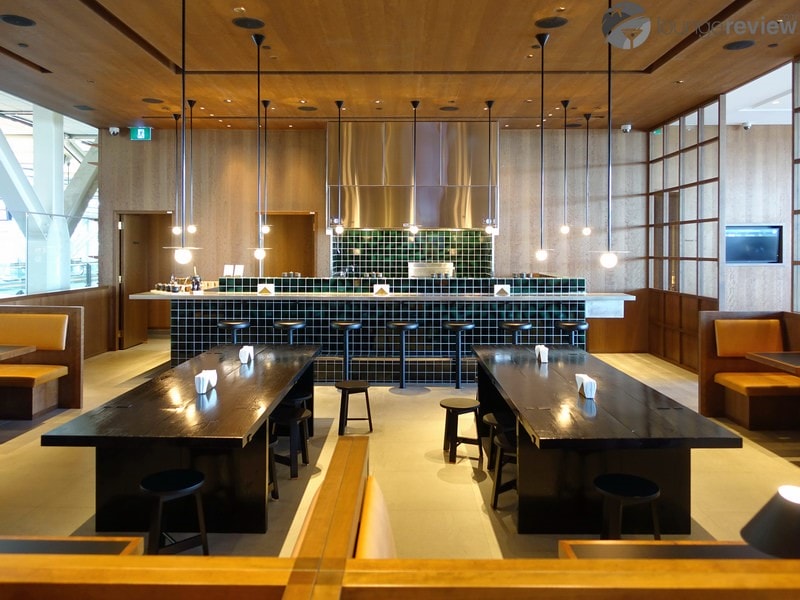 Staffed bars are typically open as usual, but some airlines are reducing the range of available products. Several operators have eliminated self-serve alcohol.
Showers, spas, and family rooms are suspended
Most airlines have suspended high-touch amenities including showers, spas, and kids' playrooms.
In the US, Delta—who offers the most showers across all US airlines—has shuttered all shower facilities due to local regulations and the complexity of maintaining a sanitary environment. European operator Swissport, who is behind the popular Aspire brand, is also phasing out showers for the foreseeable future.
Family rooms may remain available as enclosed or separate spaces, but lounge operators are naturally putting away toys and games.
The fate of spas will largely depend on local regulations and the underlying business models—paid spas are more likely to operate soon than their complimentary counterparts. Currently, most spas are closed, including all Elemis Spas in partnership with British Airways.
Digital media replace newspapers and magazines
Perhaps one of the more pragmatic and less disruptive changes is the elimination of print media in favor of digital media.
In the US, while the service is seldom advertised, United has long offered United Club guests complimentary access to Foli, an online library of newspapers and magazines. American Express offers limited-time subscriptions to the Washington Post. Lufthansa offers all customers free downloads ahead of their flight. Airlines including Cathay Pacific and Singapore Airlines provide complimentary access to the PressReader app.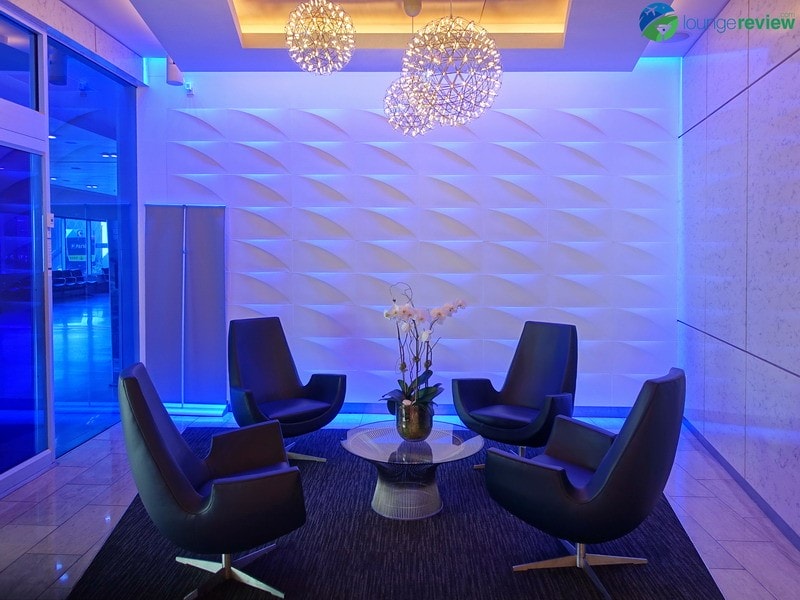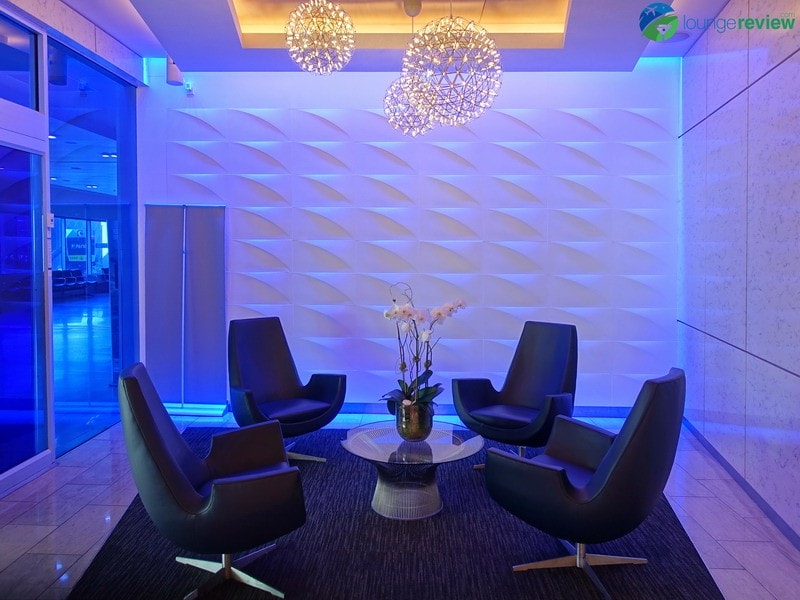 Behind the scenes
Collinson, the company behind the popular Priority Pass, Lounge Club, and LoungeKey programs, has released an 11-page guide for lounge operators with suggestions on how to adapt operations in response to COVID-19. While Collinson doesn't directly operate the vast majority of lounges that participates in their networks—and therefore has no authority over implementation—their guidance is a good summary of how most operators will respond. The company recommends the following measures:
Staff members should undergo daily health checks, including temperature checks when appropriate.
Staff should change clothes prior to a shift when possible.
Kitchen staff should be trained on enhanced hygiene measures.
Registration staff should sanitize or clean their hands on a regular basis.
Trash bins should be emptied at a higher frequency than usual.
Servers should be trained on adequate protocol. For example, a staff member should not pick up a dirty glass and then hand out a new glass.
Air conditioning should run at all times in order to increase airflow, and ideally use HEPA filters or UV cleaning.
Lounge operators should have a plan in place to manage guests who show signs of illness.
Staff should clean seating areas after each guest leaves.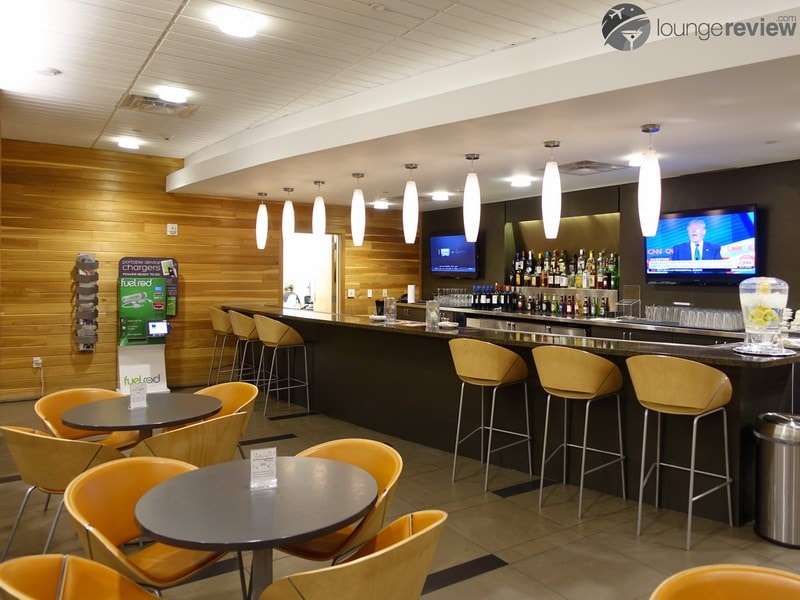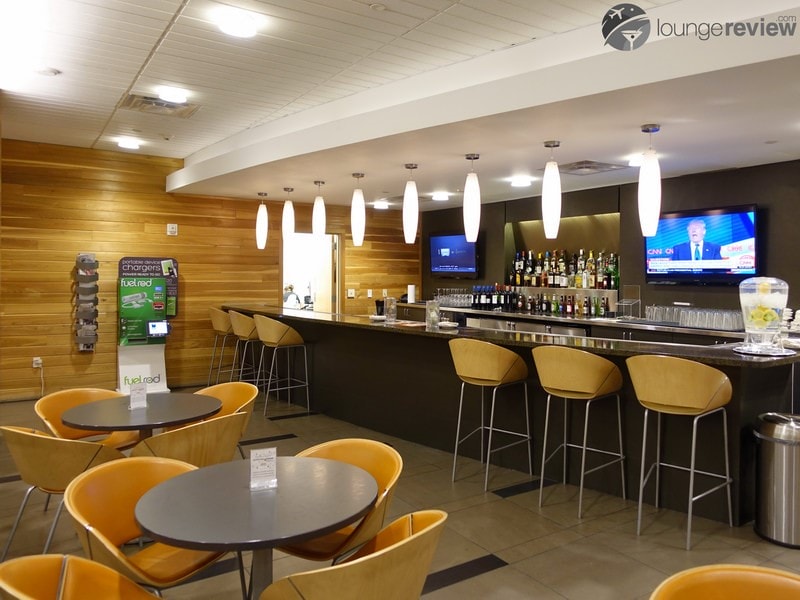 Bottom line
As airport lounges are slowly re-opening in the COVID-19 world, guests should expect significant changes. Airlines and lounge operators are cutting capacity in order to encourage social distancing, eliminating high-touch amenities such as children's play rooms and showers, and phasing out self-serve dining. Operators are also working to restore confidence by drastically increasing hygiene measures, making hand sanitizer available, and requiring guests and staff to wear face coverings.
While airport lounges are an important tool to lure premium and business traveler back in the air, some changes are primarily cost cutting efforts masquerading as safety enhancements. For example, most operators are choosing to close showers instead of making the required adjustments in order to enhance cleaning protocols, while most airlines have closed their most premium lounges and relegating First Class customers to their lower-tier product.
The variance in food and beverage offerings is most telling. While some airlines are reducing their spread to packaged snacks, some premium carriers are investing in table service. In the US, the COVID-19 pandemic is bound to roll back years of dramatic catering enhancements. The recent focus on healthier fare, fresh products, and the elimination of single-use utensils is grinding to a screeching halt.
Airlines and lounge operators will also have to face tough choices when it comes to the continued operation of their clubs. Capacity restrictions will impact the business model, especially when they preclude selling one-time passes or accepting Priority Pass members. Renovations may deferred or canceled altogether. And the opening of new lounges hangs in the balance. The much-anticipated United Polaris Lounge at Dulles airport was scheduled to open by the end of the summer. United isn't communicating a schedule anymore.