2019 was already shaping up to be an eventful year for American Express. The wildly successful Centurion Lounge network is due to grow by five locations by the end of the year, with planned openings at Los Angeles, Denver, New York Kennedy, Charlotte, and London Heathrow airports.
In an unforeseen development, the financial institution will be adding one more location at Phoenix Sky Harbor International airport (PHX)—and best of all, the opening is planned "in the coming months." Even factoring in typical airport construction delays, we're likely to see six additions to the Centurion Lounge portfolio ahead of the holidays. On average, that's a new club opening every month through the end of the year.
The secret behind this flurry of activity: an expanded partnership with MAG USA, the company that runs the Escape Lounge. With an excellent reputation for comfort and delectable hot local fare, the nine Escape Lounges in the US are a close match for American Express' beloved Centurion Lounge concept, and access is complimentary for Platinum Card holders.
At Phoenix airport, MAG USA and American Express will co-locate their facilities: the Centurion Lounge and Escape Lounge will open simultaneously and share an entrance.
American Express reached out to loungereview.com to share renderings ahead of the official announcement, and we're drooling.
The Centurion Lounge and Escape lounge to open at PHX
Phoenix Sky Harbor International airport has been undergoing a renaissance of some sorts since 2016, with a $590 million investment in terminal upgrades and updated passenger amenities. American Airlines remodeled the former US Airways Club in 2016, and Delta unveiled a sumptuous new Sky Club in January.
Soon, two new clubs will grace Terminal 4. The American Express Centurion Lounge and Escape Lounge will share an entrance and span a combined 9,500 square feet of floor space packed with amenities.
The lounges are expected to be open from to 7 AM to 11 PM, though the final details will be announced in the next few months. American Express Platinum and Centurion Card holders will receive complimentary access to both clubs. The Escape Lounge will also welcome pay-in guests.
The Centurion Lounge PHX
The Centurion Lounge at Phoenix Sky Harbor International airport promises to be a convivial and elegantly-appointed space with large windows overlooking the tarmac, a posh seating area, convenient work spaces, and a large dining zone.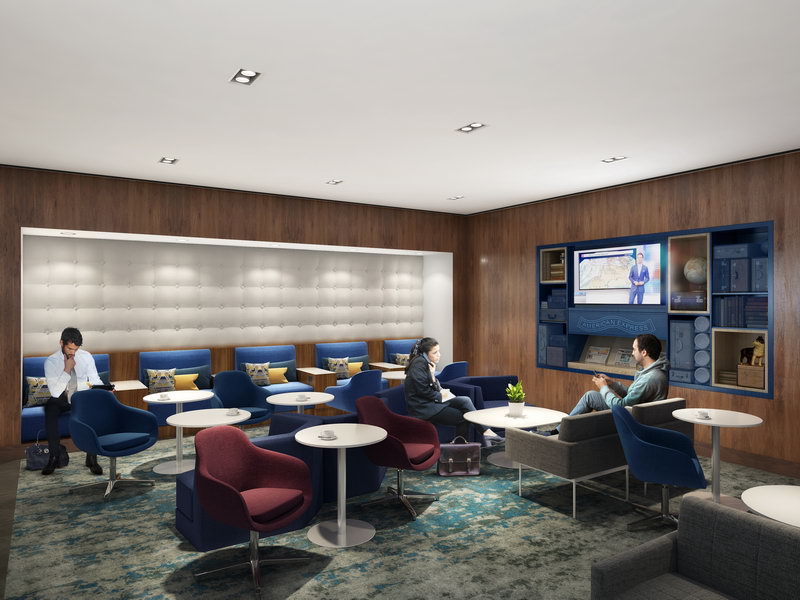 The decor will largely draw from the design of the nine Centurion Lounges in operation in the US. The elaborate combination of warm tones, high-end furniture, gorgeous natural wood tables, custom flooring, and American Express memorabilia is set to create a distinctive and elaborate vibe that will be familiar to frequent Centurion Lounge visitors.
In addition, the design will incorporate a number of updates which add a local touch and help optimize space efficiency.
Guests can look forward to plush carpeting, a new iteration of the intimate "cube chairs" (now with a smaller footprint, but similarly private), a redesigned bar area, counter-style seating along the windows, and dramatic light fixtures.
The Centurion Lounge at Phoenix airport will check all the boxes when it comes to amenities. The line-up includes power outlets, fast Wi-Fi, newspapers and magazines, a printer, and shower suites.
Notably absent is the traditional family room, which is available at most US locations. While some travelers might resent the loss of a dedicated space for energetic little ones, the layout aims at maximizing dining and seating real estate—Centurion Lounges are popular, perhaps to a fault, and every extra bit of space helps. The Centurion Lounge Phoenix isn't expected to include a spa or other extra amenities, either.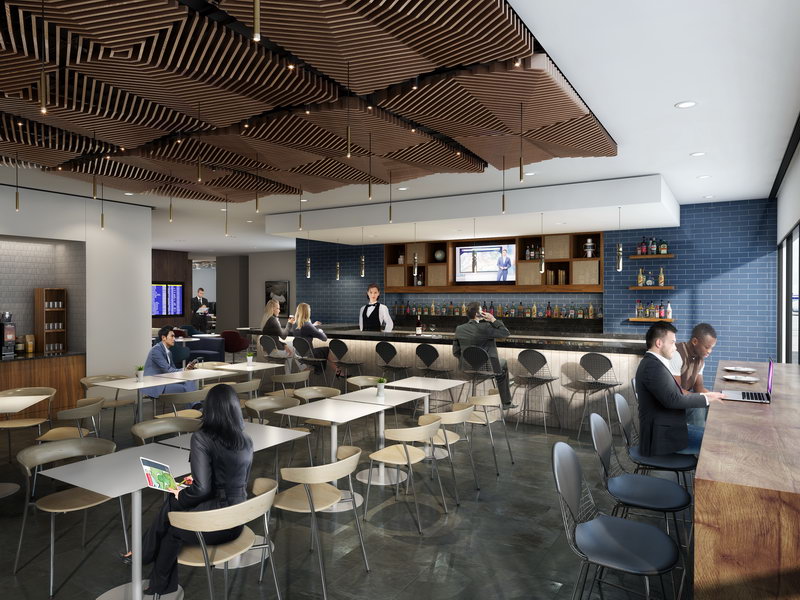 In true Centurion Lounge form, the Phoenix location will boast a full hot buffet with locally-inspired fare prepared on site, as well as a full complimentary premium bar with cocktails curated by mixologist Jim Meehan, who we interviewed last December.
Sommelier Anthony Giglio will be in charge of the wine selection, which will include seasonal wine flights.
Escape Lounge PHX
Just across the Centurion Lounge, the Escape Lounge at Phoenix Sky Harbor International airport will invite guests to a casually elegant retreat.
A departure from the Centurion Lounge's more upscale tones, the Escape Lounge will feature a more muted palette with bursts of playful colors, a convivial central bar, expansive windows, and a dramatic photo of Antelope Canyon.
Like the Centurion Lounge, the Escape Lounge will be outfitted with power outlets at every seat, high-speed Wi-Fi, newspapers and magazines, business amenities, and showers.
In addition, families can look forward to a selection of games for kids and complimentary coloring book and crayons, while solo travelers will find noise cancelling Bose headphones and a complimentary international digital library with over 7,000 publications.
The acclaimed Escape Lounge network has built a reputation around its expansive food and beverage offering, crafted under the guidance of local chefs. At Phoenix airport, operator MAG USA promises a premium seasonal buffet selection, local wines, beers and sprits, and locally-inspired cocktails designed by mixologist Sarah McElroy.
Triple Play: Soon-to-be three lounge options for American Express Platinum card holders at PHX
In addition to the Centurion Lounge at Escape Lounge, American Express Platinum card holders flying Delta will continue to receive access to the beautiful Delta Sky Club in Terminal 3, which opened in January.
The club boasts a local design inspired by desert landscapes, private seating, power outlets at every seat, and a locally-inspired food selection with a focus on healthy offerings (including the "SkyBowl," a selection of grains, vegetables and proteins), and a full bar.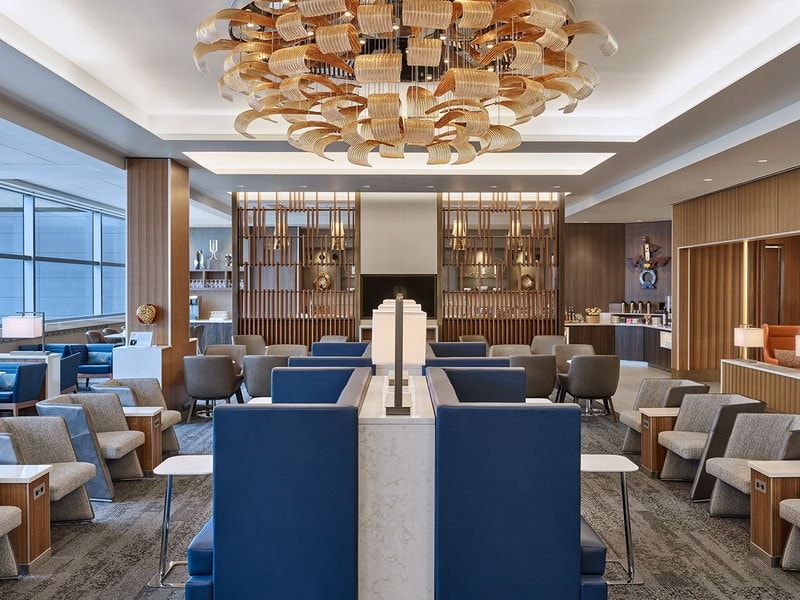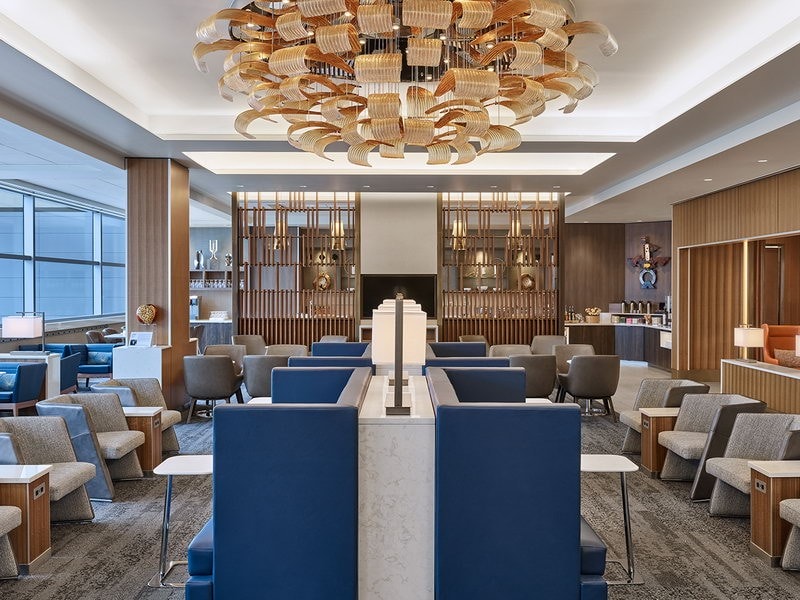 With three world-class lounges to choose from, here are a few suggestions on how to choose your destination:
Need a shower? Make your way to the Centurion or Escape Lounge. While many SkyClubs feature shower suites, Phoenix stands out as an exception.
Kids in tow? The Escape Lounge has the best amenities—it's a pretty relaxed environment, with a complimentary selection of games.
Looking for the best bar? The Centurion Lounge earns the top spot, followed by the Escape Lounge. Delta, however, charges for premium drinks.
Seeking the most exclusive environment? The Centurion Lounge has the strictest access rules—but it's bound to be busy, regardless.
Bringing guests? Delta charges Platinum card holders for guests, while the Centurion Lounge and the Escape Lounge welcome limited guests at no cost. For extra guests, consider paying for the Escape Lounge.
Need travel assistance? Delta agents can help with Delta reservations. The American Express Concierge desk can help with general travel inquiries (but not day-of-travel assistance.)
In a rush? When flying Delta, consider using the SkyClub which is conveniently located in Terminal 3. The Escape Lounge and Centurion Lounge are both situated in Terminal 4.
The Centurion Lounge and Escape Lounge PHX access rules
The Centurion Lounge and Escape Lounge both welcome American Express Centurion and Platinum card holders, in addition to two guests.
The Escape Lounge will also be open to all travelers, regardless of airline or class of service, on a pay-in basis. While pricing has not been announced yet, typically Escape Lounges charge $45, with a $5 discount for guests who book online ahead of time.
Bottom line
American Express and MAG USA, operator of Escape Lounge, will bring two exciting lounges to Phoenix Sky Harbor International airport in the next few months.
The joint Centurion Lounge and Escape Lounge location at PHX helps both companies realize synergies and economies of scale, without compromising on quality.
Behind the scenes, American Express' expanded partnership with MAG USA and recent acquisitions signal the financial institution's desire to solidify their lifestyle brand and create further differentiation with competing products such as Chase credit cards.
The Escape Lounge network is expanding at breakneck pace, with recent openings at Sacramento, CA, Ontario, CA Terminal 2 and Terminal 4, and Providence, RI. The clubs function as an expansion of the Centurion Lounge network, offering exclusive complimentary access to American Express Centurion and Platinum card holders, along with similar high-end amenities.
The downside of an excellent product: Centurion Lounges are routinely crowded. American Express recently tightened access rules and added seats to several clubs in an effort to cope with demand. At Phoenix airport, the partnership with Escape Lounge means twice as much space to indulge!
Photo credit:
The Centurion Lounge Phoenix: American Express
Escape Lounge Phoenix: JACOBS / Lifang Vision Technology Co., Ltd