3,200+ airport lounges at your fingertips.
Discover airport lounges worldwide. Read and post reviews. Find out what lounges you have access to. Import travel plans from TripIt. Purchase access to 500+ lounges with any major credit card. And much more.
Want to get new updates first? Become an Early Adopter.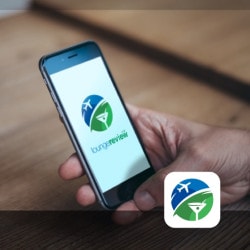 Navigate airports like a pro
Browse airport lounges worldwide. loungereview is the most up-to-date source of information on airport lounges on the Internet.
Search for a city or airport, browse your Favorites, or glance at your next trip or booking. Let loungereview app make your next layover more comfortable.
Find your lounge options at a glance
Add your credit cards, memberships, and frequent flyer status to your profile. The loungereview app will show you which lounges you may be able to visit.
Browse lounges, amenities, and opening hours at a glance, or filter and search for lounges offering specific amenities.
Get the lowdown on every airport lounge
Get details on every airport lounge: location, access rules, opening hours, amenities, food and beverages, and more.
Read in-depth expert reviews on popular lounges worldwide. Check out user comments. Share your experience and upload your photos.
For many lounges, the loungereview app provides detailed food and beverage menus as well as a summary of access rules.
Take the guess work out of lounge access
Enter your travel plans or synchronize with TripIt. The loungereview app will tell you where you can relax along your way.
The loungereview app supports over 250 airlines, 170 frequent flyer programs, 20 lounge memberships, as well as many popular credit cards.
Become a VIP in a few taps
You don't need to fly Business or First class to enjoy the high life anymore. The loungereview app lets you purchase access to hundreds of airport lounges worldwide.
Use any major credit card—Visa, MasterCard, or American Express. Your purchase will be confirmed instantly.
While popular lounges may occasionally turn away guests who wish to visit as credit card holders or members of a lounge access program, your access will be guaranteed as a paid customer, even at peak times.
We work with multiple providers in order to offer you the most competitive prices, and accept all major credit cards. Plus, you can get a partial refund if you change your mind.
---
Join our Early Adopter program
Our Early Adopters receive updates before the general public. As an Early Adopter, you have a chance to provide feedback and help shape the future of the loungereview app!
Note: By enrolling as an Early Adopter, you understand that you will be using preview software and that there may be limitations in terms of stability, performance, or functionality.
---