Another perk bites the dust: as first reported by Turning Left For Less, British Airways will not re-open the airport lounge Elemis Spas that were temporarily shuttered over a year ago at the onset of the pandemic.
---
In this post:
---
What are British Airways Elemis Spas?
Thanks to a 14-year partnership with British skincare brand Elemis, British Airways used to offer complimentary massages and spa treatments to First Class, Business Class, and British Airways Gold Executive Club members traveling to and from London Heathrow, or departing from New York City.
Customers would choose between body massages, face pampering, grooming, and a variety of other treatments. The overall experience was a simple affair—treatments were expedited in 15 minutes, and all massages were over the clothes. But for the lucky few who managed to make an appointment—the service was popular and waitlists a typical occurrence—a massage was a relaxing and enjoyable experience.
---
Which British Airways Elemis Spas are closing?
All five British Airways Elemis Spa locations have closed permanently and will not re-open post-pandemic:
---
Will British Airways still offer showers at airport lounges?
While the showers and Elemis Spas are co-located at London Heathrow, British Airways has clarified that showers will remain available post-pandemic. The airline has not provided any details on whether the spaces occupied by spas will be repurposed.
At the British Airways Arrivals Lounge at London Heathrow Terminal 5, the "cabanas" with deep soaking tubs will also remain available.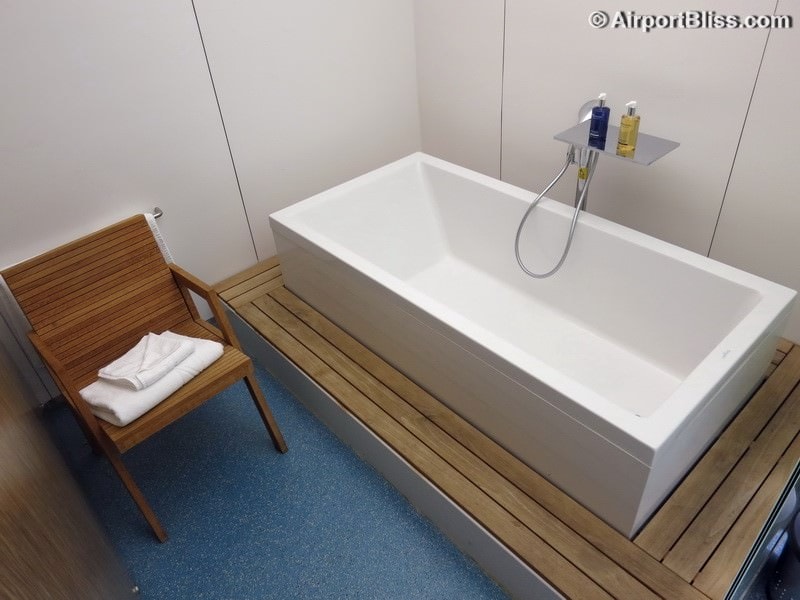 ---
Bottom line
COVID has claimed another victim: British Airways will not re-open the five airport lounge Elemis Spas at London Heathrow and New York JFK airports.
The decision is undoubtedly a cost-cutting move, although it is unlikely to make a difference to most travelers. We have called Elemis Spas a "token benefit": in theory, the concept of a pre-flight massage sounds like bliss. In reality, it was excessively difficult to secure an appointment, except on long layovers. First Class passengers had the opportunity to pre-book their appointment and thus cut the line, but the process was cumbersome and occasionally unreliable.
That being said, hundreds of customers did enjoy a relaxing treatment every day, and the perk was a competitive advantage for British Airways. It was also a long-standing tradition: prior to Elemis' 14-year tenure, British Airways used to partner with Molton Brown to offer shower and spa services.
It will be interesting to observe how other airlines respond. SkyTeam operates a complimentary spa in partnership with Clarins at London Heathrow Terminal 4. The facility is unique across the SkyTeam Lounge network and was undoubtedly designed to compete with the British carrier. Its future might hang in the balance.
Other airlines and operators, such as Air France, Lufthansa, Virgin Atlantic, Emirates, and Etihad use a hybrid model with a variety of paid and complimentary treatments. Should complimentary services be phased out, it's likely that the facilities will survive to some extent for paying customers.