Updated December 2021
Once merely a provincial city, Seattle has become one of the fastest growing metro areas in the US. The home of Microsoft, Amazon, Boeing, Starbucks, and Nintendo attracts new residents from all over the country thanks to its dynamic job market, temperate climate, beautiful scenery, and laid-back life style. It's no wonder that airline competition is heating up.
Alaska Airlines, the hometown airline, is being attacked from all parts by its former partner Delta. The Atlanta-based carrier has expanded dramatically in the Pacific Northwest with non-stop service to Europe and Asia, and a stunning new airport lounge. In response, Alaska has teamed up with American Airlines and will be joining oneworld. The partnership will give birth to a flurry of new international flights. United has retreated but is maintaining a token presence, while foreign airlines have launched non-stop flights from every corner of the world.
Everybody seems to want a piece of Seattle, and Seattle-Tacoma International Airport now has a vibrant lounge scene with several new or recently renovated clubs. Join us for a tour.
The SEA story
Seattle-Tacoma International Airport (SEA) is the largest international airport in the Pacific Northwest. The airport is located about 12 miles (19 kilometers) from downtown Seattle and is connected by Sound Transit's light rail system. Alaska Airlines and its subsidiary Horizon Air operate their largest hub there and is the airport's largest tenant, while Delta Air Lines uses SEA as an international gateway. A record 51.8 million passengers used the facilities in 2019, before the COVID-19 pandemic.
The airport was built in 1944 for military use, with commercial service commencing in 1947. Currently, Seattle-Tacoma has 3 terminals with 68 gates and 34 parking spaces, and is capable of handling all aircraft except for the Airbus A380-800. Early 2022, the Port of Seattle will inaugurate a new 450,000-square-foot International Arrivals Facility with a 85-foot-high aerial walkway above the tarmac. The new facility will double the number of international gates and inbound capacity.
Best Airport Lounges at SEA (2022)
From #9 to #1, here's our ranking of the business class and membership lounges at Seattle-Tacoma International airport. Read on for a brief review of each lounge and a summary of access rules and amenities, or read detailed reviews of every lounge. For each lounge, we also provide you with alternative options: other clubs that you may be able to use with the same credentials or boarding pass.
---
#9 – The Club at SEA South Satellite
Originally by the Port of Seattle under the "Club International" name, then re-branded as "The Club at SEA" under a management contract, the club serves most international airlines out of the South Satellite, and doubles as a pay-in lounge.
Given the caliber of some of the airlines which use this lounge—including as ANA, Emirates and Lufthansa—the basic facilities are bound to disappoint. The space is bright and tidy, but fails to meet the demands of peak-time departures. The list of amenities also underwhelms: there's no hot food, showers, or dedicated Wi-Fi network (although the airport does offer complimentary Wi-Fi.) A small section is partitioned off for First Class passengers but does not offer any additional amenities.
The Club at SEA is first and foremost a touchdown spot to catch up on email perhaps with a beer, and board hopefully soon. The clubs ranks last on our chart.
Find out more about The Club at SEA – Satellite S or purchase access
---
#8 – The Club at SEA Concourse A
The Club at SEA Concourse A is the sister facility of The Club at SEA South Satellite. The lounge welcomes Condor and Hainan Airlines' customers, Priority Pass members, all passengers on a pay-in basis.
Located on a mezzanine, the club features views on the concourse and the area surrounding the airport. The decidedly traditional design, featuring wood paneling and dark tones, is anything but cutting edge, but warm and welcoming. Power outlets are sorely lacking, and the lounge does not have a dedicated Wi-Fi network (although the airport offers complimentary Wi-Fi.)
The food and drink selection focuses on the essentials—snacks, soups, espresso, and soft drinks, but the selection of regional wines is a highlight.
The Club at SEA Concourse A at Seattle-Tacoma airport is a basic, but quiet and enjoyable lounge. Consider thinking twice before splurging, though: the airport offers free Wi-Fi and the access fee might be better spent at a nearby restaurant.
Find out more about The Club at SEA – Concourse A or purchase access
---
#7 – Alaska Lounge Concourse D
Alaska Airlines's two-story Concourse D lounge boasts floor-to-ceiling windows, great views on the tarmac, and plenty of natural light. The former flagship lounge sports a warm but old-school decor, with cozy touches such as a grand fireplace on the lower level.
The numerous seating options, all equipped with power outlets, include semi-private cube chairs, and convivial spots for groups. The buffet spread includes pancakes at breakfast time, snacks, salads, and desserts. On the drinks front, guests will find a generous array of wine, Champagne, and liquor, as well as and a Starbucks espresso machine with assorted syrups.
The Alaska Lounge Concourse D lounge is aging—it certainly has a vintage flavor compared to the swanky new flagship Alaska Lounge in the renovated North Satellite, but it remains a pleasant haven.
Find out more about the Alaska Airlines Lounge Concourse D
---
#6 – United Club
While United Clubs often don't rank high on the charts, The United Club at Seattle-Tacoma airport is a quiet, modern and stylish oasis. Opened in 2013, the lounge features United's minimalist but effective design with comfortable seating, power and USB outlets at every seat, custom lighting, and private phone and work rooms.
The food and beverage selection is modest, with an emphasis on light snacks, soups, and salads. House wines, Prosecco, and well drinks are complimentary; higher-end libations come at a cost.
Given United's shrinking footprint at Seattle airport, the club is typically extremely quiet. Compared to swankier clubs such as the American Express Centurion Lounge, the United Club is decidedly low key, yet more business-like and better suited to the needs of business travelers.
Sadly, the United Club has lost both daylight and views as most windows got obscured by the new adjacent International Arrivals Facility.
Find out more about the United Club SEA
---
#5 – Alaska Lounge Concourse C
The Alaska Lounge at Concourse C occupies a luminous space with views of the tarmac, and sports a modern design that marks a departure from the airline's more traditional roots.
The smart layout aims at combining density with guest privacy. While the lounge packs close to 90 seats in a relatively compact space, the play of angles, high-backed chairs, the large walkway, floor lamps, and convivial coffee tables break out the space and foster a feeling of serenity and privacy. Power and USB ports are available throughout.
The lounge features essential amenities including Wi-Fi, a generous snack selection, salads, cheeses, and a broad selection of complimentary alcoholic beverages.
Find out more about the Alaska Airlines Lounge Concourse C
---
#4 – British Airways Terraces Lounge
Once-upon-a-time the airport's only roof-top club, the British Airways Terraces Lounge in Satellite S boasts sweeping views and ample daylight.
British Airways designed the facility to high standards, with a grand entrance, elaborate showers with massaging jets, and an elegant business center. Yet, the facility has received few if any upgrades over the years. The cramped seating area is packed with worn furniture, power outlets are virtually unavailable, and crowding is often an issue.
The food selection—shrink wrapped snacks and mini-sandwiches—sorely disappoints for an international lounge, but the skilled bar tender crafts enjoyable cocktails, and all drinks are complimentary.
While an average club at best, the British Airways Terraces Lounge features enjoyable shower facilities, and thus reaches an honorable fourth spot in our ranking.
Read the full review of the British Airways Terraces Lounge SEA
---
#3 – American Express The Centurion Lounge
The Centurion Lounge welcomes exclusively American Express Centurion and Platinum card holders and guests.
The lounge boasts comfortable and private seating with power outlets at every seat, panoramic windows with tarmac views, a hot buffet, fast Wi-Fi, a shower suite, and discreet yet proactive service. The bar boasts the best alcohol selection at the airport, and all beverages are complimentary.
The Centurion Lounge would be perfect if it weren't for the fact that it's chronically crowded. The list of amenities is simply too solid to pass up.
Find out more about the American Express Centurion Lounge SEA
---
#2 – Alaska Lounge North Satellite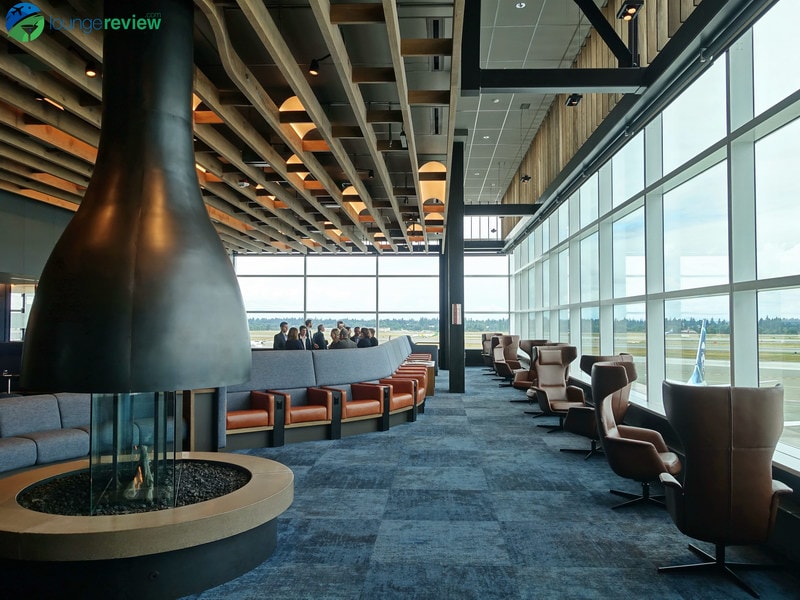 Inaugurated in 2019 The long-anticipated new flagship Alaska Lounge at Seattle-Tacoma International Airport occupies prime real estate on the rooftop of the expanded North Satellite.
The custom-designed space, built especially for Alaska, boasts a circular fireplace, 19-foot tall panoramic windows, dramatic runway views, and 270-degree vistas that encompass Mount Rainier and the Cascades. The layout naturally capitalizes on the views. Guests have their choice of intimate high-backed chairs along the panoramic windows to soak in the vistas, work-spaces facing the runways, and a bar with bird's eye views over the tarmac.
It's an #avgeek paradise, with a solid list of amenities including complimentary handcrafted coffee, hot pastries, snacks and other tasty nibbles, ikn addition to the essentials such as plentiful power outlets and fast Wi-Fi. Unfortunately, Alaska has decided to do without shower suites, and more substantial fare comes at a cost. The Alaska Lounge would be pirtually perfect otherwise.
Find out more about the Alaska Lounge North Satellite
---
#1 – Delta Sky Club Concourse A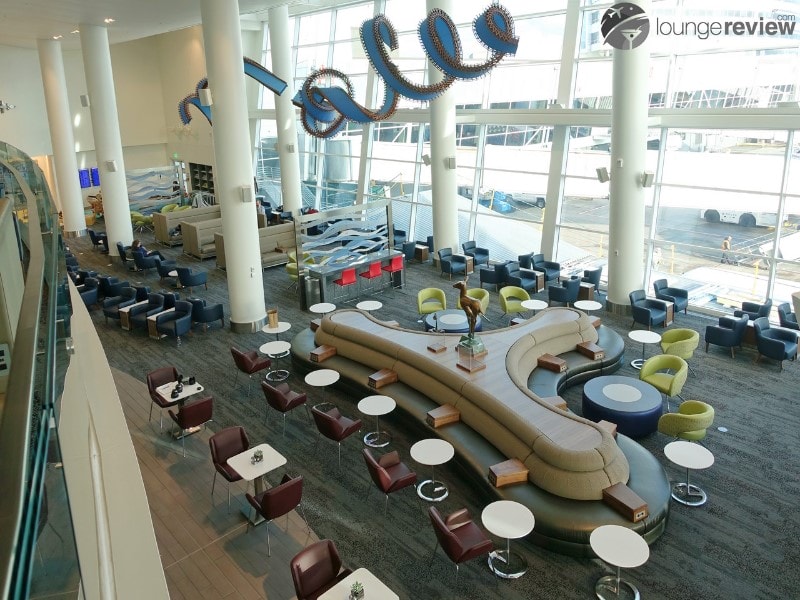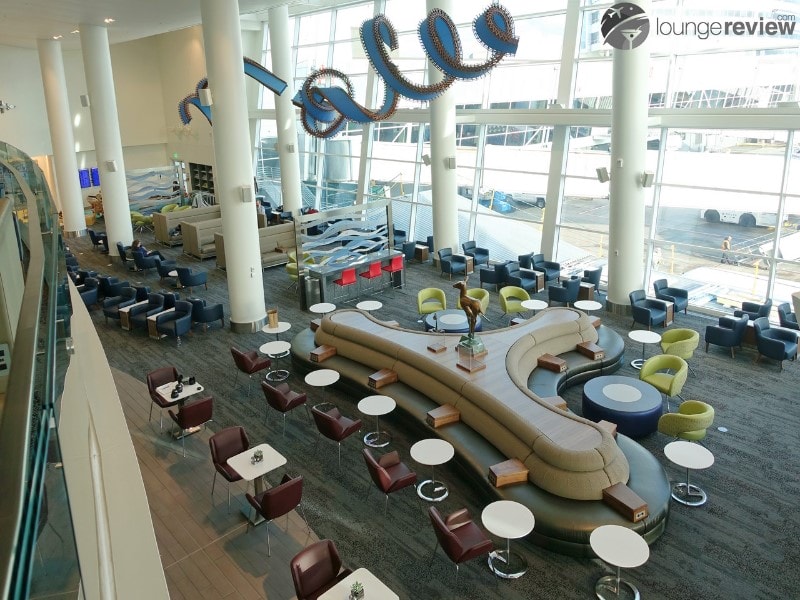 The stunning Delta Sky Club at Seattle-Tacoma airport Concourse A earns the top spot in of our chart.
The humongous lounge combines a gorgeous space with an excellent array of amenities. At over 210,000 sqf., the Sky Club in Concourse A accommodates over 400 customers and is the airline's fifth largest system wide—a testament to Seattle's position as a hub within the carrier's network. The space boasts panoramic views of Mount Rainier, enjoyed through panoramic 30 ft. windows which tint automatically, eliminating the need for blinds and reducing energy costs. Warm wood finishes give the club an upper-scale ambiance reminiscent of the Pacific Northwest.
The open layout features a variety of seating arrangements, with power outlets at every seat. The club hosts an exuberant art collection by local artists, inspired by the region.
The food and beverage selection—all prepared on-site in the club's kitchen—includes complimentary hot dishes by Seattle Chef Ethan Stowell, local IPA craft beer by Georgetown Brewing Company, as well as Starbucks coffee and local wines by the glass.
Other amenities include six elegant shower suites, changing rooms, private workstations, and spa services by Asanda Spa for an extra charge.
The new flagship Alaska Lounge is a serious contender for the top spot in our ranking. Delta wins with a narrow lead, considering the broader food and beverage selection and the availability of shower suites.
Note: Delta used to operate a second Delta Sky Club in the South Satellite, which was deactivated since early 2020 due to the COVID-19 pandemic, then eventually closed permanently late 2021 as the Port of Seattle re-shuffled space allocation in preparation for the opening of the new International Arrivals Facility. Seattle-Tacoma airport is evaluating options for a new Sky Club in Concourse A in partnership with Delta.
Not ranked: British Airways First Class Lounge
Seattle-Tacoma international airport has a single First Class lounge, save for the small First Class enclave within The Club at SEA in Satellite S. And it's not much to look forward to.
The British Airways First Class Lounge is a nook within the Terraces Lounge, with seating for a dozen persons including two sofas and individual chairs. There is also a single cubicle with a self-service computer. The furniture is perhaps more elegant than on the business class side. Unfortunately though, given British Airways' generous upgrade policies, and the fact that other airlines such as Asiana also use the lounge, the First Class room often gets crowded.
The food and drink offerings are on par with the business class side, which is to say that they're rather lacking. Food consists exclusively of packaged snacks and shrink-wrapped mini-sandwiches. A broad selection of drinks is available, and a bar tender will craft the cocktail of your choice – however you'll need to order from the bar which is located on the business class side.
The massaging showers are a highlight, and First Class passengers have priority over business class travelers. The front desk agents will offer to store your belongings while you shower – a nice touch, but don't expect your seat (or any seat, for that matter) to be available when you come back.
Overall, we can't help but wonder why British Airways bothers dedicating space to First Class passengers if the facilities and amenities don't remotely meet the First Class bar. You may as well sit in the business class portion of the lounge – at least, the space feels less claustrophobic and you'll be closer to the bar. And given the lack of competition (other airlines with a First Class cabin use the even less exciting The Club at SEA lounge) we don't expect the situation to improve anytime soon.
Find out more about the British Airways First Class Lounge SEA
Airside connections and how to lounge hop
Seattle-Tacoma is a lounge hopper's paradise. The main terminal (comprised of Concourses A, B, C and D) and both satellites (N as North and S as South) are all connected airside. The main concourse is large, but walkable end-to-end. In addition, a shuttle train links both ends (A gates to D gates and vice versa.) Two additional train routes link the two satellites.
In other words, a boarding pass grants you access to all terminals. Enter through any checkpoint – TSA Pre Check is available at either end of the main terminal – and just make your way to your favorite lounge.
For a detailed terminal diagram, see the airport's web site.
Allow at least 20 minutes to walk from one end to the main terminal to the other, and approximately 5-10 minutes to go from a satellite to the main terminal, and vice-versa.
More to come
We hope you've enjoyed our definitive guide to the Seattle-Tacoma airport lounge scene! Check out our other definitive guides. Over time we will be covering the world's major airports, providing an exclusive overview of all lounges.
Credits: SEA photo adapted from Christian Newton's original work under the Creative Commons Attribution 2.0 Generic (CC BY 2.0) license.