Updated November 2021
San Francisco, CA is both a major leisure destination and a key business hub. Despite geographical and geological boundaries, the city's growth, fueled by the sun and the software industry, seems unstoppable. With over 800,000 residents, the city by the Bay is the most densely populated city in the US after New York City.
San Francisco International airport (SFO) is a gateway to Northern California, the Silicon Valley, and the Pacific. The airport is the second busiest in California next to Los Angeles (LAX), the seventh busiest in the US, and a major United and Star Alliance hub.
Other SFO tenants might be relatively minor players relative to United, but competition for a share of the lucrative Asia and trans-continental markets is increasing. Both American and Delta offer non-stop service to New York City, competing head-to-head with United, and are doubling down on amenities and ground services. In August 2015, Delta made a bold move by opening a luxurious Sky Club which beats United's domestic lounges on every count. Alaska Airlines has dramatically increased their presence at SFO thanks to the acquisition of Virgin America, and in August 2021 launched a new Alaska Lounge in Terminal 2.
At loungereview.com, we've spent countless hours exploring every lounge at SFO for you. Here is our unbiased definitive guide to the San Francisco airport lounge scene to help you pick the best lounge based on your ticket or credentials. And if you're not sure what lounge(s) you have access to, check out our Lounge Access Wizard.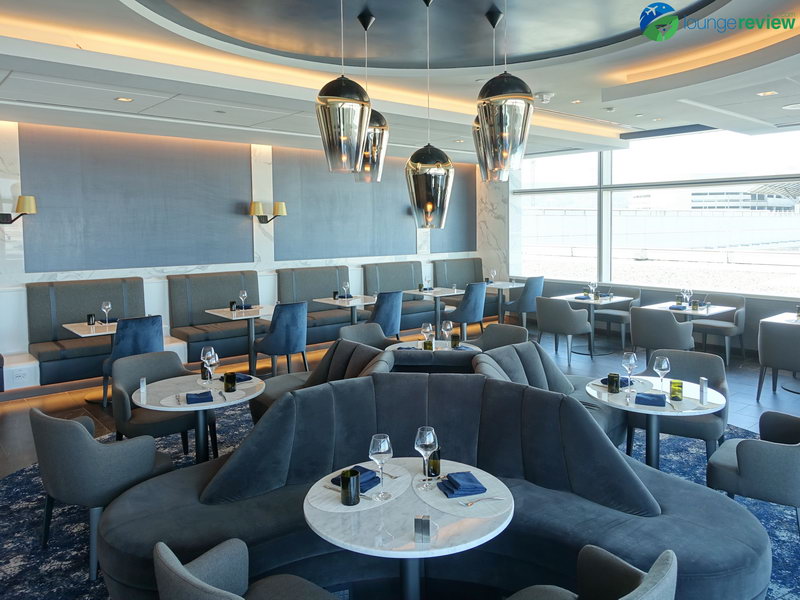 The SFO Story
San Francisco International Airport (SFO) is one of the busiest airports of the world. In 2014, it ranked as the 21th busiest with over 47 million passengers passing through. It is located 13 miles (21 kilometers) south of downtown San Francisco, CA and is home to more than 33,000 employees and $US 5.5 billion worth of business activity.
The airport opened on May 7, 1927 as the Mills Field Municipal Airport. The airport was represented by "San Francisco" in 1931. Due to increase capacity, passengers and routes, "International" replaced "Municipal" by 1955. It was one of the first airports in the United States to install jetway bridges in July 1959.
Today the airport has four runways in a double parallel configuration that can handle all commercial aircraft types including the Airbus A380-800. The airport has four terminals (1, 2, 3 and International), which host seven concourses. Intermodal transportation to the airport is provided by the Bay Area Rapid Transit (BART) system which provides direct connections to downtown San Francisco and Oakland.
Within the next 10 years, the airport will partake in projects to build a new air traffic control tower that will achieve LEED® status, terminal 1 and 3 improvements, and a new on-site 4-star hotel.
---
Best Airport Lounges at SFO (2020)
From worst to best here's our ranking of the business class and membership lounges at San Francisco International airport. Read on for a brief review of each lounge and a summary of access rules and amenities, or read detailed reviews of every lounge.
For each lounge, we also provide you with alternative options: other clubs that you may be able to use with the same credentials or boarding pass. For the purpose of this post, we've excluded the JAL Sakura Lounge and Philippine Airlines Lounge which are only open a few hours late at nights and therefore are not available to the majority of our readers.
---
#13 – United Club (Terminal 3E, Concourse level)
Opened in November 2015 in conjunction with the completely refurbished and vastly expanded Concourse E, the United Club in Concourse E is the airline's newest at SFO, and sports the latest design with clean lines, modern furniture, and dominant white tones.
The space is modern, pristine and functional—borderline utilitarian—but with seating for as many 130 customers, it is severely under-dimensioned, and the tight layout offers virtually no privacy.
Patrons will find side tables and power outlets at every seat, as well as a selection of snacks, soups and salads. House drinks are complimentary while higher-end libations come at a cost.
The United Club in Concourse E is convenient to travelers departing from the new gates, and offers great views on the tarmac. Otherwise, it's a pretty underwhelming offering—while old fashioned, the legacy club in Concourse F is much more spacious and features a relaxing quiet room.
The United Club in Concourse E ranks last on our chart. Despite being brand new, it disappoints given the lack of space, privacy, and amenities.
Find out more about the United Club at San Francisco Airport, Terminal 3E Concourse level
---
#12 – United Club (Terminal 3E, Mezzanine level)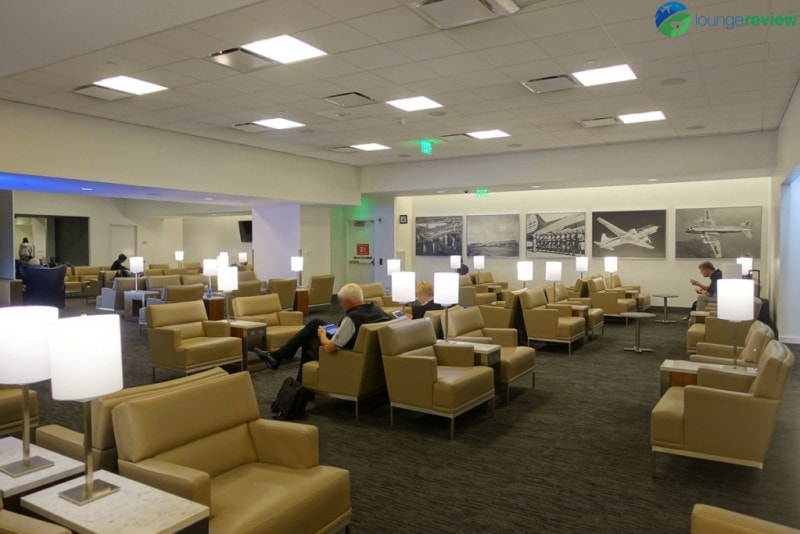 The United Club in Terminal 3, Concourse E, mezzanine level, was built as a temporary facility to cope with swelling crowds while the main Concourse E lounge was being designed. It closed down when the permanent Concourse E club opened, only to resurface late 2017 as overflow space to the closure of several lounges in the adjacent International Terminal.
The former office space looks and feels temporary—away from daylight, the club sports symphony of muted and monochrome tones. The amenities are limited, with a small selection of snacks and beverages, and a few bathroom stalls.
But the essentials are all there, with power outlets at every seat, fast Wi-Fi, and a well-stocked bar with complimentary house wines and well drinks. The best feature is probably the relative quiet: the club is hidden away from the concourse and only accessible through an elevator in the vicinity of gate 71A.
Find out more about the United Club at San Francisco Airport, Terminal 3E mezzanine level
#11 – United Club (International Terminal G)
The former Global First Lounge, hastily downgraded to a United Club since the opening of the new Polaris Lounge, retains its ideal location steps away from international gates, fancy customer service area, and its elegant but past-its-prime Asian-inspired decor.
Otherwise, it's become a run-of-the-mill club, crowded and ripe for a complete makeover. The sparse seating has made way for rows of seats, the napping room has faded away, the now-unmarked shower suites are locked into oblivion, and finding a seat can occasionally be challenging. There's still a silver lining: the alcohol selection is self-serve, since the club never had a dedicated bar area.
Overall, the United Club at San Francisco International Terminal G is a place to sit, relax, and get work done, but does not meet the standards of an international business class lounge.
Find out more about the United Club at San Francisco Airport International Terminal G
---
#10 – Air France KLM Lounge (International Terminal A)
The Air France KLM lounge in International Terminal A serves Air France, KLM, SkyTeam partners, and Air Canada passengers. The club also welcomes Priority Pass members, though the latter are routinely turned away due to crowding.
While the club has recently been refreshed, it has received few significant updates seen its former days as a Northwest Airlines Lounge and then a Sky Club. The signature fireplace is still there—though it has been inoperative for years.
The lounge features a seating area with a beverage counter, and a second room in the rear with a buffet and dining area. Overall, the layout offers very little privacy, and power outlets are sorely lacking. Windows run along the length of the lounge and provide plenty of natural light as well as outstanding close-up views of aircraft parked immediately outside.
The buffet offers an enjoyable selection of hot and cold dishes, tasty baguette sandwiches, snacks, and desserts. On the beverage front, patrons will enjoy a self-service selection of beers, wines, and even Champagne.
The Air France KLM lounge is a good option for Priority Pass members departing from International Terminal A, thanks to the quality of the food and beverage offering. As an international business class lounge, however, the club fails to impress due to its cramped layout, the lack of privacy, and lack of showers. It's no wonder that Air France directs First Class passengers to the far superior Virgin Atlantic Clubhouse.
Find out more about the Air France KLM lounge at San Francisco Airport or purchase access
---
#9 – United Club (Terminal 3, Concourse F, rotunda)
Due to its central location, the United Club in Terminal 3 by the Concourse F rotunda is the club that United passengers are the most likely to visit when flying domestically out of SFO. The lounge used to be United's flagship, with a grand reception area, unique décor, and artful touches. Time has passed and the decor has lost much of its former appeal, but a refurbishment won't be on deck for another few years.
The club benefits from plenty of natural light and offers great views on the tarmac. While it's often busy, a quiet room tucked away in a nook beyond the bar area offers a more serene ambiance, complete with a LED candle wall; a leftover from United's defunct partnership with Westin. There are also quiet work cubicles nearby.
The food and drink selection is the standard United Club fare with continental breakfast, soups, salads, and finger food. The spread is suitable for a substantial snack but doesn't quite cut it for a real meal. House wines and well drinks are complimentary, premium libations come at a cost.
A former flagship lounge, the United Club at San Francisco Airport Terminal 3 Concourse F retains a few nice touches such as the beautiful reception area, a comfortable relaxation room and a large business center. Other than that, it's a relatively basic United Club in need of remodeling.
Find out more about the United Club at San Francisco Airport Terminal 3 Concourse F
---
#8 – American Airlines Admirals Club – Terminal 2
The American Airlines Admirals Club at San Francisco International airport features a unique décor inspired by San Francisco. At the heart of the lounge is a cobblestone plaza with trees flanked by an elegant seating area that evokes a posh café. The space benefits from plenty of daylight and a window wall boasts exciting tarmac views. The design might feel a tad old fashioned to some, but it's a refreshing departure from cookie cutter clubs.
A variety of seating options is available ranging from booths to sofas, countertop seating, and cafe style seating. The club is rarely excessively busy and offers a comfortable level of privacy.
With power outlets at every seat, a small business center, premium food for purchase, and well appointed shower suites, the Admirals Club offers a solid range of amenities.
American may be an underdog in the Bay Area compared to United, but the Admirals Club is definitely superior to the United Clubs, and the showers are a treat. Just don't come for the free food – with snacks, humus, veggies, soup and cookies, there's enough for a small snack but nothing that comes close to a meal.
Find out more about the American Airlines Admirals Club at San Francisco airport
---
#7 – British Airways Lounge (International Terminal A)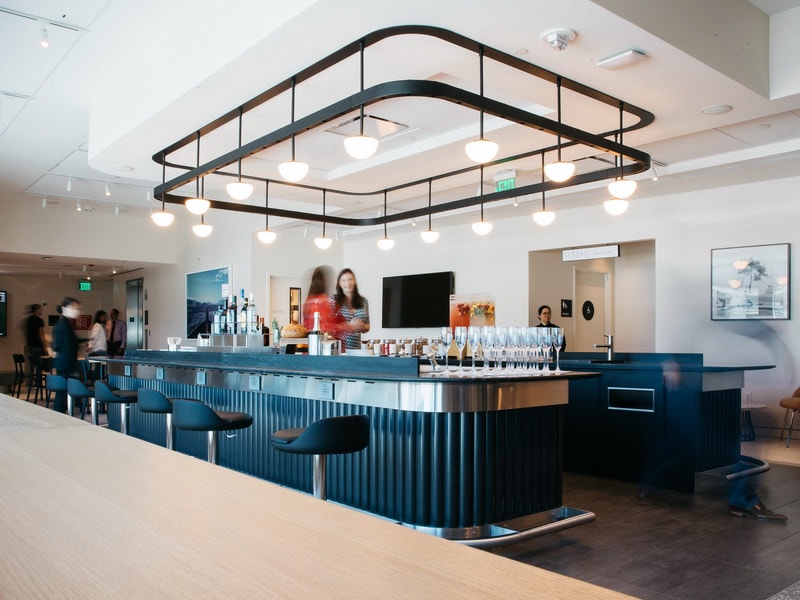 The British Airways Lounge at San Francisco airport received a much-needed complete makeover in 2019, and as such jumped a few spots up in our ranking. Left virtually unattended for years, the club ised to be one of the least attractive lounges at San Francisco airport.
The new design features hardwood floors, Earth tones, an eye-catching bar area, and original artwork. The layout strikes a reasonable balance between space efficiency and privacy, though the seating area is definitely compact.
Amenities are a mixed bag. The essentials—power plus, fast Wi-Fi, work spaces—are readily available, and British Airways offers convenient boarding directly from the lounge. But the food selection is on the modest side, with a focus on finger and comfort food such as cold cuts, a pasta bar, local cheeses, and sweets. And the shower suites—the only redeeming feature of the old lounge—are gone. (Consider heading over to the Cathay Pacific First and Business Class lounge for a shower; British Airways customers receive access per oneworld rules.)
First Class passengers fare a bit better: the lucky few are invited to retreat to the Boutique Dining Room for an a-la-carte pre-flight meal with wine pairings. The ambiance is posh, cozy, and exclusive—the dining room is off-limits to oneworld top elites—but the lack of daylight is off-putting.
Overall, the British Airways Lounge delivers on the essentials, with a few luxurious touches for First Class passengers, but it fails to impress.
Find out more about the British Airways Terraces Lounge at San Francisco Airport
---
#6 – Cathay Pacific Business and First Class Lounge (International Terminal A)
The Cathay Pacific Lounge serves Cathay Pacific, oneworld partners, as well as Alaska Airlines Board Room members – a treat for passengers of the Seattle-based airline.
The lounge features Cathay Pacific's luxurious traditional (but legacy) design with white marble that contrasts with black tiles, elegant furniture, soft lighting, earth colors, and the signature communal tables with stools. The club was expanded in 2015 and is now twice as large as when it opened back in 2011.
The comfortable seats all come with a side table and power outlet. Patrons wishing to enjoy more privacy may want to use one of the Solus chairs: individual productivity (or relaxation) pods designed exclusively for Cathay Pacific, with a built-in table and power outlet and a high padded wraparound shell.
It's unfortunate that the space offers virtually no views on the tarmac. While there are windows, and thus daylight, the views are blocked by the adjacent terminal building.
The food offering varies greatly throughout the day. Outside Cathay Pacific flight times, the selection is limited to snacks. Closer to the airline's flight times, it expands to include finger food, salads, soups, and a small assortment of hot entrees such as chicken curry and vegetable stir fry, plus the highlight: Cathay Pacific's traditional noodle bar. On the beverage front, self-serve fridges offer a vast assortment of soft drinks while a modest open bar with wines and liquor is also available.
Six showers are available. The tastefully decorated suites feature white marble and river pebbles and come with a sink, toilet, a rain shower, as well as amenities such as razors, moisturizing cream and a toothbrush.
Read the full review of the Cathay Pacific Business and First Class Lounge at San Francisco airport
---
#5 – Delta Sky Club (Terminal 1)
Delta's new Sky Club is located on the mezzanine level above the concourse, in a prime location that offers sweeping views over the busy tarmac. The bright and airy space features a unique décor which is a welcome departure from Delta's signature modern but blunt design, with tall floor to ceiling windows, lightweight partitions, and an overall simplicity in lines and colors. Throughout the day, the visually striking bar changes colors creating a dynamic and vibrant mood, while at dusk, smart LED lighting gives the club a soothing vibe.
The Sky Club is large – surprisingly so for San Francisco, which is a secondary market for Delta in a region heavily dominated by United. You will be guaranteed calm and privacy even at peak times.
The essentials are all available: private, comfortable seating with power ports at every seat, a business center, and fast Wi-Fi. But what sets the Delta Sky Club apart is the array of high end amenities.
The buffet features a noteworthy selection of complimentary snacks, salads, soups, hot entrees, and attractive desserts, all beautifully presented in elegant dishes and Le Creuset pots. In addition, the Sky Club offers a selection of cooked to order Asian-inspired delicacies like pho and Thai chicken flatbread, designed by a local chef and available for purchase. (The San Francisco Sky Club is the only one beyond the flagship JFK Sky Club to come with a full kitchen.)
Two luxurious and spacious shower suites are also available with a spa inspired vestibule, a spacious changing area, rain showers, and Isaac Mizrahi bath products.
Overall, the new Delta Sky Club at San Francisco International airport is a sumptuous lounge which truly raises the bar. Delta beats United by leaps and bounds on their own turf.
Read the full review of the Delta Sky Club at San Francisco airport
---
#4 – American Express The Centurion Lounge (Terminal 3)
American Express recently started building a network of domestic US airport lounges, providing complimentary access to Platinum and Centurion card members as well as paid access to all other card holders. The San Francisco Centurion Lounge opened late 2014 right in the heart of United land in Terminal 3, but also steps away from International Terminal G which is accessible through an airside connector.
With its all-glass façade, tainted doors, elegant but bold signage, and signature two-story living wall, the lounge makes a statement and draws attention even from outside. The space boasts a modern but timeless and chic design, with hardwood floors, dark wood paneling, recessed lighting, and designer furniture.
Seating options include a a large room with couches, tables for two, luxurious leather chairs, private cube chairs, and a wooden communal table, as well as café style seating. No detail was overlooked, with power outlets at every seat, fresh flowers, fruit baskets, and pillows.
The main draw of the American Express Centurion Lounge is the complimentary food and beverage offering. The dining area faces an open kitchen which cranks out hot dishes designed by a Michelin starred chef. The menu includes a variety of appetizers and salads, hot entrees, and desserts. A complimentary full bar is available with an outstanding selection of signature cocktails. Patrons may also ask for a coupon to get five pours from the automated dispensers built into the wine wall.
Additional amenities include an elegant shower suite with L'Occitane amenities, a business center, and a family room with toys and video games. And the service matches the breath of amenities, with friendly and proactive staff readily available.
So, what's the catch? The Centurion Lounge is proving extremely popular, and is often crowded, when it's not downright noisy and borderline uncomfortable. We struggled ranking the Delta Sky Club against The Centurion Lounge—the former is quieter and more spacious, with grand views. But the exquisite design of the Centurion Lounge combined with the excellent food and beverage selection makes it a favorite of ours; at least outside peak hours.
Read the full review of the Centurion Lounge at San Francisco airport
---
#3 – Emirates Lounge (International Terminal A)
Despite operating a single daily flight, Emirates runs their own lounge in International Terminal A. At a first glance, the space doesn't look too impressive—it is located at the ground level and therefore lacks any noteworthy views. But the facility is immaculate, with the airline's traditional design featuring an Italian marble floor, Rolex clocks, golden hues and not so subtle pillows. It's a bit heavy handed, yet never excessive due to pleasant touches such as a soothing water feature, numerous indoor plants which double as privacy dividers, and gorgeous flower arrangements.
Emirates' food and beverage offering beats what United and British Airways offer at their respective First Class lounges. With a wide range of small plates, cold and hot dishes and tasty desserts, all beautifully presented, there is something for every taste. Drinks wise, a wide selection of soda and alcoholic beverages is available, with Veuve Clicquot Champagne, although the spirits are the middle shelf type.
The bathrooms are luxuriously maintained and decorated, with fresh orchids, cloth towels, and Babor Timeless spa lotions. The four showers are somewhat basic but do come with Timeless spa bath amenities as well as toothbrushes and shaving kits.
Self-service PCs, printers, newspapers and magazines, and a prayer room are also available.
Overall, the Emirates Lounge at San Francisco Airport combines a quiet and peaceful environment with a superior food and beverage offering, and a range of business amenities. The Delta Sky Club may have better views, and the Centurion Lounge a more vibrant design and vibe along with some unique features such as the wine tasting wall, but neither provides the same combination of a soothing environment with a gastronomical experience. Well done, Emirates. Unfortunately for most of us, the Emirates Lounge is only accessible to Emirates passengers, so it's not a viable alternative to any of the aforementioned lounges.
Read the full review of the Emirates Lounge at San Francisco airport
---
#2 – Virgin Atlantic Clubhouse (International Terminal A)
Virgin Atlantic has established a solid reputation when it comes to lounges. And while the Virgin Atlantic Clubhouse SFO isn't quite as grand or over the top as the London Heathrow flagship, it retains some of the key attributes: a modern design with a fun vibe, comfortable and private seating, a vibrant bar area with an outstanding drink selection, a complimentary, full-service restaurant with fresh dishes prepared on demand, cheerful and helpful staff, and showers with Cowshed bath products.
From a design standpoint, the Clubhouse is the most unique club at San Francisco airport. The décor bridges the gap between trendy and timeless with designer furniture and bold colors, but also a genuinely relaxing and private living room-like environment.
The Clubhouse is a haven of service and amenities, with complimentary a-la-carte dining featuring freshly prepared meals served with flair (while Emirates offers a larger menu, the Dubai airline uses an outside caterer while Virgin prepares meals on site.) The drink selection—with Champagne, over 70 whiskeys, and a fine range of liquor and spirits—tops what's on offer at The Centurion Lounge.
The Clubhouse recently started accepting Priority Pass outside Virgin Atlantic flight hours. Come in for the design, but don't expect the same service—the restaurant and free-flowing drinks are off-limits to Priority Pass customers.
Find out more about the Virgin Atlantic Clubhouse at San Francisco Airport or purchase access
---
#1 – United Polaris Lounge (International Terminal G)
United has hit a home run with the new Polaris Lounge, a haven exclusively for long-haul United and Star Alliance passengers. The bi-level, expansive facility was built in 2018 in the footprint of the former international United Club, Singapore Airlines Lounge, and EVA Air Lounge, and boasts some of the airport's best views.
A plethora of seats welcomes travelers with power outlets and USB ports at every corner. Sofas, booths, egg chairs, and productivity pods should meet the most diverse needs. Many seats offer plenty of privacy for work or relaxation.
On the ground floor, and entire space dubbed the Library is earmarked as a quiet area. That's also where luxurious shower suites and individual sleeping rooms are located. Both come with Saks Fifth Avenue-branded amenities such as slippers.
On the upper floor, an expansive seating area surrounds a vibrant bar and dining area. In addition to a generous buffet featuring sushi, a noodle bar, and rotating international fare, guests may enjoy a meal at the dedicated complimentary full-service restaurant. The bar boasts a collection of creative cocktails and local spirits, as well as barista coffee.
The decor plays on the name Polaris, with twinkling stars on the ceiling in the hallways, star-shaped couches, and even binoculars—to watch planes, or stars.
The Polaris Lounge is a real treat well worth an extended stay.
Find out more about the United Polaris Lounge at San Francisco Airport
---
Airside connections and how to lounge hop
San Francisco International Airport is large but easy to navigate with a train system linking all terminals landside, and direct connections to the regional BART transit system. Airside connections have dramatically improved in the last few years. In November 2021, SFO unveiled a new connector hallway between Terminals 2 and 3. Passengers can now roam between Terminals 2, 3, and International Terminal G without having to re-clear security.
At present:
At SFO, a boarding pass grants you access to all terminals. You may therefore use the lounge of your choice, provided that you have sufficient time to go through security at each terminal, when applicable.
For a detailed terminal diagram, see the airport's web site.
---
More to come
We hope you've enjoyed our definitive guide to the San Francisco airport lounge scene! Check out our other definitive guides covering Los Angeles (LAX) and Seattle-Tacoma (SEA.) We'll be covering additional airports shortly.
Credits: SFO photo adapted from Håkan Dahlström under the Creative Commons Attribution 2.0 Generic (CC BY 2.0) license.