The new lounge for first and business class passengers at Los Angeles International Airport is the latest to receive the Facets of Abu Dhabi branding from Etihad Airways. The Abu Dhabi-based airline has 15 lounges around the world.
The new lounge, Etihad's first on the West Coast, is located in the Tom Bradley International Terminal and serves travelers taking Etihad's 777 flight to Abu Dhabi. It is the newest of Etihad's 15 Premium Lounges, joining locations two American lounges at Washington D.C.'s Dulles International Airport, New York's John F. Kennedy Airport, as well as lounges in Abu Dhabi, Frankfurt, London, Manchester, Dublin, Paris, Sydney and Melbourne.
The lounge at LAX is styled in what Etihad calls Modern Arabian, taking its inspiration from geometric patterns found in the traditional and modern architecture of Abu Dhabi, along with the city's desert landscape.
In an exclusive interview with loungereview.com, James Hogan, president and CEO of Etihad Aviation Group, talked about how the placement of these lounges is a part of the long-term strategy for the airline.
"We operate long-range aircraft out of Abu Dhabi that have premium traffic. They have an expectation of high-end products and services," he said. "Before starting on their trips, they have the opportunity to check into our lounges, have a break and relax. It's a different environment than those operated by most airlines."
Calum Laming, Etihad's vice president for customer experience, said that the airline is more concerned about what customers feel than what they see in its lounges. "We want them to have a true five-star hospitality experience as part of our brand," he said.
"We offer a high level of service in our lounges from the moment customers enter and are greeted by staff," said Laming, who says the airline takes its cues from five-star hotels and organizations aiming for the ultimate in customer experience. "But of course, we also need to have an environment that matches that five-star experience."
'The Facets of Abu Dhabi' brings Etihad's brand to life
The Facets of Abu Dhabi brand is part of a massive program Etihad launched in December 2014 after the launch of the Airbus A380 and the Boeing 787 Dreamliner. Once those airplanes were introduced into the Etihad fleet, the also airline decided it was time to upgrade it's branding, Laming explained.
Facets is not just a design – it brings the brand to life, Laming said.
"We use Facets as an inspiration to reflect modern Arabia and Abu Dhabi," he said. "It picks up on some of the beautiful spaces in Abu Dhabi, along with light and sun, which is important in the city."
The LAX lounge, like other Facets lounges, features fretwork, a style of design with holes and shapes cut out that shows light changes as sun moves across, said Laming. "This design reflects the way we updated to coordinate our color palate from black and gold to chocolate brown. We also added some sandy colors to reflect where we come from," he said. "Since 2009, Abu Dhabi has become a true global city and Etihad needed to reflect that as well. Fretwork is synonymous with Abu Dhabi, so we moved it into the brand, including the livery on our aircraft and in our lounges. It's part of the visual elements in our brand design."
The space features everything one would expect in an Etihad lounge, including luxury seating, an à la carte dining area, a showcase bar, a TV area, shower facilities, free high-speed Wi-Fi, multi-zone electrical and USB power outlets, and a selection of international magazines and daily newspapers.
But there are special touches that are unique to each of Etihad's 15 lounges, Laming said.
Etihad's Premium Lounges combine a common design language with unique local touches
"In Abu Dhabi, the pièce de résistance is our first class lounge that opened in May. Again, in that lounge, everything comes back to a true hospitality experience," said Laming. "In our newest lounges, the bar is a key feature, which has never been done before."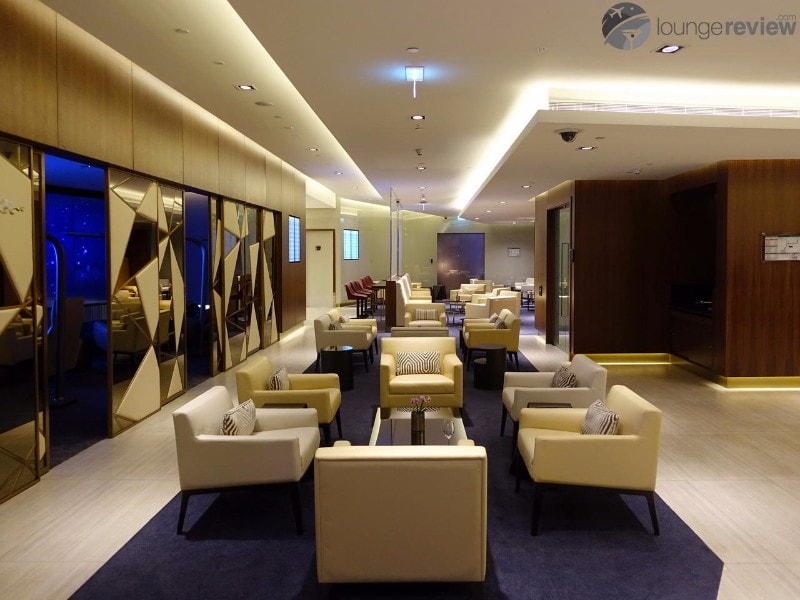 Etihad hired London-based Fluid Movement, a beverage consultancy, to create unique bar experiences in each lounge, said Laming. "It's a bespoke experience that took inspiration and elements from cities around the world," he said. "The LAX lounge is tequila-focused, featuring a drink topped with cotton candy to represent the clouds of California. Our London lounge has gin-based drinks, including one that features dehydrated rhubarb." The lounges also offer bespoke mocktails, like the Arabian-themed coffee cocktail served in Abu Dhabi, he added.
The lounges also have bespoke furniture that features a geometric design that's popular in Abu Dhabi, said Laming. "In Abu Dhabi, the lounge features a style section where men and women can get nail and hair care," he said. "There's also a relaxation room that's soundproof and peaceful. There's also a family room and gym in the first class lounge."
All lounges feature a la carte dining, along with bar snacks, said Laming. "Our menus change to stay updated and fresh. We rotate our menu cards every day so we can adapt," he said.
The JFK Airport lounge features amazing views via floor-to-ceiling windows and relaxation facilities. Amenities include a sculptural showcase bar and lounge with an extensive and bespoke cocktail and mocktail menu, a choice of a la carte and international buffet options in an intimate dining room, a range of separate seating sections, luxurious restrooms with showers and changing rooms, dedicated male and female ablution and prayer rooms, a library and luggage storage.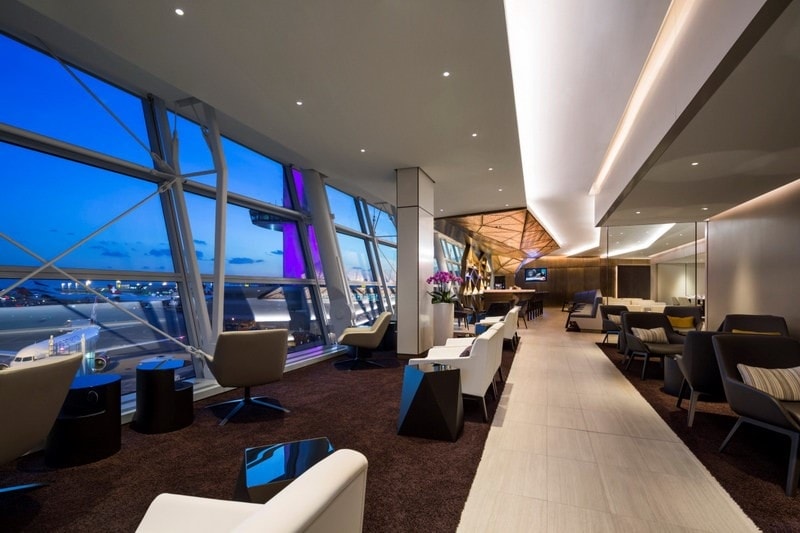 The lounge in Melbourne, Australia, is Etihad's largest outside of Abu Dhabi, with seating for 133 travelers. The lounge features a 26-seat dining area, where passengers can have restaurant-style a la carte dining or access to an international buffet. The Melbourne bar features bespoke cocktails, including Controlled Airspace, along with other one-of-a-kind alcoholic and non-alcoholic drinks.
Amenities in the main lounge include separate male and female restrooms with shower facilities and Scaramouche + Fandango products, dedicated male and female ablution and prayer rooms, a children's playroom, a luggage room, high-speed Wi-Fi and multi-zone electric and USB power outlets.
Exclusive areas for The Residence passengers
Travelers flying in Etihad's The Residence have access to a separate private lounge that matches the luxury found in-flight, including service from the carrier's Savoy-trained butlers, which was important for the airline, said Laming. "It's an experience that is unique among commercial airlines, so we needed a separate area for them in Abu Dhabi, JFK and Melbourne," he said.
Key features of these special lounges are: seating with leather used on Etihad's aircraft and Ferrari and Bugatti cars; a dedicated dining area that uses Savoy-trained butlers and highly trained hospitality staff; and the same plates, crystal and cutlery that is used in the Residence. "Our guests want the ultimate experience that's at a price similar to a private jet," said Laming.
Etihad is rolling out The Facets of Abu Dhabi worldwide
For all its lounges, Etihad is bringing hospitality to life by hiring lounge personnel who have five-star hotel and restaurant experience, said Laming.
Many of Etihad's lounges are still new, said Laming. "So when a refurbishment plan warrants it, a lounge will be done. Frankfurt, which opened in 2009, was refurbished in 2013. Our D.C. lounge is only three years old and Sydney opened in May 2014, so they won't be done immediately," he said. "But we will be elevating the food and beverage offerings, including the bespoke bar program."
There is no timeline to have all the lounges done in the Facets of Abu Dhabi brand, said Laming. "Normally, our lounges are refurbished around every six years or so. But despite that, we're still proud of our guests' satisfaction with all our lounges."
Featured image: Etihad Airways First & Business Class Lounge – Melbourne (MEL)