Tomorrow will mark the culmination of the first phase of an ambitious five-year project to transform the venerable North Satellite at Seattle-Tacoma airport in partnership with Alaska Airlines, the airport's largest tenant and the sole occupant of the satellite building.
The 45-year old structure is undergoing a complete makeover, to the tune of $550 million dollars. With eight new gates across a 240-foot expansion, rejuvenated public spaces outfitted with a myriad of power outlets, and new dining and retail spaces, the completion of phase one has already given the aging terminal a new lease on life.
But the crown jewel of the modernization project is hardly visible from the concourse floor. Alaska Airlines is taking the lounge experience to a new level—literally—with a new club on the rooftop of the terminal.
Today, Alaska unveiled the new flagship Alaska Lounge to members of the press, guests, and frequent flyers. The lounge opens to the public tomorrow, July 12th, at 5 AM. Here's what to expect.
The new Alaska Lounge at SEA North Satellite: views, views, views
To reach the pinnacle, all it takes is a hop on the train to the North Satellite, where a new elevator near gates N13-N18 whisks guests to the new rooftop level. With automated fingerprint-based check-in, access is a breeze.
Rooftop lounges at Sea-Tac airport aren't exactly a novelty: British Airways pioneered the concept in 2001 at the South Satellite, followed by Delta. But with 19-foot tall panoramic windows, dramatic runway views, and 270-degree vistas that encompass Mount Rainier and the Cascades, the Alaska Lounge sets a new standard.
The decor, conceived by local architecture firm Graham Baba Architects, is both modern and authentic. The delicate alliance of natural materials and Earth tones, the juxtaposition of wood and brass, and the abundant daylight foster a warm and welcoming ambiance.
The layout naturally capitalizes on the views. Guests have their choice of intimate high-backed chairs along the panoramic windows to soak in the vistas, work-spaces facing the runways, and a bar with bird's eye views over the tarmac. The Alaska Lounge has the best vantage point over airport operations, and is bound to be popular with aviation fans and aircraft spotters.
The designers settled against tinting windows to avoid blue hues, but automatic shades will block excessive sunlight. In the evenings, sunsets are bound to be a sight to behold.
The open-layout floor is roughly divided into three areas, each with their own character.
The main seating area, dubbed "Take A Breadth," with a grand circular fireplace surrounded by an inviting couch, evokes Alaska's roots and invites guests to socialize and relax ahead of their journey. (Of note—the fire is real, unlike at other airport lounges.)
The space is outfitted with intimate loungers, comfortable booths, and a variety of cozy seats, all equipped with power outlets and side consoles. Plush carpeting and sound-absorbing materials help create a serene environment conducive to relaxation.
The decor, ambiance, and fireplace somewhat remind us of the Icelandair Saga Lounge at Reykjavik Airport, although Alaska wins the monumental fireplace competition hands down. Incidentally, Icelandair is one of Alaska's worldwide's partners.
In the more dynamic "Help Yourself" zone, guests will find light fare, two barista stations, dining tables, booths, and convivial shared tables.
The vibrant, aptly-named "Cut Loose" zone is dominated by a large central bar surrounded with couches, table-top seating, a gorgeous natural wood table, and a variety of chill spots to settle for a drink or three.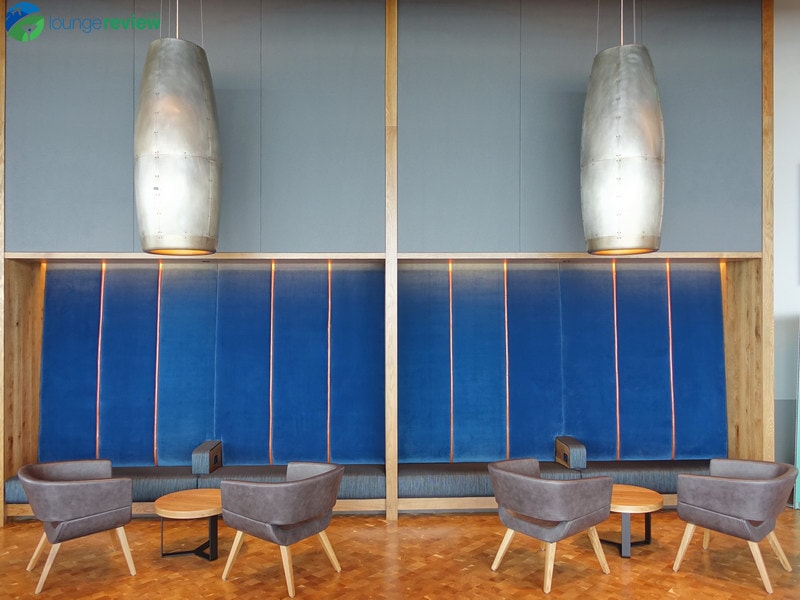 At over 15,800 square feet, the new Alaska lounge at Seattle airport is the largest system-wide, and three times larger than the airline's biggest club so far. It's still shy of Delta's 21,000 square foot Sky Club in Concourse A, but with expansive views in every direction, the eye may get fooled.
Alaska Lounge Seattle North Satellite food and beverages – and barista coffee!
Alaska's frequent flyers will find comfort in a familiar offering: the new rooftop lounge at Seattle airport features the airline's typical range of food of beverages. In addition, the club sports two barista stations to satisfy those coffee cravings.
The breakfast spread includes a yoghurt bar with a choice of toppings, steel-cut oatmeal, hard-boiled eggs, scones, bagels, fresh fruit, as well as a staple of Alaska Lounges: a pancake machine which delivers fresh pancakes at the touch of a button.
In addition, guests can savor a selection of complimentary scones and cookies from Seattle's Marsee Bakery.
Breakfast in the Pacific Northwest would be nothing without coffee, and Alaska is introducing a luxurious touch, unmatched at any Seattle lounge: two barista stations staffed with Starbucks-trained coffee masters who will craft espresso beverages and Teavana tea drinks all day long. At the guest's request, hot drinks are served in a mug to enjoy in the lounge, or in a paper cup to take away. Service was a bit hectic during the media event, but we trust that teething issues will be resolved promptly and that the staff will soon adjust to the frenetic pace of an airport environment.
Throughout the day, patrons will enjoy a selection of soups, salads, cheeses, and breads. The menu will somewhat be more elaborate in the evenings with additional snacks, veggies and hummus, cheese and crackers, as well as fresh fruit and cookies.
Guests looking for something more substantial can purchase a variety of hot items. Prices start at $8 and the selection includes an egg and brioche sandwich, asparagus and goat cheese omelet, flatbread pizza, chicken pesto panini, and a Korean rice bowl.
The concept of charging for food at an airline lounge is bound to draw criticism, but having experienced Alaska's similar offering at Seattle (Concourse C), Los Angeles and New York JFK, we found the hot items to be a reasonable value—they're fresh, tasty, and served quickly with a smile for the fraction of a cost of a meal at a restaurant in the terminal. That said, on this point, Alaska's main competitor gives the hometown airline a run for their money: both Delta Sky Clubs serve free hot food.
The selection of complimentary alcoholic beverages celebrates the West Coast with a choice of local wines and 12 local draft beers on tap. Highlights include Lounge Life IPA created in partnership Seattle's Fremont Brewing, and micro-brews such as Pyramid IPA. There's also a wide variety of well drinks and cocktails, with additional premium beverages available for purchase.
Soft drinks are plentiful, with infused water, juices, and a Coca-Cola freestyle machine serving the most creative soda concoctions at the touch of a button.
Alaska Lounge Seattle North Satellite amenities
The new Alaska Lounge features the usual range of amenities that's expected from a modern world-class lounge: plenty of power outlets, fast Wi-Fi, wireless printing, and a selection of newspapers and magazines.
There's one key amenity that did not make the cut: showers. The rationale is easy to understand: showers take valuable real estate, are expensive to run, and require frequent maintenance. Plus, there's the risk of frustrating customers when the the line is too long, which is bound to happen at peak times. However, with competition in the transcontinental market heating up, showers would help Alaska round up their product offering. That's not lost on Delta, Alaska's fiercest competitor, who has included several shower suites in the footprint of the flagship SkyClub in Concourse A. As an alternative, American Express Platinum card holders can shower at The Centurion Lounge.
Three Alaska Lounges at SEA
The new Alaska Lounge on the rooftop of the North Satellite at Seattle-Tacoma international new club will replace the Alaska Lounge near gates N1-N2, which will close permanently as of July 12th.
This will leave Alaska passengers with a choice of three Alaska Lounges at SEA.
The new rooftop Alaska Lounge above gates N13-18 will be open daily between 5 AM and 11 PM, and is ideal for passengers departing from the North Satellite (also known as Satellite N or N gates.)
The two-year-old Alaska Lounge in Concourse C (in the main terminal, near gate C16) is open daily from 5 AM until 12 AM, and primarily serves Horizon Air regional flights.
The vintage two-level Alaska Lounge in Concourse D (main terminal, near gate D1) is open daily from 4:30 AM to 8 PM, and situated a stone's throw from Alaska gates in Concourse D and a short walk from Concourses A and B where Alaska's partner airlines depart from. However, this location is expected to close soon for remodeling.
All Sea-Tac terminals are connected airside by an automated transit system, and the transfer time between concourses is typically no more than 15 minutes.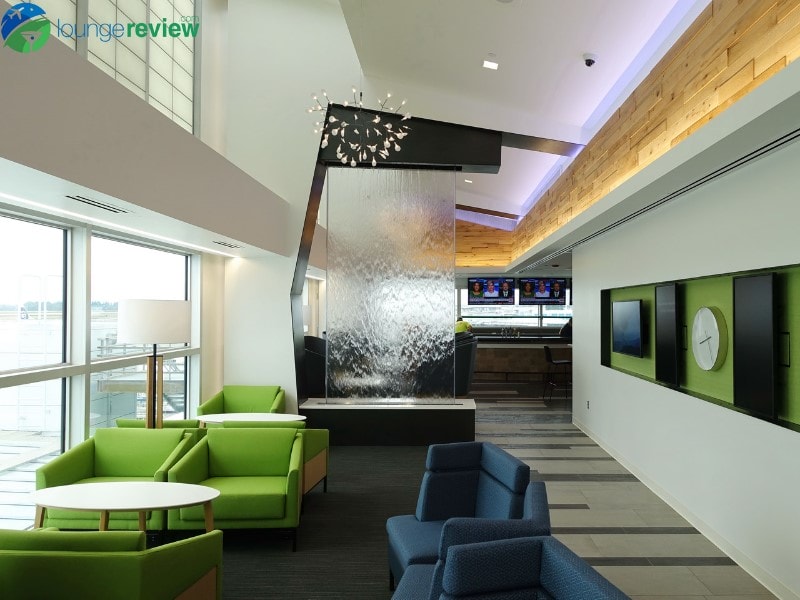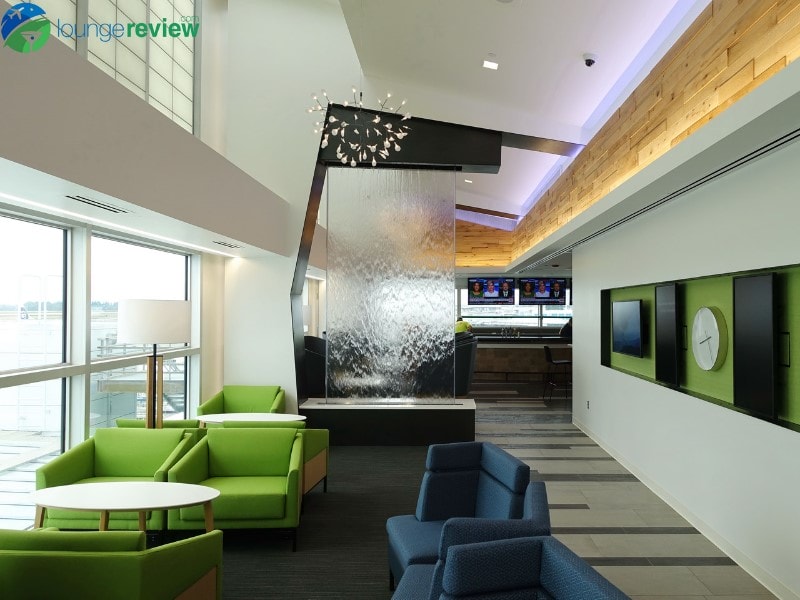 Alaska Lounge access rules
Alaska has some of the most generous lounge access rules in the industry.
The carrier is the only US airline to grant club access to both domestic and international First Class passengers (including award tickets, but excluding upgrades.)
Alaska Lounge members can use the clubs when flying any airline. (Delta requires a same-day Delta boarding pass, and United will adopt a similar policy by the end of the year.) Memberships cost between $295 and $450 depending on frequent flyer status.
While Alaska does not belong to any alliance, the airline has established a wide range of partnerships.
American Airlines Admiral Club members are welcome whenever they fly American or Alaska.
Qantas Gold, Platinum and Platinum One members, along with Qantas Club members, receive access when their itinerary includes a Qantas flight.
Hainan Airlines, Korean Air, and Iceland air premium and elite customers also receive reciprocal access.
Finally, anybody is welcome to purchase access for $50. Holders of the Alaska Airlines Visa credit card receive a 50% discount, which brings the cost down to an affordable $25.
Notably absent from the access list is Priority Pass, the world's largest airport lounge access program. While Alaska has been a long-time Priority Pass partner and continues to welcome members at the Anchorage, Los Angeles, and Portland lounges outside peak times, the Seattle lounges will remain off-limits to Priority Pass card holders in order to mitigate crowding.
Bottom line
The new Alaska Lounge on the rooftop of the renovated North Satellite at Seattle-Tacoma international airport blends style with local character. The club sports the airport's best runway views, an elegant decor with a distinctive Northwest vibe, modern conveniences such as power outlets and fast Wi-Fi, and a few luxurious add-ons such as barista coffee.
There's much to love, though Alaska has stopped short of offering complimentary hot food and showers. And if the fate of the Virgin America brand was ever in doubt, the question has now been settled. The timelessly elegant decor feels like a natural evolution of Alaska's core identity, with little room for Virgin's edgy design.
Alaska will move all North Satellite operations to the new gates on July 15th, at which point the original section of the terminal building will be shuttered for renovations through 2021.
That's two more years of dust, but the outcome is well worth the wait. In the meantime, take a stroll through the new Alaska Lounge on your next trip through Seattle-Tacoma airport, gaze at the Northwest scenery, and sip a latte by the fireplace. There's never been a better time to fly Seattle's home airline.
Picture gallery