"I love flying from LaGuardia!" said no one ever. The aging airport, famously decried by former Vice President Joe Biden as a third-world facility, was never designed for the demands of modern air travel.
Even premium passengers, who are used to shorter lines and posh lounges, suffer from its awkward layout: several airline clubs are located before security, greatly diminishing their value and appeal.
New York's third airport is receiving a face lift. The $4 billion mega-project, which was kicked off in 2015, has given birth to a new Concourse on the eastern side of Terminal B. From drab hallways to 55-foot ceilings and an indoor garden bathed in daylight, it's a radical change of scenery.
United will be moving in on June 2, on the heels of fellow Star Alliance member Air Canada. For passengers, this means a completely new travel experience, along with a new United Club located steps away from the four-month-old Air Canada Maple Leaf Lounge, near gate 49.
The transformation is so dramatic that Oscar Munoz, CEO of United, made a stop in the big Apple today to unveil the new lounge to members of press and the media.
Airy and breezy: United Club LGA design
There's not much to compare between United's legacy club outside security and the new lounge that awaits passengers. The two clubs are a few hundreds of yards away yet worlds apart.
First and foremost, the new United Club is located after security, so it's finally possible to truly relax before a flight, or work right up until boarding time in the event of a delay.
Unlike the legacy terminals, the new Terminal B Eastern Concourse was designed with airline clubs in mind, and the United Club occupies a prime location on an open mezzanine above the gate area, with sweeping views of Air Canada and Southwest airplanes—soon to be joined by United jets.
At 10,500 square feet, with seating for over 200 guests, the new club is 30% larger than its predecessor, and bathed in daylight.
The space is open unto the concourse below, reminding us of the United Club San Diego. This makes for an airy and welcoming atmosphere, though invariably noise from the terminal will bleed in. Fortunately, there's plenty of more secluded areas.
There are few surprises when it comes to the decor; United's design team has been remarkably consistent, and while the space has a modern appeal, it is decidedly monochrome and ultra-functional.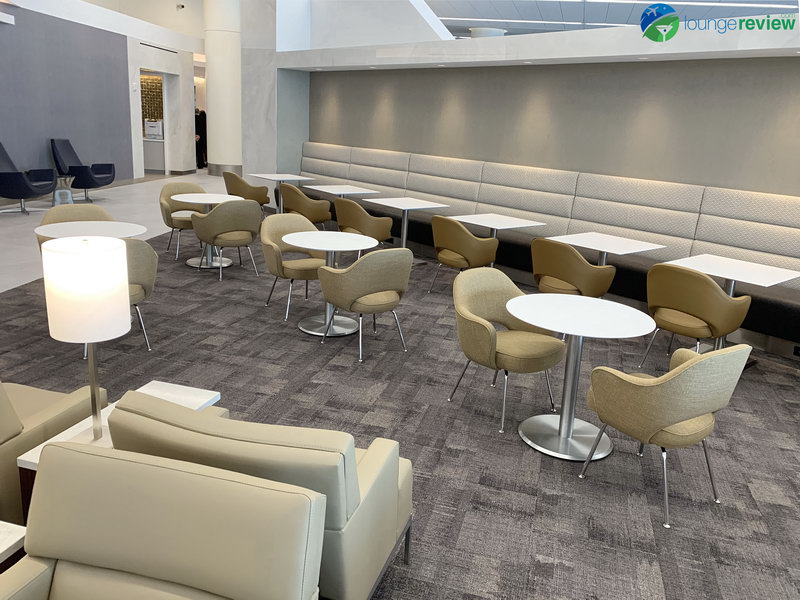 The trained eye will still note a few welcome improvements such as smoother, rounder shapes around the bar, cute little designer lamps in work spaces, decorative shelves behind the bar seemingly inspired by the United Polaris Lounge design, and a fantastic new arrangement of United's signature egg chairs, to the benefit of solo travelers, who will enjoy a touch of additional privacy.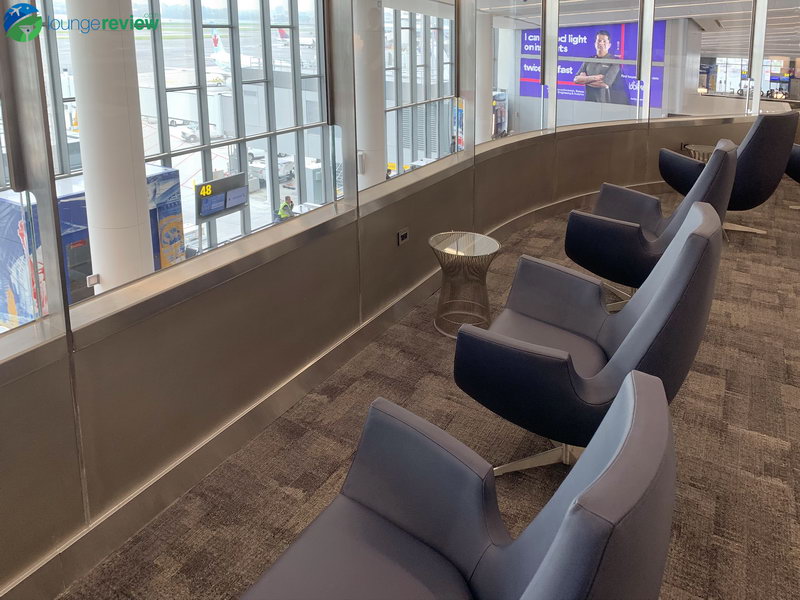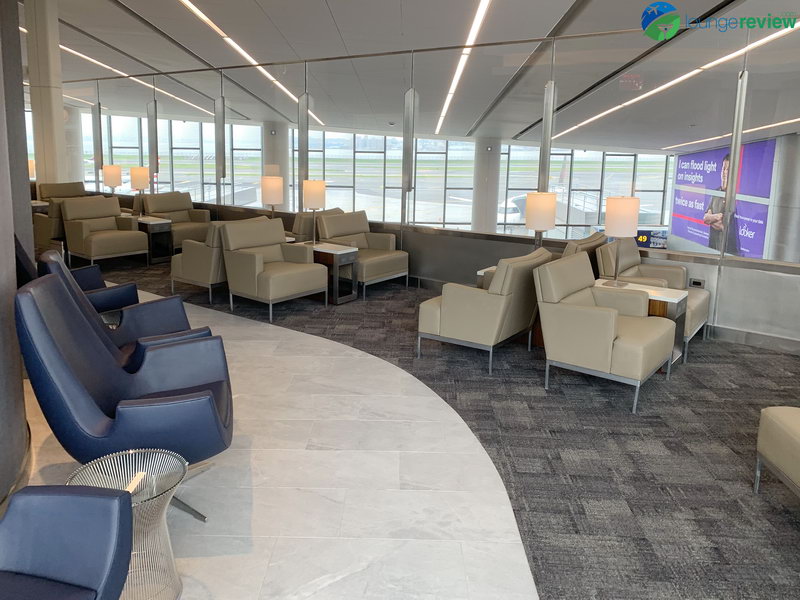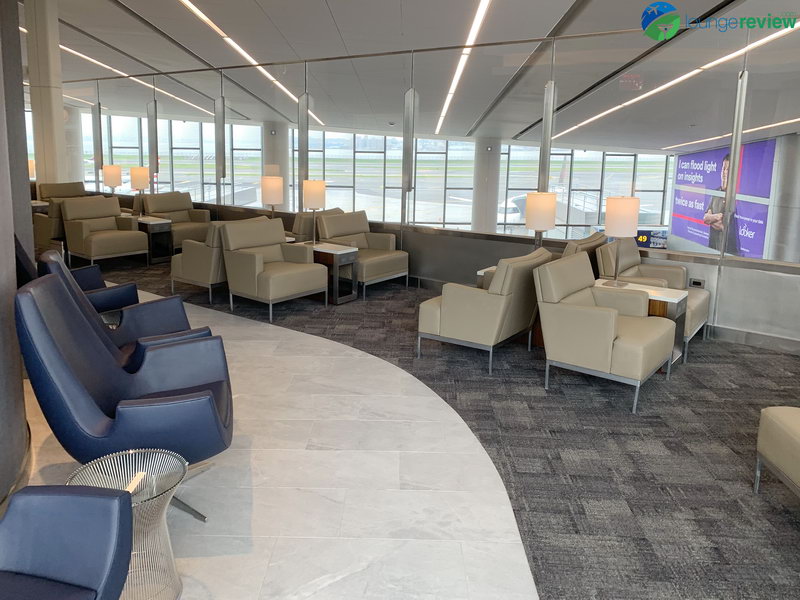 Guests have their choice of traditional seats, all equipped with USB and power outlets, dining tables and booths, tabletop seating overlooking the tarmac, and communal work tables.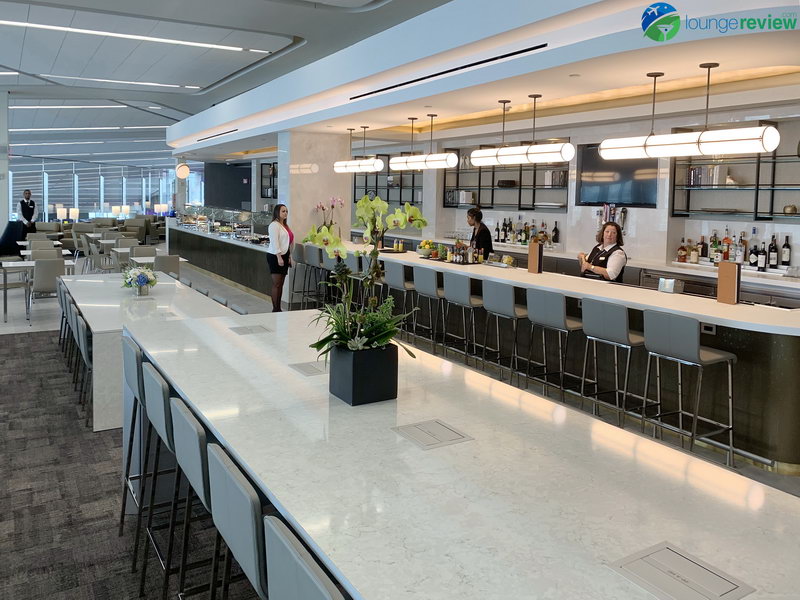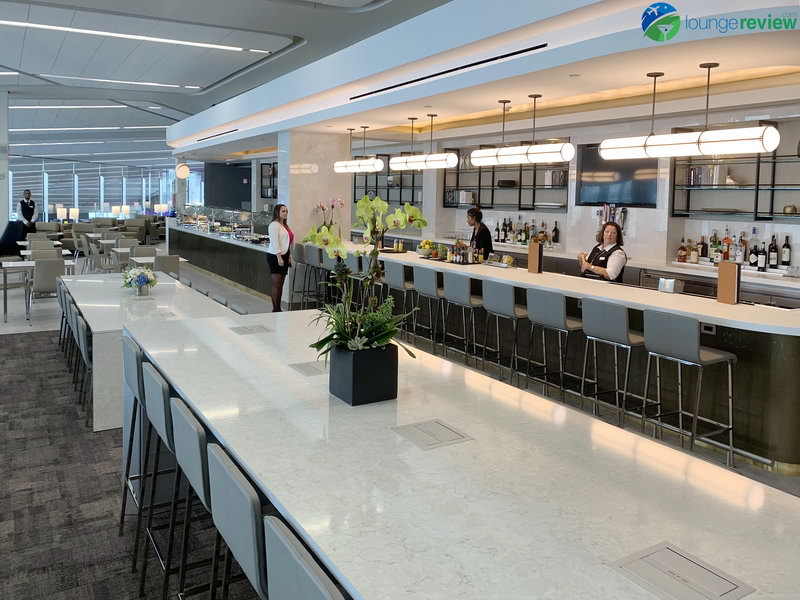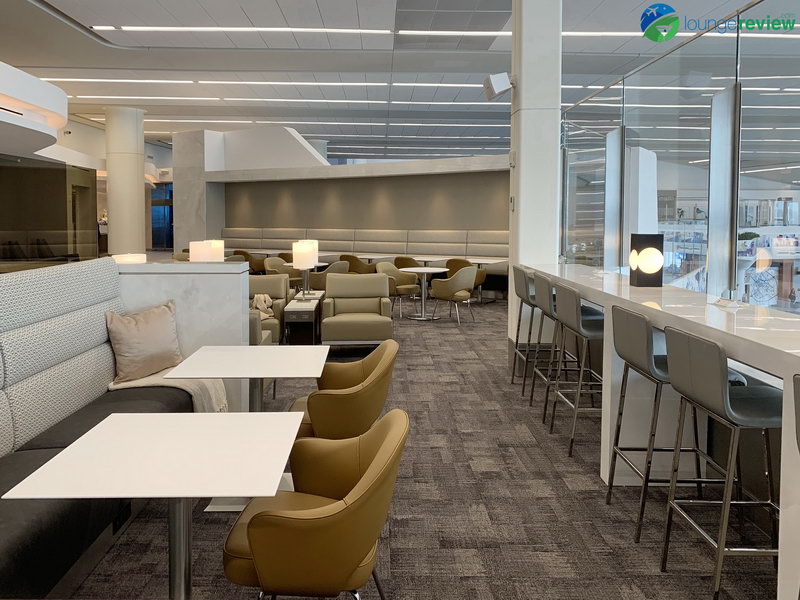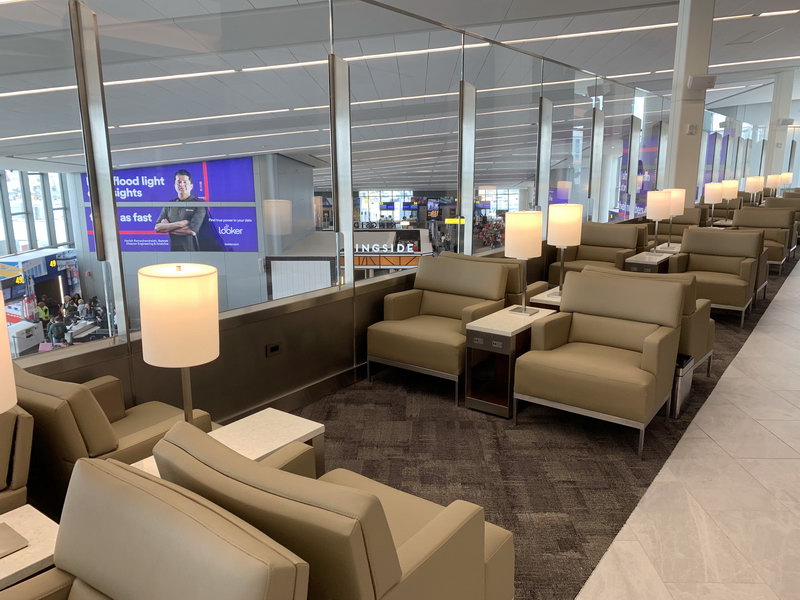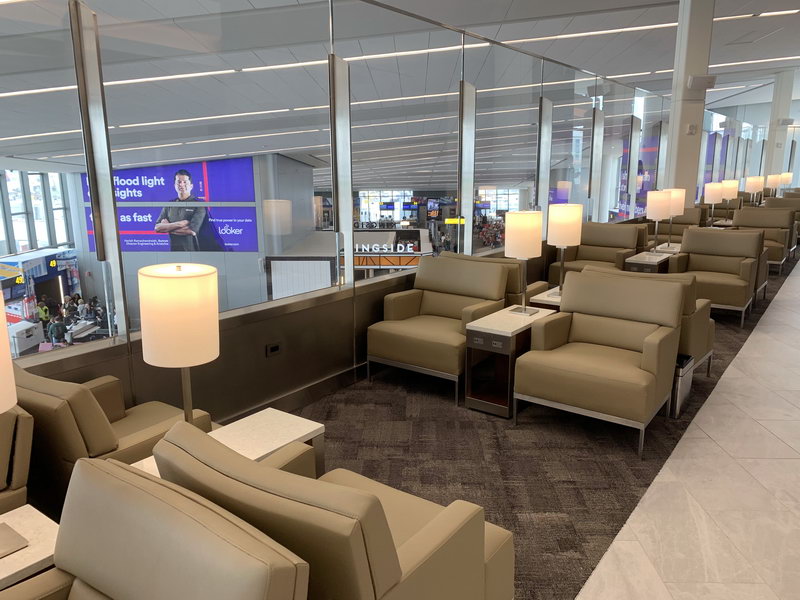 An expanded food selection at the new United Club LaGuardia
Throughout 2018, United experimented with enhanced dining options at a few key United Clubs, including Los Angeles. Unsurprisingly, customers welcomed the additional options, and United is looking to expand the offering to additional clubs throughout the network.
At LaGuardia, the traditional snack, salad, soup, and dessert spread will be augmented with oven-baked Neapolitan ziti, fast-fired pesto and goat cheese flatbread, and bite sized reuben corned beef with sauerkraut. In a nod to New York city, the club will also feature Ess-a-Bagel bagels along with cream cheese, jams and smokehouse salmon.
The focus is most definitely on comfort foods, but it's an excellent upgrade over the traditional offering.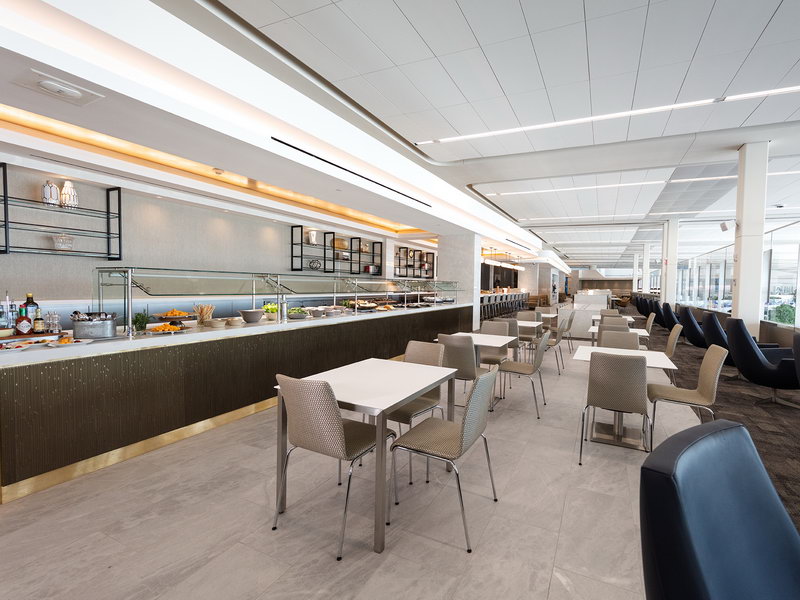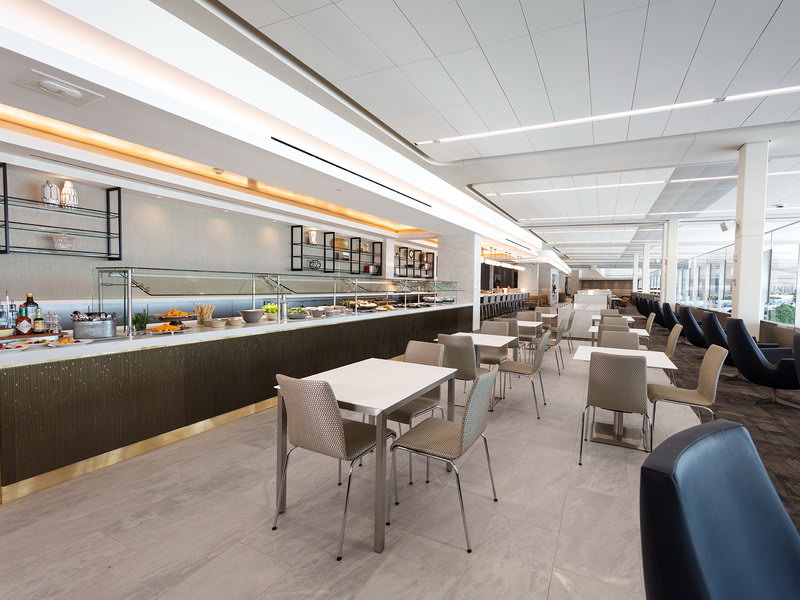 On the beverage front, patrons can look forward to Illy espresso, a virtually infinite soda selection from a Coca-Cola freestyle machine, and complimentary beer, house wines, sparkling wine, and well drinks. Premium drinks are available for purchase.
United Club LGA amenities
United Club guests will find a typical line-up of essential amenities including Wi-Fi, a printer-copier, and well-appointed bathrooms. There's also a "wellness room" for expecting and new mothers, as well as two fully enclosed phone rooms.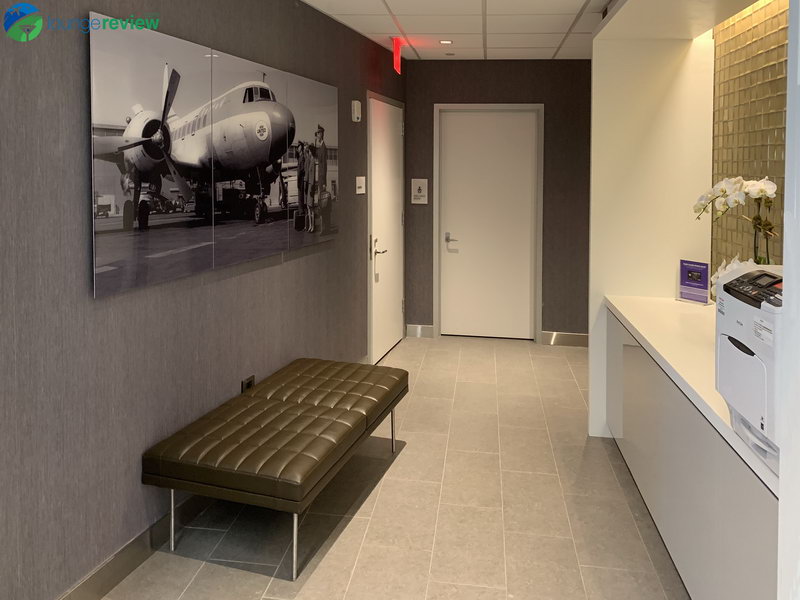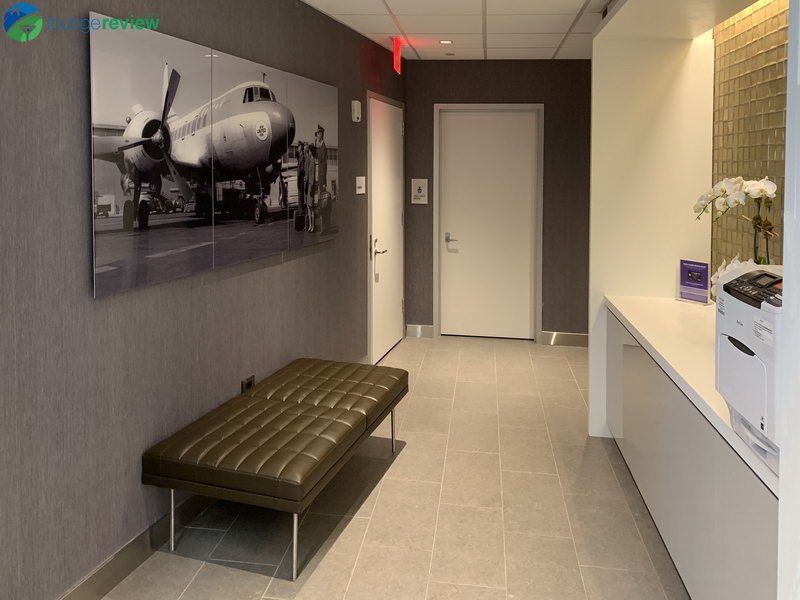 United Club LGA access rules
There's numerous ways to access the United Club. In a nutshell, the lounge welcomes United Club members (whether departing or arriving), international business or first class passengers on United or Star Alliance, MileagePlus Premier Gold members and above when flying internationally, active U.S. military members, Amtrak Guest Rewards Select Plus members, Air Canada Maple Leaf Club members, and Star Alliance Gold members—except United's own Premier members except those traveling internationally.
There's an interesting twist. The adjacent Air Canada Maple Leaf Lounge has substantially the same access rules—but all United Premier Gold, Platinum and 1K members get in, thanks to their Star Alliance Gold status.
Technically, this is no different from LAX, where United's elites can use the small Maple Leaf Lounge in Terminal 6, or Washington Dulles, where United Premier Gold members may seek refuge at the Lufthansa Business Lounge or Turkish Airlines Lounge. But the proximity of Air Canada's lounge to the United Club at LaGuardia is a game changer.
Bottom line
United's move to the new Terminal B Eastern Concourse at New York LaGuardia airport is a dramatic improvement in passenger experience. The new United Club delights with its airy atmosphere, varied seating options, exciting views, and expanded food selection.
Roll call: who will miss United's vintage Club before security? We sure won't. And with United Clubs currently very much in a state of transition at Newark airport—since the opening of the new Polaris Lounge, United Club members have been all but relegated to temporary facilities—flying from LaGuardia has never looked so appealing.
Photos by Jamie Larounis