Watch out, LA: there's a new star in town. This morning, United unveiled the highly-anticipated Polaris Lounge to guests and members of the media.
The Polaris Lounge LAX is the airline's fifth exclusive club for intercontinental business class passengers, and the second in California after San Francisco.
Initially anticipated in November 2018, the lounge is opening with a minor delay—hardly an unusual occurrence for an airport construction project. However, it's been over two years since the Polaris product was announced, and since the first Polaris Lounge opened in Chicago in December 2016. And despite three additions in 2018 at San Francisco, New York-Newark, and Houston airports, the Polaris constellation still has many dark spots. The promised locations at Washington Dulles, Hong Kong, London Heathrow, and Tokyo-Narita have yet to materialize.
Fortunately, with five Polaris Lounges in operation, United will serve 75% of customers departing from the US. And in the air, the new Polaris seat is becoming a more frequent sight. Converted aircraft are rolling off the line every 10 days on average, and 47 wide-body aircraft now feature Polaris seating, including the first Boeing 787-10 aircraft which started flying between Los Angeles, Newark, and San Francisco this week. Oscar Munoz, CEO of United, who attended the inauguration, noted that passengers will see "a drumbeat of activity every week" in 2019 with continuous improvements to the experience and service.
At LAX, the Polaris Lounge is a key milestone within a broader set of investments in passenger facilities. Terminals 7 and 8 have received a complete face lift. Enhancements include a remodeled check-in lobby, a new baggage claim area, a revamped security checkpoint, and additional power outlets and work spaces in the gate areas. A new United Club—one of the largest in the system—opened late 2016, helping United compete in a highly fragmented market.
The Polaris Lounge LAX opens to the public on Saturday, January 12th. A long-haul business class ticket on United or a Star Alliance partner airline will be the only way to get in, regardless of frequent flyer status or membership.
Here's what to look forward to.
United Polaris Lounge LAX location and opening hours
The United Polaris Lounge at Los Angeles airport is located in Terminal 7 (which is used exclusively by United) near gate 73, on the upper level around the rotunda. The location is in the vicinity of the security checkpoint and the United Club, and a short walk to gates 80s (former Terminal 8.)
The location might feel familiar: much of the space occupied by the Polaris Lounge used to belong to the Global First Lounge, a haven for United's international first class passengers which was downgraded to a United Club a few years back, then eventually shuttered when the new club near gate 71-A came into existence.
To meet expected demand for the Polaris Lounge, United has converted adjacent offices and taken over the mezzanine space that used to wrap the rotunda. The Polaris Lounge is effectively twice as large as its former incarnations, and shaped like a bow-tie around the rotunda.
The lounge will be open daily between 6:45 AM and 10:15 PM.
United Polaris Lounge Los Angeles design
From the bustling area near gate 73, the Polaris Lounge entrance is low-key yet subtly attractive. There is no grand lobby—just a small marble-clad area leading to an elevator that whisks patrons upstairs.
With a flurry of media event guests eager to ascend to the lounge, we were able to test the elevator this morning; it performed dutifully and efficiently. That said, elevator-only access often turns out to be a bottleneck.
The reception area upstairs exudes a familiar air of luxury. A grand chandelier, a back lit desk, and white marble throughout—all trademark design features of Polaris Lounges—greet guests.
The lobby connects to a social area dominated by a convivial star-shaped couch, in a subtle nod to the Polaris brand.
Bathed in South California sunlight, the space is inviting and elegant, yet surprisingly compact. At 12,122 square feet, with just 140 seats, the Polaris Lounge Los Angeles is much more intimate than its siblings. It is less than half the size of the San Francisco and Newark clubs, and just shy of the Polaris Lounge Houston's 15,528 square feet.
United does not anticipate crowding to be an issue, and even expects to have room for growth. The airline operates only 5 daily intercontinental departures from LAX, with relatively little connecting traffic. Unlike at San Francisco airport where United plays host to a myriad of partners, Star Alliance airlines at LAX use the Tom Bradley International Terminal, which features its own dedicated lounge. In theory, the Polaris Lounge should therefore remain relatively quiet, even at peak times. Should delays happen, however, the experience may take a turn for the worse.
The decor largely borrows from the design of the Chicago, Newark, San Francisco, and Houston clubs, with a soothing blend of blue and grey tones, and bespoke pendant light fixtures highlighted by "stardust" motifs. The design carefully balances convenience with elegance and luxury. The ensemble is homey and casually elegant, but also highly elaborate, with tall ceilings and custom-made furniture.
Floor-to-ceiling windows reveal views of the tarmac, runway, and the distinctive LAX Theme Building. In the evenings, the western orientation promises spectacular sunsets.
The seating configuration appeals to the most discerning needs, with a choice of individual productivity pods, convivial conversation areas, and an intimate dining room.
Power is always available at arm's length. There are more plugs than guests: the lounge sports a total of 272 power outlets and 120 USB ports, concealed in side tables or even under the bar.
The lounge features twelve "signature seats", highly private cocoons outfitted with personal lighting, power and USB ports, a coat hook, and a laptop table. That's very few: in contrast, the lounges at Newark and Houston airports offer respectively 44 and 22 signature seats.
For additional privacy or phone calls, guests can retreat to one of the two phone rooms equipped with a desk and power outlets.
The bar incorporates a number of locally-inspired touches. The designers have strayed away from the monumental edifices that dominate the Polaris Lounges at San Francisco airport and Newark airports in favor of a smoother shapes in mid-century South Californian fashion. A blue backdrop evokes the ocean, while curves aim at creating a casual and inviting vibe.
Walking away from the windows and passing beyond the customer service desks, guests reach the aptly-named oculus, the area that surrounds the rotunda. United has reclaimed former the mezzanine space in an effort to maximize the capacity of the lounge, creating curved hallways which double as a buffet and dining area. The space is tight, but functional, with windows overlooking the concourse.
The decor incorporates smart space-saving features, such as the wine wall, which stores 192 bottles for day-to-day use.
Beyond the oculus is an elegant dining room dedicated to full-service dining. With only eight tables, the space is exquisitely intimate, though it remains to be seen if it will meet peak-time demand.
The hallway that leads to the bathrooms sports a starry night LED ceiling, a hallmark Polaris design feature.
There's one signature local feature that could not make it into the blueprint of the lounge: an open-air deck. Guests can hop over to the United Club for a bit of LA sunshine, or head over to the Star Alliance Lounge in International Terminal B for this quintessential LAX lounge experience: a Polaris ticket opens the door to both clubs.
Food and beverages at the United Polaris Lounge Los Angeles
Flexible and expansive, the dining experience at the Polaris Lounge LAX aims at satisfying both passengers in a rush and those who wish to enjoy a more formal meal.
The buffet features a selection of light bites and small items, with a variety of both health and comfort foods, and global and locally-inspired cuisine.
Highlights include West Coast, Mediterranean, and Nordic-inspired protein plates, and chia seed coconut-mango trifle.
For a more substantial offering, patrons are invited to take a seat in the dedicated restaurant area, where they may order a full three-course meal. All offerings are complimentary, and cooked on site in a dedicated kitchen. The only catch: with only 8 tables and 16 seats, it will be wise to line up early.
The menu, designed by local Chef Tritia Gestuvo, will rotate quarterly. Current offerings include power green smoothie bowls and matcha green tea pancakes for breakfast, almond-crusted fish and chips, chilaquiles, Korean bulgogi arancini, street tacos, house-made cinnamon churros, as well as the Polaris Burger, a staple of Polaris Lounges.
The Polaris Lounge bar features a wide a selection of local wines and draft beers, as well as an impressive array of creative cocktails.
The Polaris favorites are on the menu, including the The Paper Plane, introduced at Chicago O'Hare, a bourbon concoction with Amaro Nonino Quintessentia, Aperol, chamomile honey and lemon, served with its own folded airplane.
In addition, the Polaris Lounge LAX menu includes a few exclusives. "On Sunset" is a variation on tequila sunrise with mezcal and agave nectar and Angostura bitters. In a nod to LA's health craze and passion for rum cocktails—a local oxymoron—"Let's Rumble" combines rum, lemon, pear puree and house-made simple syrup.
Other options include infused waters, juices, soda, as well as hand-crafted espresso drinks.
Showers and relaxation at the United Polaris Lounge LAX
A substantial portion of the Polaris Lounge Los Angeles real estate is dedicated to sleep and relaxation.
There are no less than six shower suites—as many as at the larger Polaris Lounge Houston—so guests are unlikely to wait long should they desire to freshen up. Should that be necessary, a receptionist will come fetch them when a shower room is ready, which is a substantial improvement over the Polaris Lounge Chicago experience, where patrons are simply turned away when all showers are occupied.
Reminiscent of luxury hotels, the elegant, stone-clad shower rooms are equipped with a rain shower, a toilet, and a sink, and stocked with a myriad of amenities including Saks Fifth Avenue-branded towels, Cowshed Spa bath products, and slippers. There are even power and USB outlets for those last-minute charging needs.
Curling irons, hair dryers, dental kits, hair straighteners, deodorant, sewing kits, shower caps, and vanity kits are available upon request. Patrons can also have their clothes steamed while showering.
In the vicinity of the shower rooms are two semi-private noise-buffered rooms with a daybed. While the lack of individual doors aims at discouraging extended stays, the quiet suites still provide excellent privacy.
United offers a variety of sleep-inducing amenities, including a Saks Fifth Avenue-branded blanked, a white noise machine, earplugs, eye masks, and slippers. Pajamas are available upon request.
The showers and quiet suites are available on a first-come, first-serve basis. Consider inquiring early, and note that the showers close 45 minutes earlier than the lounge.
In lieu of traditional public bathrooms, the Polaris Lounge sports generously-sized individual all-gender stalls equipped with a toilet, a sink, an ottoman, and plenty of room to change or freshen up. A green/red LED light signals whether a stall is occupied, a simple but notable improvement over the original design that let guests scrambling to find an available room.
The Polaris Lounge LAX also incorporates a wellness room for new parents furnished with a comfortable chair, a sink, and a baby changing station. There are even complimentary diapers.
United Polaris Lounge Los Angeles access rules
The United Polaris Lounge at Los Angeles airport welcomes exclusively international long-haul premium passengers flying United and Star Alliance partner airlines such as ANA, Air China, Air New Zealand, Asiana, EVA, Ethiopian Airlines, Lufthansa, Singapore Airlines, and Turkish Airlines.
Only international flights longer than six hours qualify. This policy de facto excludes Air Canada, Avianca, and Copa passengers, as well as United's passengers flying to Canada, Mexico, or Central America.
United Club members and Star Alliance Gold customers traveling internationally in economy are not admitted, but they may use the new United Club which features an open-air deck, as well as the Air Canada Maple Leaf Lounge in Terminal 6, or the Star Alliance Lounge in the International Terminal (Terminal B.)
United Polaris Lounge vs Star Alliance Lounge LAX
While the Polaris Lounge fills an important gap for United's long-haul premium travelers, there's no shortage of luxury lounges at LAX. Star Alliance passengers (including United customers) have long received access to the beautiful Star Alliance Lounge in the Tom Bradley International Terminal, a widely acclaimed facility and one of the most striking clubs in the US.
Terminal 7 and International Terminal B are connected airside, though they are at polar opposite locations. The trek between the United Polaris Lounge and the Star Alliance Lounge is a 20-30 minute obstacle course through a network of bridges, tunnels, and crowded concourses. Nevertheless, it is technically possible to visit both lounges; and passengers arriving from a domestic United flight and connecting to a Star Alliance partner, or vice-versa, will have to make the journey.
How do the two lounges compare? Here's our take.
Ultimately, both clubs excel on many counts. Our suggestion: pick the lounge closer to your gate. While it may be tempting to indulge in a three-course sit-down meal at the Polaris Lounge before connecting to a Star Alliance flight, the post-meal hike to the gate through five terminals is likely to ruin the experience. Conversely, a glass of bubbly on the open-air deck of the Star Alliance Lounge is not enough to justify leaving the posh confines of the Polaris Lounge.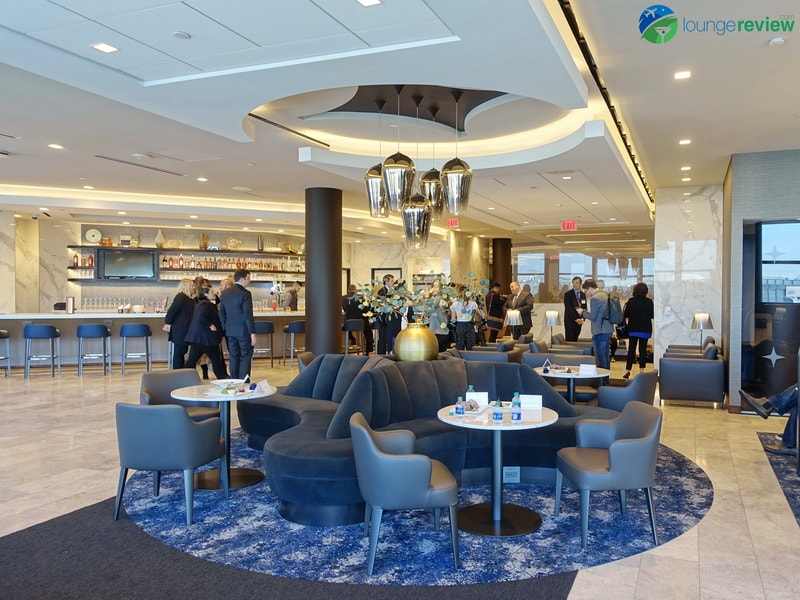 Bottom line
The opening of the United Polaris Lounge at Los Angeles airport adds a new shining star to an already world-class constellation of airline lounges.
The United Polaris Lounge LAX is delightfully elegant, grand yet understated, private yet open. The amenities are second to none—United essentially offers First Class services to all business class passengers.
In many ways, United is merely catching up. American runs an expansive Flagship Lounge with a hot buffet, shower suites, and private dining for First Class guests. Delta's SkyClubs are still partially under construction following their relocation to Terminals 2 and 3, but they boast showers and semi-private seating. And the three alliances have world-class facilities in the International Terminal.
United used to be the only major airline who did not provide showers for business class passengers. The carrier now operates one of the most intimate and exclusive clubs, with luxuries such as a full-service restaurant.
However, time will tell how the services evolve, and if the tight quarters of the Polaris Lounge meet the demand of peak-time travel. Due to its odd shape, the space was difficult to furnish in an optimal way, and United has chosen to allocate substantial space to showers. Hopefully, the numbers work out and guests spread evenly around the various areas. If, like at San Francisco airport—or at today's media event—they tend to congregate in the main bar and seating area, then the space might feel cramped.
For an overview of all lounge options at LAX and lounge hopping tips, check out our Definitive Guide to the LAX Lounge Scene.
The Big Picture