Even a pandemic won't stop American Express from re-defining the airport lounge experience, one location at a time.
The financial institution was on a roll early 2020, with three new lounges opening back-to-back at Phoenix, Charlotte, and Los Angeles airports—until COVID-19 put a damper on travel.
Despite lingering uncertainty, American Express is resuming lounge operations. The Seattle-Tacoma and Philadelphia clubs re-opened today, while Charlotte, San Francisco, Houston Intercontinental, and Dallas-Ft. Worth will spring back to life in the next few weeks.
In addition, the much-anticipated flagship lounge at New York JFK will open its blue doors this week, while Denver and London Heathrow are slated to launch in the next few months.
The Centurion Lounge JFK is American Express' 12th club in the US, and the second in the New York area.
---
In this post:
---
American Express The Centurion Lounge JFK location and hours
The Centurion Lounge by American Express at New York's Kennedy airport is located at Terminal 4, immediately after the security checkpoint, to the left of the escalators leading down to gates A2-A3.
Passengers may visit regardless of their choice of airline, as long as they hold a boarding pass and are willing to go through security at Terminal 4. At JFK, all terminals are standalone and there are few provisions for airside transfers, so The Centurion Lounge will be most convenient to passengers flying one of the 30 airlines operating from Terminal 4 including Delta, SWISS, Air India, Singapore Airlines, Etihad, Emirates, and Virgin Atlantic.
The Centurion Lounge will initially operate from 6 AM to 8 PM, with continental breakfast served from 6 AM to 7 AM, followed by lunch and dinner between 11:30 AM and 7:45 PM. American Express is likely to expand hours when air traffic returns to normal.
The largest Centurion Lounge system-wide
At 15,000 square feet, spanning over two levels, the Centurion Lounge JFK is the largest location system-wide and promises unparalleled elegance and amenities.
Guests can look forward to American Express' acclaimed elegant residential design. The space is outfitted with luxurious furniture with power outlets at arm's length, private alcoves, a variety of seating for groups and solo travelers alike, and dramatic floor-to-ceiling windows featuring tarmac views.
The club is divided into six rooms with distinct vibes inspired by NYC's sights and design periods. In addition to the traditional American Express memorabilia on display, the design incorporates local artifacts and rendering of local landmarks, such as a mosaic evoking the city's famed subway murals.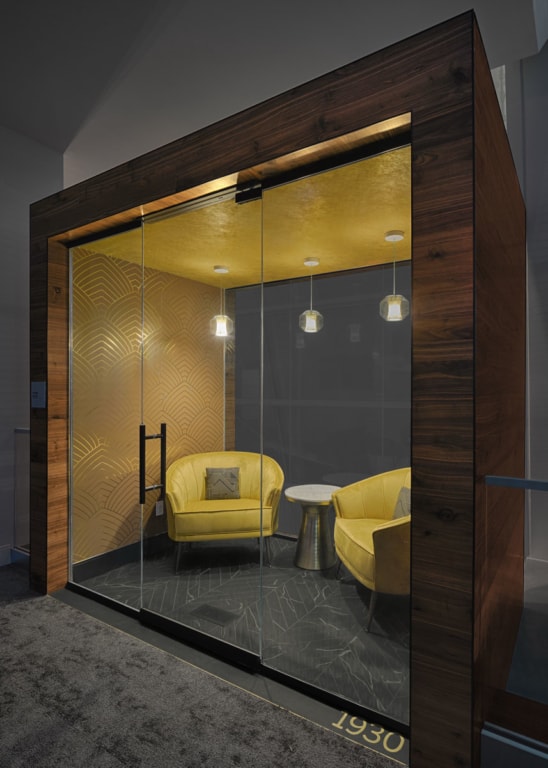 Chronic crowding has been the downfall of Centurion Lounges so far, and hopefully the larger footprint of the Centurion Lounge JFK will help foster a more relaxing experience for all guests, even post-pandemic. The lack of reliable inter-terminal connections at JFK is also likely to limit impromptu visits.
As a comparison point, however, Delta's SkyClub in Terminal 4 stretches over 27,000 square feet—it's twice as large The Centurion Lounge—and routinely operates at capacity. In addition, the New York area is a prime demographic for American Express, so time will tell how the club copes with demand.
Amenities at The Centurion Lounge JFK
The Centurion Lounge JFK boasts a wealth of luxurious amenities including complimentary hot meals, a full bar with premium spirits, shower suites, day beds, and even a spa.
Designed by Uruguayan-born Chef Ignacio Mattos, the menu features fresh, ecletic, and cosmopolitan fare. Highlights include steak and golden nugget potatoes with romesco and taleggio sauce, fried maitake mushroom "po boy" with chipotle mayo and pickles on a brioche bun, and heathy options such as fennel salad with castelvetrano olives and provolone.
With two striking bar areas, the Centurion Lounge sets the standard at JFK. Skilled bartenders will serve a variety of wines and cocktails designed by mixologist Jim Meehan. (And Centurion Card holders can look forward to a few VIP touches such as fine Champagnes.)
But the NYC-exclusive "1850" speakeasy steals the show. The striking space, nested behind a copper-paneled wall, sports a Prohibition-inspired décor with elegant wood paneling, subdued tones, private booths, and a rotating drink selection highlighting classic cocktails.
The Equinox Body Lab spa promises "performance-driven restorative therapies." American Express will eventually offer complimentary treatments and massages, though in light of COVID-19 the portfolio of services will initially be limited to a massage chairs and selection of app-guided meditation experiences and stretching sessions.
Other amenities include an online library of newspapers and magazines, phone booths, a fax/printer, large flat-screen TVs, and a family room.
COVID-19 provisions
The Centurion Lounge JFK is the first American Express airport club to open during the pandemic. Seating, amenities, and service will initially be limited.
Guests are expected to wear a mask at all times except when eating or drinking. Employees will also wear mask face coverings.
The reception and member services desks and bars are equipped with plexiglass shields, and members are encouraged to check-in online with the American Express app.
Seating has been configured to facilitate social distancing, and the lounge will initially only welcome a limited number of guests. Hosts will seat guests in order to maximize distance between patrons.
The Centurion Lounge will offer complimentary hot meals but buffet service is currently suspended. Hosts will serve pre-proportioned plates. The cocktail selection has been trimmed down in order to minimize wait time at the bar.
The showers are currently closed.
Spa services are not available except for non-practitioner treatments, and equipment will be sanitized in between each use.
The Centurion Lounge JFK Access Rules
The Centurion Lounge welcomes members of The Platinum Card and The Centurion Card, as well as two guests. Passengers may visit regardless of airline and class of travel.
Unsure if you have access? Let our Lounge Access Wizard take away the guesswork. Enter your itinerary or import from TripIt, tell us about any frequent flyer membership or credit card, and we'll tell you where you can relax along your way.
Bottom Line
The new flagship American Express Centurion Lounge at JFK raises the bar: at 15,000 square feet, the club is the largest American Express lounge so far, and packs an incredible line-up of amenities. The space is beautifully designed, and should become a favorite of NYC-based American Express card holders.
Amenities will remain somewhat limited in the foreseeable future due to COVID-19. Showers are therapist-led spa treatments will not be available, while the cocktail selection has been trimmed down. On the bright side, this means a quiet experience at a lounge that is bound to become popular down the road.
For more information about The Centurion Lounge, check out our reviews of the San Francisco, Houston, Las Vegas, and Seattle locations, as well as our blog posts.
Photos courtesy of American Express.