Due to the ongoing war in Ukraine, both Aeroflot and S7 have left their respective alliances. For Aeroflot, that means SkyTeam and for S7 that means oneworld. While both airlines have announced that the suspension is temporary, experts believe that the partnerships may be on hold for quite a while as Russia continues to wage war on Ukraine.
---
How does this impact lounge access?
One of the biggest questions out there is how lounge access and frequent flyer benefits will be handled moving forward with the suspension of Aeroflot from SkyTeam and S7 from oneworld.
In general, there are absolutely no benefits to be had currently if you're a member of the airline flying on an alliance member or a partner alliance member flying on a now-suspended airline member.
This includes lounge access:
In the case of Aeroflot, elites will no longer have access to SkyTeam partner lounges. If you're a SkyTeam elite member traveling on Aeroflot or another partner airline, you won't have access to any Aeroflot lounges.
In the case of S7, elite members cannot access any oneworld member lounge, and similarly to SkyTeam, oneworld members can not access S7 lounges.
What is the future of these members in the alliance?
Lounge access and elite benefits are important functions of a member airline's participation in an alliance, so while these airlines generally are smaller players in their respective alliances, it does raise the question of what the future may hold.
It's likely that these airlines will remain suspended until a formal cease-fire is declared in Ukraine, and even after that, it's likely that a lightswitch won't flip overnight for them to rejoin. In each case, it's probably that the suspension will last months after the conflict ends and it will be a gradual rejoining of the alliance over time.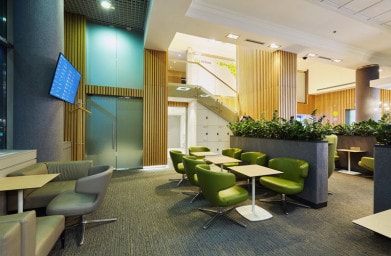 If you have status with either airline, it's best to consider that status essentially useless for the moment, and if you're interested in still having alliance benefits, to join another member's program and earn, redeem and participate that way.
Bottom Line
Aeroflot and S7 have both left SkyTeam and Oneworld respectively, and the suspensions are likely to last well beyond the war in Ukraine. This means that alliance benefits are put on hold, and frequent flyers will not be able to access lounges or other alliance benefits worldwide for the foreseeable future.