We've reached out to United to find out about the upcoming United Club at New Orleans airport, the airline's strategy to cope with the demolition of Phoenix airport Terminal 2, and plans to mitigate chronic crowding at the Newark lounges.
We have exciting news to share: United is building three new clubs. But patience will be key.
---
In this post:
United Club New Orleans: opening March 2020
New Orleans Louis Armstrong International Airport leaped into the future in November 2019, with the unveiling of the new North Terminal that replaced the original 1950s-designed building.
With a spacious and breezy concourse, a swath of new bars and restaurants, and improved way finding, Big Easy visitors have a superior experience to look forward to—with one caveat for United customers: the United Club, promised back in February 2019, still hasn't materialized.
That's in stark contrast with Delta, who welcomed guests to a swanky, regionally-inspired new Sky Club on day one.
The wait is about to be over. United has confirmed to loungereview.com that the United Club New Orleans—the 50th location in the airline's network—will finally open early March 2020.
The lounge will be located on the first level of Concourse C, and boast power outlets and USB ports at every seat, snacks and nibbles, and business facilities.
The United Club MSY will welcome United Club members, premium cabin customers and Star Alliance Gold members travelling internationally, and customers who purchase a one-time pass.
In the meantime, members of Priority Pass, Lounge Club, and LoungeKey can enjoy the newly-opened The Club MSY, a shared-use lounge which amenities include comfortable seating, regional cuisine, and a shower suite.
The United Club Phoenix is closing; new location under construction
Phoenix SkyHarbor airport is going through a makeover of its own. As of Tuesday, February 4th, Terminal 2 will close permanently and will eventually be demolished. The current Terminal 2 tenants, including Alaska, Air Canada, and United, will move to the newly-remodeled John S. McCain III Terminal 3.
For United passengers, this means the loss of the United Club—a vintage but nevertheless enjoyable facility.
United is planning a new United Club in Terminal 3. Construction is anticipated to wrap up later this year, though delays are routine.
According to United, the new club will be larger than the current location in Terminal 2, and feature "a modern and beautiful design, a uniquely regionalized menu and a wellness room." (Wellness rooms are facilities for new mothers or anyone who might need a bit of extra privacy for personal reasons.)
Unfortunately, the only other lounge in Terminal 3 is currently a Delta Sky Club, and is off-limits to United passengers.
United customers traveling through Phoenix who have ample time may want to hop over to Terminal 4, which features several airline-independent lounges, including The Club PHX (Priority Pass and Lounge Club), and a brand-new Escape Lounge and American Express Centurion Lounge (American Express Platinum and Centurion Cardholders.)
Not until 2021: a new United Club at Newark airport
Nowhere is the United Club situation more dire than at United's New York/Newark, NJ hub. Since the widely-acclaimed Polaris Lounge for international business class passengers took over the largest United Club back in 2018, domestic passengers and Club members have been packed in tight quarters in a vintage, depressing-looking space from the Continental days, and various temporary spaces.
Relief is on the horizon. Just a week ago, United started construction on a brand-new United Club in Concourse C3. The lounge will sport sweeping views of the New York City skyline, and if the new United Club LaGuardia is any indication, we should expect significant enhancements to the food selection and overall ambiance.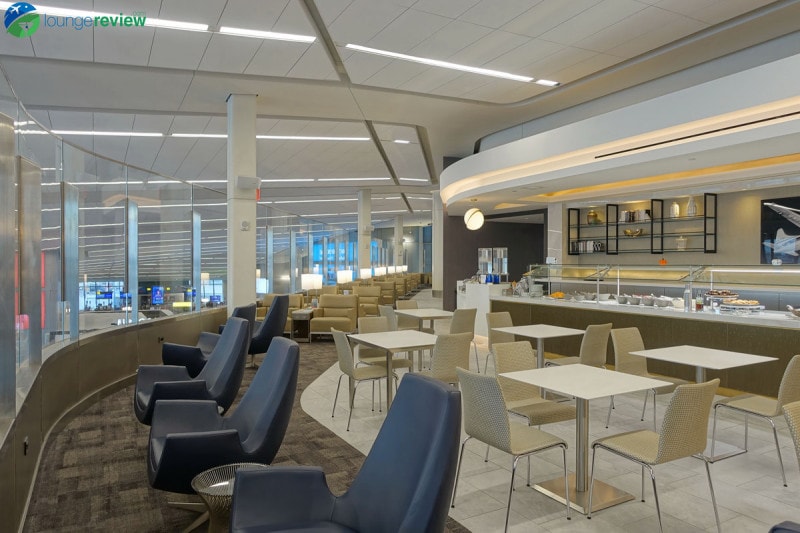 The new lounge is expected to open in 2021. That's at least a year from now—an incredibly painful timeline, which, on the bright side, hints at a substantial construction effort.
In the meantime, a casualty of the project is the "pop-up" club near gate C124, a small enclave where United Club could find basic but comfortable seating and grab-and-go snacks. The location is now closed to make room for construction.
This means that the other clubs—the United Club near gate C74, the temporary pop-up lounge near gate C93, and the Terminal A United Club—are bound to be even more crowed, if that's even possible. The lounges will remain off-limits to one-pass holders. Also, passengers departing from the international gates (typically in concourse C3, where the pop-up club used to be located) will need to walk much further to reach a lounge. It might just not be worth the effort.
Bottom line
United will be opening new United Club lounges at New Orleans airport (March 2020), Phoenix airport Terminal 3 (late 2020), and Newark airport (2021.)
The New Orleans location will be a new addition to the United Club network. The PHX United Club, located in Terminal 3, will be a replacement for the current Terminal 2 lounge, which will close early February with the airline's move to Terminal 3.
At Newark airport, United Club members will need to arm themselves with patience. The new United Club, promised in 2021, should finally restore shine and polish on United's hub, but it will be a long road.