After a seven-month hiatus, SkyTeam elite and premium passengers again have a place to call home when traveling through Istanbul.
Yesterday, Kristin Colvile, CEO of SkyTeam, inaugurated the new SkyTeam Lounge at Istanbul's sprawling new airport. The global airline alliance is fashionably late: not only did the new airport open early April, but the lounge has actually been in operation for almost a month. In the interim, SkyTeam customers had access to the airport's shared IGA Lounge.
The seventh addition to SkyTeam's burgeoning branded-lounge network—which includes locations at London Heathrow, Sydney, Hong Kong, Dubai, Beijing, and Vancouver—is a notable upgrade over the club that the alliance used to operate at Istanbul's now-defunct Ataturk airport.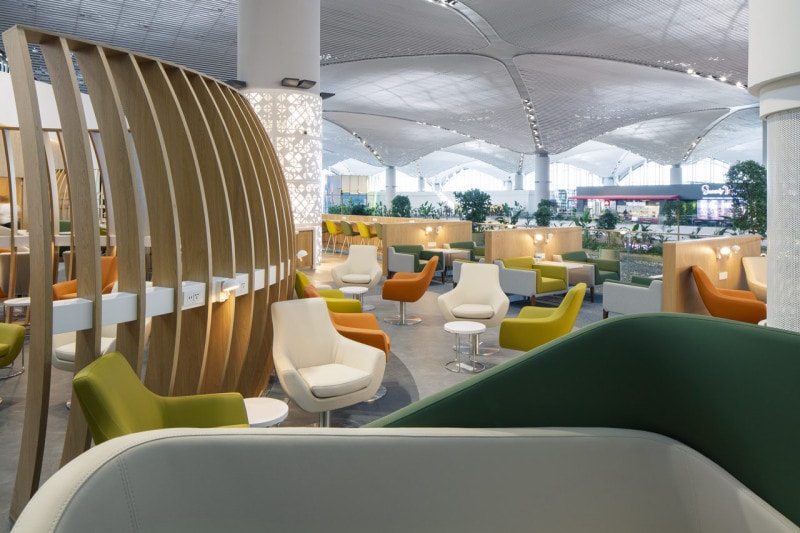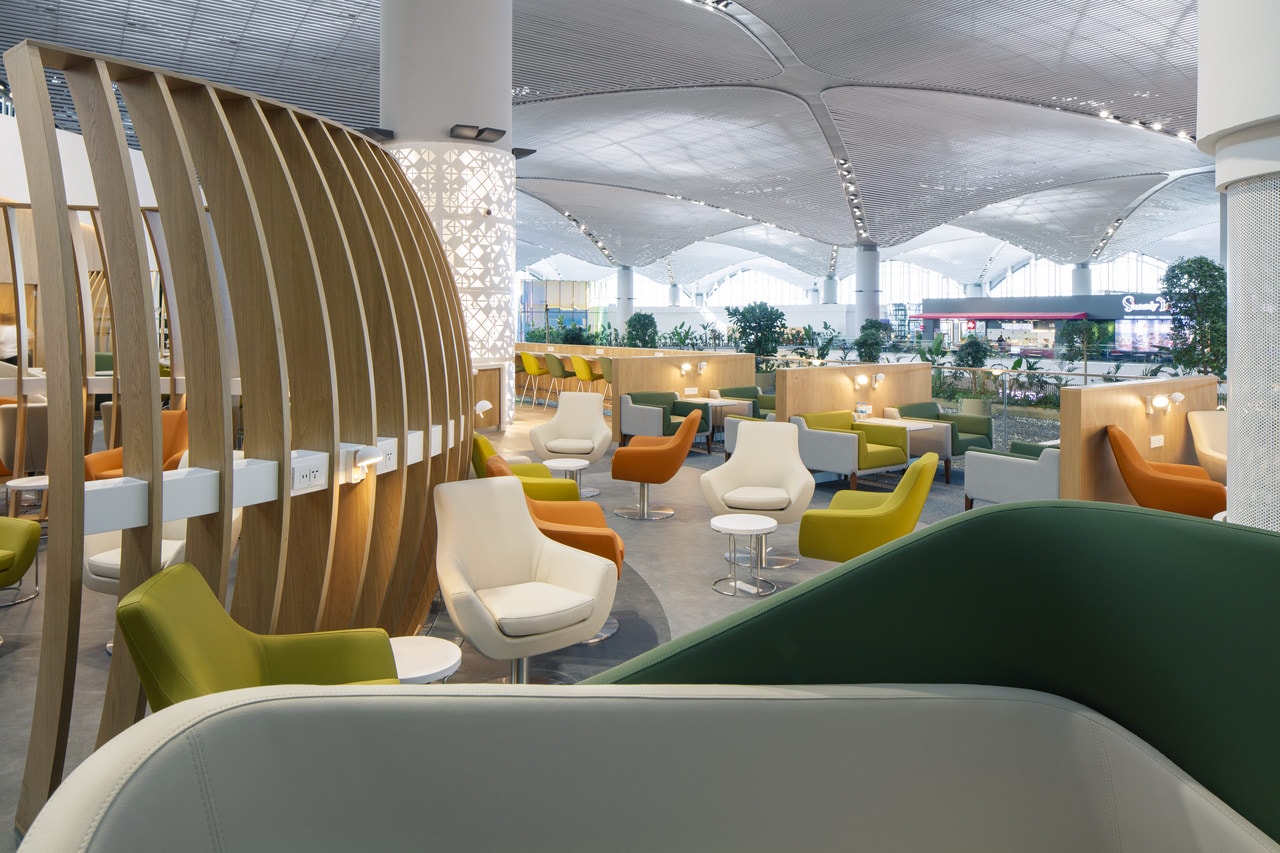 The SkyTeam Lounge Istanbul blends East and West
The decor of the new SkyTeam Lounge Istanbul, conceived by interior design firm Brandimage, combines SkyTeam's signature design language and local touches. It's a fitting approach for Istanbul, a vibrant city that sits at the confluence of civilizations.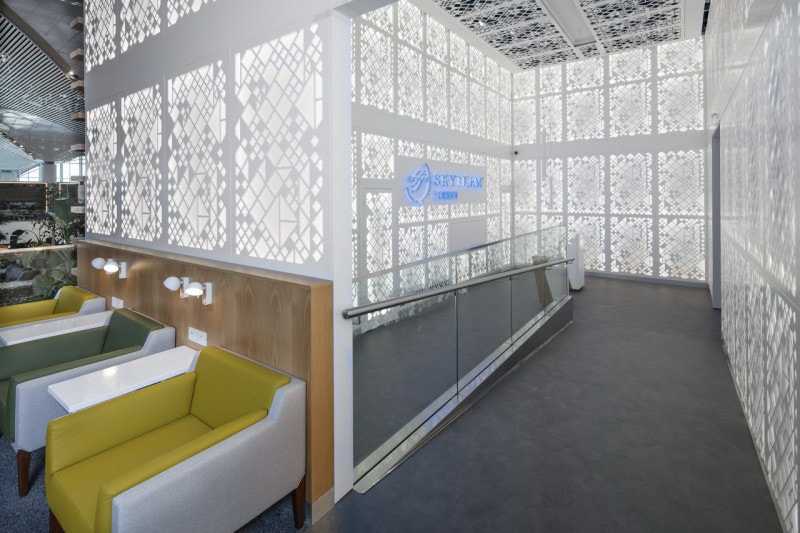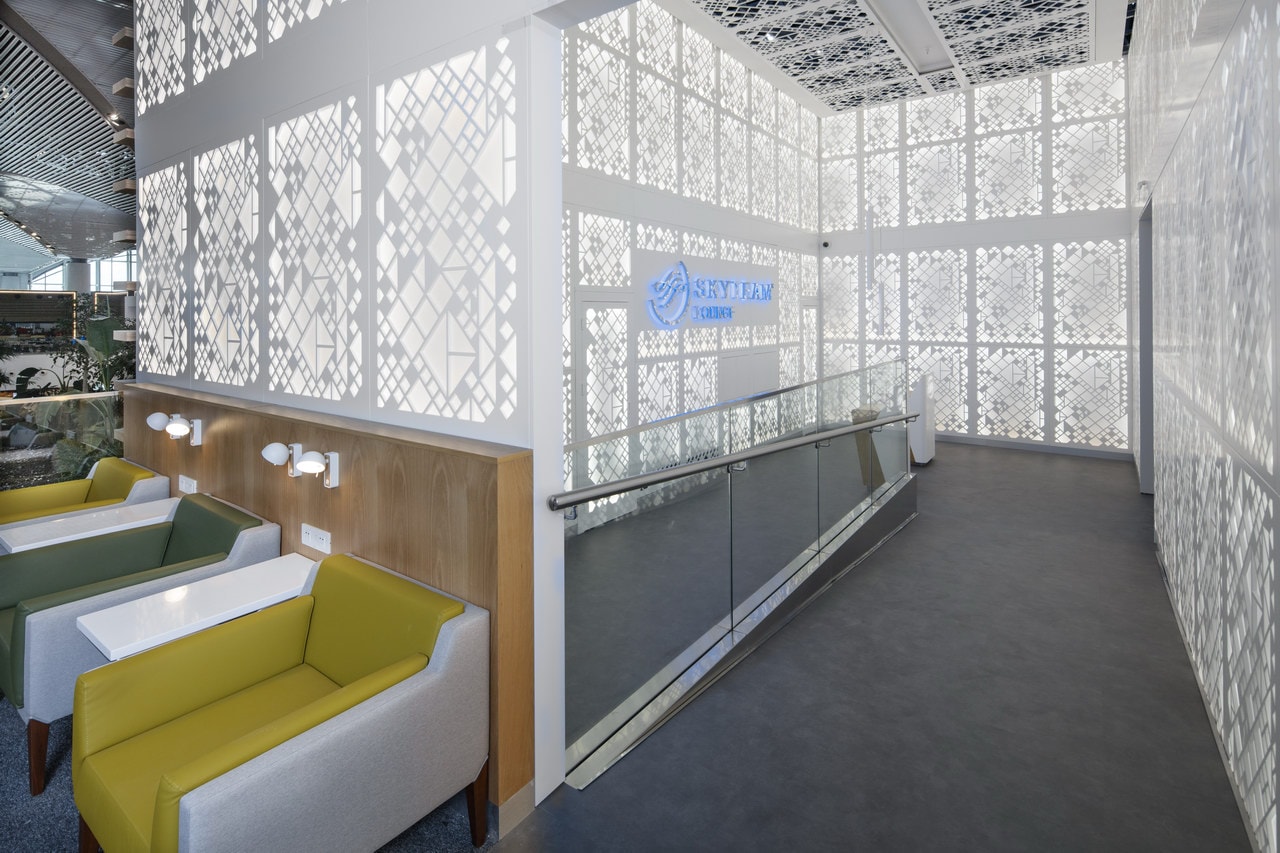 The striking reception area sports a modern interpretation of the mashrabiya, a traditional Middle Eastern latticework with an ornate screen. The mashrabiya, which has offered protection against the sun for centuries, is re-invented in the age of LED lighting as an architectural feature that projects light patterns and seamlessly blends with the airport's soaring sculptural roof.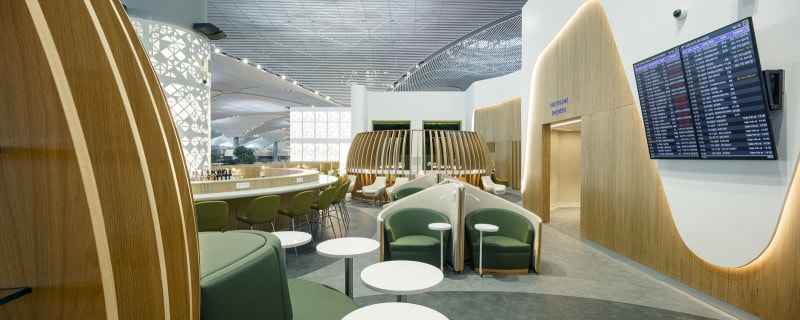 The heart of the club strikes a more familiar note. The lounge boasts SkyTeam's traditional moss wall, fluid lines, curved wooden partitions—playfully called "nests"—and Earth tones with pops of color.
The lounge is situated on a mezzanine overlooking the concourse, and as such is open, vibrant, and bright, but lacks daylight and tarmac views, in contrast with the former location at Ataturk which offered sweeping views over the suburbs of Istanbul and sunset vistas.
Views aside, the new SkyTeam Lounge is a significant upgrade over its former incarnation. The new club, which stretches over 6,260 square feet (582 square meters) and accommodates 147 guests, is almost twice as large as its 3,800 sq.ft. (350 sq.m.) predecessor. SkyTeam stresses that the lounge should never feel crowded, even at peak times.

Guests have their choice of dining booths, traditional lounge seats, communal tables, counter-style seating overlooking the concourse, and private productivity pods outfitted with a side table and a lamp. Power outlets are available at virtually every seat.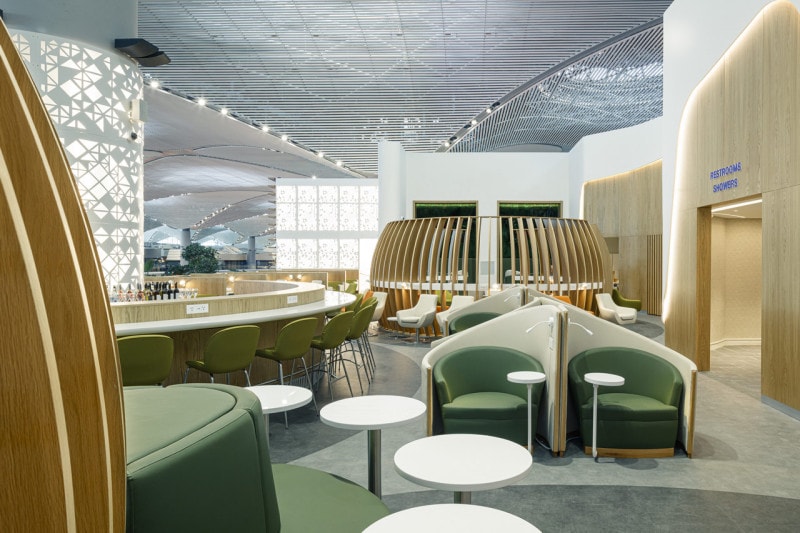 The opening of the SkyTeam Lounge Istanbul cements the alliance's partnership with Global Lounge Network (GLN) which was born with the launch of the SkyTeam Lounge Vancouver.
GLN will be responsible for the day-to-day operation of the club, and prides itself on delivering polished and proactive service, with strict training standards for all team members, and innovations such as the use of real-time communication devices between staff members.
SkyTeam Lounge Istanbul amenities
SkyTeam Lounge Istanbul guests will find a generous buffet with local and international fare including European dishes, freshly-cooked pide (Turkish pizza) prepared on-demand at a live cooking station, and traditional mezze.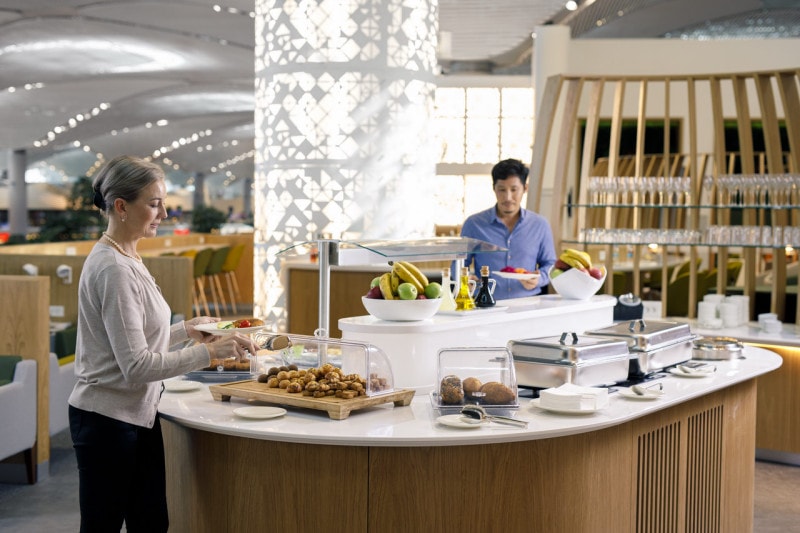 The beverage selection includes soda and juices, Turkish tea and coffee, Turkish wines, and a wide assortment of spirits, all available for self-service.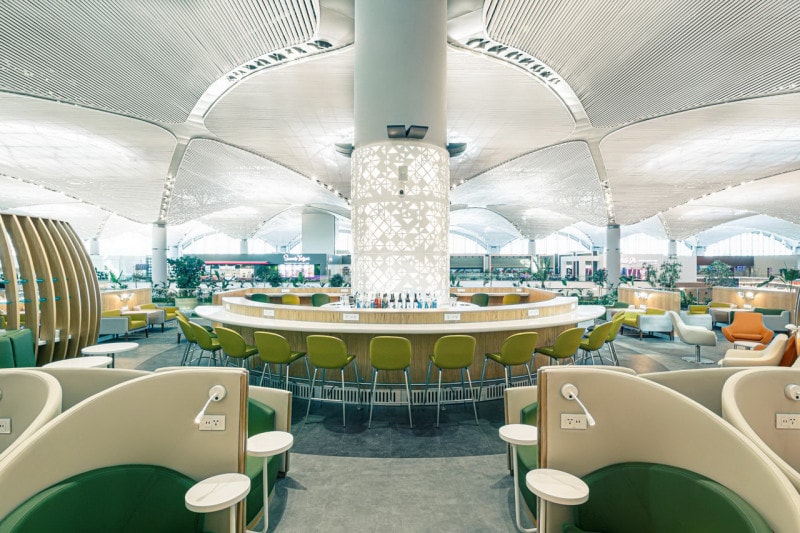 Perhaps the most welcome enhancement over the former SkyTeam Lounge at Ataturk airport is the addition of bathrooms. Patrons will also find several shower suites should they wish to freshen up.
Other amenities include fast Wi-Fi and a VIP room.
SkyTeam Lounge Istanbul location and access rules
The SkyTeam Lounge at Istanbul airport is located in the West Wing on Level H (after immigration, turn left, then go up to mezzanine level) and open around the clock.
Elite and premium passengers of the seven alliance members that serve Istanbul (Aeroflot, Air France, KLM, Korean Air, Middle East Airlines, Saudia and TAROM) are invited to visit prior to their flight:
International First and Business Class passengers departing on or connecting to/from a same-day international flight.
SkyTeam Elite Plus customers departing on or connecting to/from a same-day international flight in any class of service.
Bottom line
The new SkyTeam Lounge at Istanbul airport is a modern and striking space with an enjoyable range of amenities including an international and local buffet, well-appointed work spaces, and shower suites.
While the club represents a significant upgrade over its predecessor at Ataturk airport, it is still modest in comparison with the lavish lounges that are the trademark of the home carrier Turkish Airlines. However, while Turkish Airlines lounges often operate at capacity, SkyTeam expects that their club will never get crowded. It's also worth noting that most destinations served by SkyTeam carriers are just a few hours away from Istanbul.
The next SkyTeam Lounge is already in the works: the alliance expects to open its eighth branded lounge in Santiago de Chile in early 2020.