The highly-anticipated American Express Centurion Lounge at Los Angeles International airport opened its signature blue doors to the public this morning, following a media preview late last week.
The Centurion Lounge LAX is the 12th location in the financial institution's fast-expanding network and the third to open this year, after The Centurion Lounge Phoenix and Charlotte. Other locations include San Francisco, Las Vegas, Houston Intercontinental, and Seattle. The lounges welcome members of The Platinum Card and The Centurion Card by American Express when flying on any airline, as well as Delta Reserve Card holders also receive access when flying Delta.
The Centurion Lounge Los Angeles has been long in the making. Back in December 2016, American Express teased LAX holiday travelers with a miniature holiday pop-up lounge—at 65×20 feet, it was a far cry from the new club's sprawling 14,000 square feet, but the message was clear: American Express was looking for a permanent foothold. The club was eventually officially announced in 2018.
Here's an overview of what to expect.
---
In this post:
The Centurion Lounge Los Angeles location and hours
The Centurion Lounge LAX is located within the Tom Bradley International Terminal (TBIT), after security, on the 4th level, just below the Qantas First Class Lounge. The club is wedged at the periphery of the terminal, near baggage claim, and therefore does not feature views over the creative video installations on display in the retail and shopping atrium.
At LAX, all passengers can access any terminal, as long as they're holding a boarding pass. While the Centurion Lounge is most convenient for travelers departing from TBIT, it is technically possible—though not necessarily practical—to visit from any of the other seven terminals.
Terminals 4, 5, 6, 7, and TBIT are connected airside (behind security) through a series of tunnels, hallways, and bridges. From Terminal 4, it will be an easy hop to The Centurion Lounge, but from Terminals, 5, 6, and 7, expect a substantially longer walk and occasionally cryptic signage.
From Terminals 1-3 (Southwest, Delta), a visit quickly turns into an ordeal. Passengers have the choice to leave the secure area and walk outside to TBIT (then go to security again), or to ride the airside shuttle operated by Delta. Either way, it will take time. Concretely, this means that despite technically having access to The Centurion Lounge, members of the American Express Delta SkyMiles Reserve Card will typically be unable to visit.
(Find out more about LAX inter-terminal transfers at our Definitive Guide to the LAX Lounge scene.)
The lounge is open daily from 6:30am to 11pm, although food service will end at 10pm, so late night travelers might want to consider alternative options.
Centurion Lounge LAX design
Spanning across 14,000 square feet, with seating for 200 guests, the American Express Centurion Lounge at Los Angeles airport is the largest location system-wide.
The design incorporates American Express' signature elements—a living wall, an elegant residential decor, designer furniture, power outlets at every seat, and day beds—but the financial institution is continuing to drift away from a cookie-cutter design in favor of more local touches. The trend started with the opening of The Centurion Lounge Phoenix and Charlotte, and is sustained at LAX.
Bespoke finishes throughout give the space a trendy and luxurious vibe with hints of LA. In the relaxation area, exquisite carved wood paneling evokes the Hollywood Hills.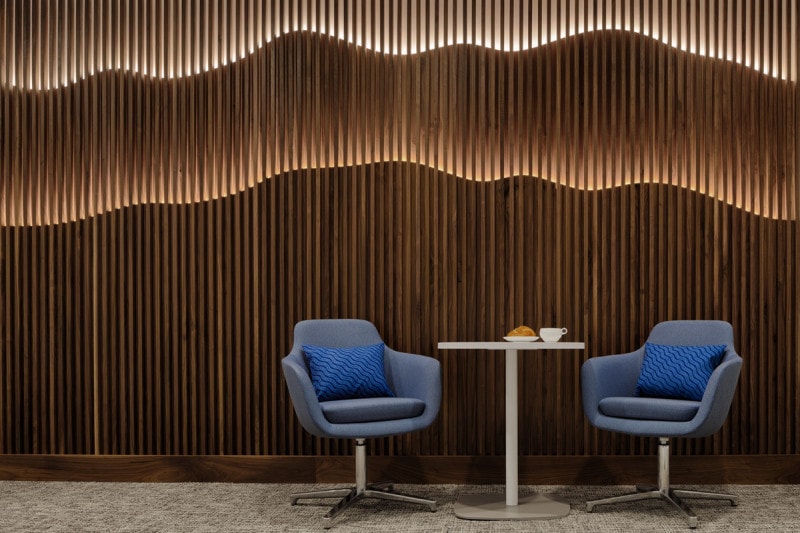 Near the lobby, a mural by local mixed-media artist Danielle "Ellierex" Garza hints at the State of California's color palette and official gemstone.
The dramatic bar area sports a striking neon Centurion logo, cathedral ceilings, and slanted windows overlooking an atrium. While the space lacks outside windows—and therefore tarmac views—the bar area receives daylight.
Unique to the Los Angeles location are two concept rooms designed to help travelers beat jet lag through light therapy.
In the "Sunrise room," illuminated walls and a desert color palette help the weary traveler wake up and regain energy.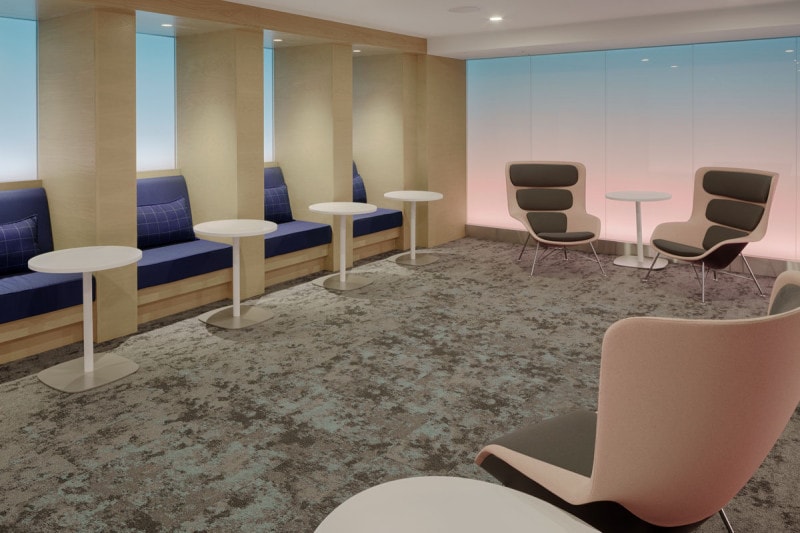 At the opposite end of the spectrum is the the striking "Moonrise room," where a starry-night ceiling and soothing blue hues help patrons drift into sleep. Day beds and chaises provide a comfortable—if not really private—environment to rest.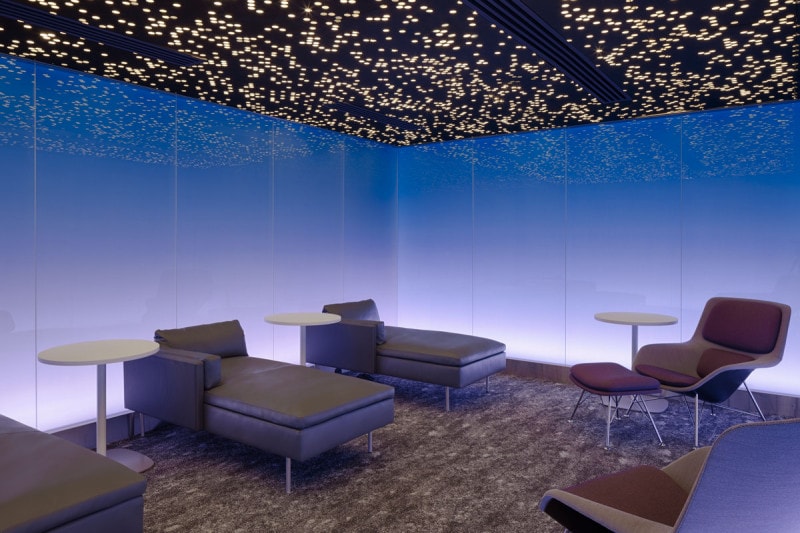 The Centurion Lounge LAX by American Express food and drinks
True to its established tradition, American Express offers a generous all-day hot buffet at The Centurion Lounge LAX. Curated by chef Nancy Silverton, the selection features local ingredients and California-inspired fare.
Highlights include Farro Salad with Fresh Herbs and Feta, Minestrone, Mozza Meatballs, Eggplant Lasagna, Roasted Beets with Horseradish Vinaigrette, Peperonata, Confit German Butterball Potatoes, and Butterscotch Budino.
The complimentary full bar serves an excellent selection of premium wines, classic cocktails, and locally-inspired concoctions crafted by mixologist Jim Meehan, including: Venice Spritz (Bruto Americano, Dark Horse Brut Sparkling Wine, Pellegrino Aranciata), Private Plane (Bertoux Brandy, Lemon Juice, Amaro Nonino, Aperol), and Maliblue Lagoon (Banks 5 Island Rum, Coconut Water, Pineapple & Lime Juice, Blue Curacao.)
Read our interview with Jim Meehan, Head Mixologist.
It's worth noting that service is limited early mornings and late evenings. Before 7:30 am, American Express offers a basic continental breakfast spread, and the full bar does not open until 10:30am. The dinner buffet closes at 10pm, one hour before the lounge, and the last call at the bar is at 10:30pm.
The Centurion Lounge LAX spa and other amenities
Like its sister location at Dallas-Ft. Worth airport, the Centurion Lounge at Los Angeles airport features a complimentary spa, in partnership with Exhale. Services include chair massages, hand and nail therapies, Reiki treatments, ear reflexology, and light therapy.
The spa is complimentary and bound to be popular. Be sure to inquire early as treatments are available on a first-come, first-serve basis.
Guests who wish to freshen up will also find an elegantly-appointed shower suites stocked with L'Occitane bath and skincare products. When work calls, noise-buffering work spaces are available, along with business amenities such as a fax/printer/scanner.
Other amenities include a family room with toys and games, Wi-Fi, and online press and magazines.
The Centurion Lounge access rules
The Centurion Lounge is a private club for American Express Platinum and Centurion card members, as well as Delta SkyMiles Reserve card holders (when flying Delta.) In response to crowding issues, American Express tightened the guest and access policies a year ago.
Here's who gets in, as well as a summary of guest policies:
Members can purchase access for additional guests at $50 per person. Also, it's worth noting that access requires confirmed travel plans, which means that standby boarding passes are not eligible.
Bottom line
The new Centurion Lounge at Los Angeles airport for Platinum and Centurion card members boasts a custom design with unique amenities tailored to international travelers, a complimentary spa, a high-end buffet, and a luxury bar.
However, the location of the Centurion Lounge LAX, in the Tom Bradley International Terminal (TBIT), is bound to be controversial. For all practical purposes, the Centurion Lounge is out of reach for most passengers traveling on domestic airlines, due to the transit time between terminals.
The TBIT is also home to some of the finest airline clubs in the US, such as the Star Alliance Lounge, the Qantas First Class Lounge, and the Etihad Lounge. Will the Centurion Lounge stand out? While American Express is in a league of their own compared to the average run-of-the-mill domestic US lounge, airlines rival at LAX with amenities including outdoor terraces, private full-service dining, and expansive tarmac or atrium views. The spa will be the Centurion Lounge's most distinctive feature—but the lines are bound to be long.
Crowding has indeed become a major issues throughout the Centurion Lounge network, and it remains to be seen how the Los Angeles location will fare. At 14,000 square feet, it is the largest system-wide, though LAX is also a major hub, and American Airlines passengers (who can reach the Centurion Lounge from the adjacent Terminal 4) are likely to come in droves.
Either way, the pace at which American Express is expanding is impressive. With 11 domestic US locations, American Express Centurion and Platinum members can rely on The Centurion Lounge for most of their travels, and three additional clubs are slated to open in 2020 at New York JFK, Denver, and London Heathrow.