When American Express announced the Centurion Lounge Denver back in 2018, no one could have foreseen that it would take three years for the club to materialize, or that the opening would coincide with a pandemic that's decimating the travel industry.
The lounge opened to the public this morning with little fanfare—celebrations and press events are a thing of the past—and will be operating with restricted hours for the foreseeable future. But it's nevertheless transformative. For American Express Platinum and Centurion card members, a layover at Denver International Airport will never be the same again.
---
In this post:
---
What is The Centurion Lounge?
Located at 13 airports in the US and reserved exclusively for select American Express card members and their guests, the Centurion Lounge airport clubs are elegant retreats featuring a complimentary full bar, free hot meals designed by celebrity chefs, luxurious shower suites, and stylish seating and work areas with power outlets.
The Centurion Lounge welcomes American Express Platinum and Centurion card members flying any airline. Delta SkyMiles Reserve card holders are also welcome under specific conditions (see Access Rules.)
The Centurion Lounge Denver location and opening hours
The Centurion Lounge at Denver International Airport is located in Concourse C, on the mezzanine level above gate C46.
Concourse C is primarily used by Southwest, Spirit, and Alaska Airlines, but at Denver airport all concourses are conveniently linked by an automated train system inside the secure zone. United, American, and Delta passengers will be able to hop over to Concourse C from Concourses A and B in less than 10 minutes.
The Centurion Lounge will initially only open from 7 AM to 3 PM, given the current state of air travel. When traffic picks up, American Express hopes to expand service hours to late evenings.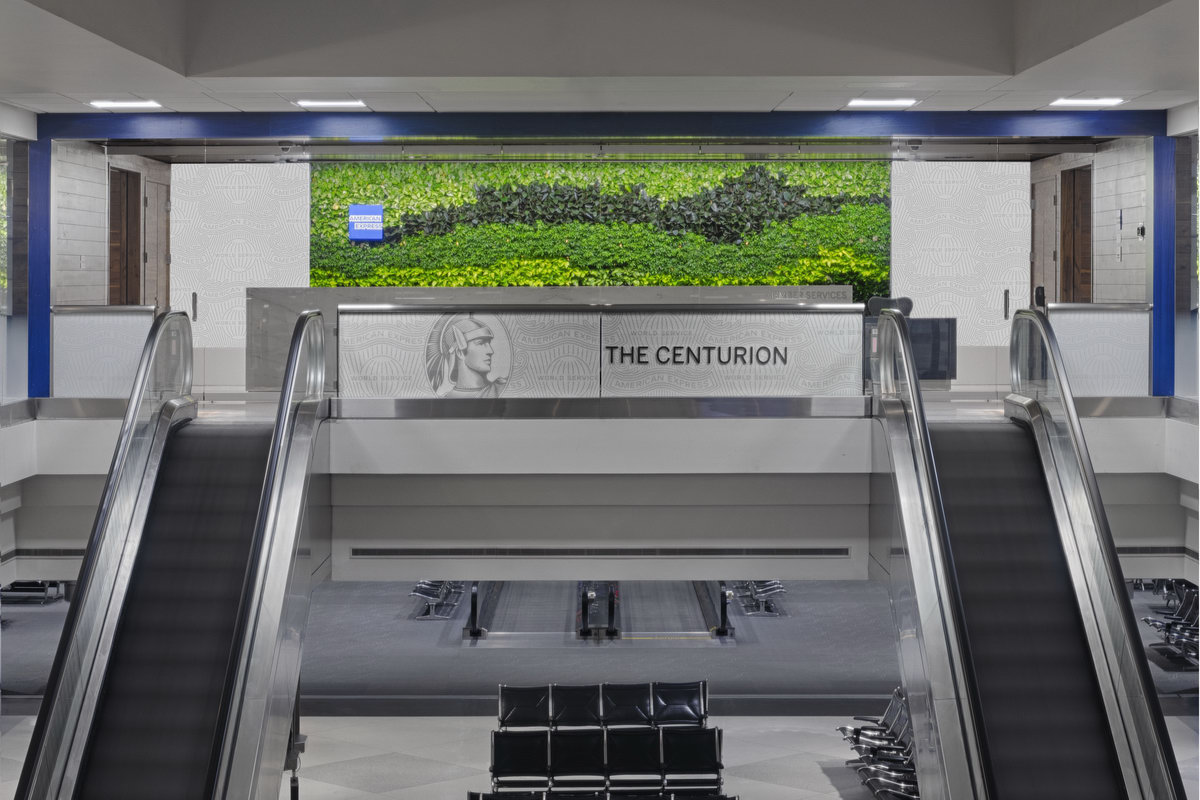 The Centurion Lounge DEN design
The Centurion Lounge at Denver airport sports American Express' celebrated residential design, with a few local twists.
At 14,650 square feet, with a capacity of over 300 seats, the Centurion Lounge Denver is the second-largest systemwide, shy only of The Centurion Lounge New York JFK's 15,000 square feet.
Bathed in natural light, the club overlooks both the lower concourse area and the tarmac, and features expansive views of the airport grounds. The club spans both sides of the concourse, with two bridges linking the two wings. The layout maximizes privacy by creating more intimate spaces.
Guests will find an expansive range of seating options, including solo seats facing the windows, inviting sofas, designer armchairs, tabletop seating, dining tables, and communal tables. There's also a honeycomb structure featuring additional privacy.
The soothing tones and luxurious finishes foster an upper scale and relaxing ambiance. A mural of the Rocky Mountains adds a local touch, while American Express memorabilia celebrates the mystique of travel.
Power outlets are located near virtually every seat, as well as USB-A and USB-C charging ports.
The Centurion Lounge DEN amenities
The Centurion Lounge Denver features a strong line-up of amenities, as expected from American Express.
The financial institution has partnered with Boulder Executive Chef Lachlan Mackinnon-Patterson to offer an elevated culinary experience. Highlights of the buffet selection include grilled chicken with salsa verde, Pomodoro di pasta, avocado bruschetta, and tiramisu.
In addition, in a worldwide Centurion Lounge first, American Express offers fresh, cooked-to-order pasta dishes, prepared at a live cooking station. The feature is unique to Denver airport; even the flagship Centurion Lounge JFK features a traditional buffet.
The Centurion Lounge Denver is home to no less than two bars. The main bar boasts an excellent line-up of upper-shelf libations with a creative cocktail list curated by The Centurion Lounge Mixologist Jim Meehan and an appealing wine list. Centurion Card holders are treated to a few extras such as Champagne. At the Craft Beer Bar, guests may enjoy a rotating selection of local beers.
At Denver airport, American Express caters to the whole family. In addition to a colorful kid's room with toys and games, the lounge also features an all-age game room with a pool table, checkers, backgammon, and other timeless favorites.
When business calls, patrons can retire to a work area appointed with a communal table, printer, and copier, or seek the (single) phone room. Wi-Fi is fast and reliable.
Other amenities include two luxuriously-appointed shower suites with L'Occitane amenities, spacious restrooms, and a digital library of newspapers and magazines. There is no spa at this location.
COVID-19 measures
American Express has implemented various measures to prevent the spread of COVID-19 at the Centurion Lounge Denver.
Guests are expected to wear a mask at all times except when eating or drinking. Employees will also wear mask face coverings.
The reception and member services desks and bars are equipped with plexiglass shields, and members are encouraged to check-in online with the American Express app.
Hand sanitizer is available throughout the lounge.
Seating has been configured to facilitate social distancing, and the lounge will initially only welcome a limited number of guests.
The Centurion Lounge will offer complimentary hot meals but buffet service is currently suspended. Hosts will serve pre-proportioned plates.
Games will be sanitized after each use.
The showers are currently closed.
The Centurion Lounge Access Rules
The Centurion Lounge welcomes members of The Platinum Card and The Centurion Card, as well as two guests. Passengers may visit regardless of airline and class of travel.
In addition, Delta SkyMiles Reserve card holders can visit the lounge when flying Delta.
Centurion and Platinum Cardmembers may bring in two guests, and can purchase access for additional guests at $50 per person. All visitors must present a boarding pass for a flight departing within three hours, unless they are connecting to another flight.
Unsure if you have access? Let our Lounge Access Wizard take away the guesswork. Enter your itinerary or import from TripIt, tell us about any frequent flyer membership or credit card, and we'll tell you where you can relax along your way.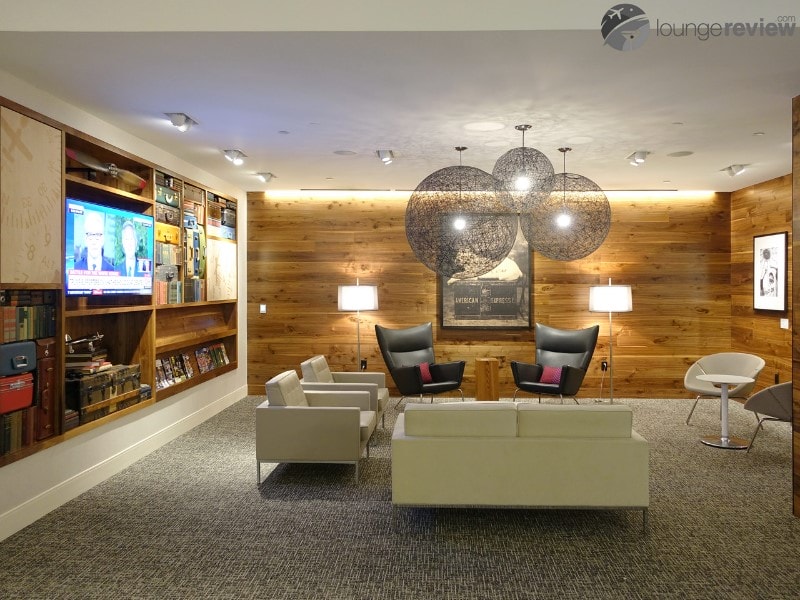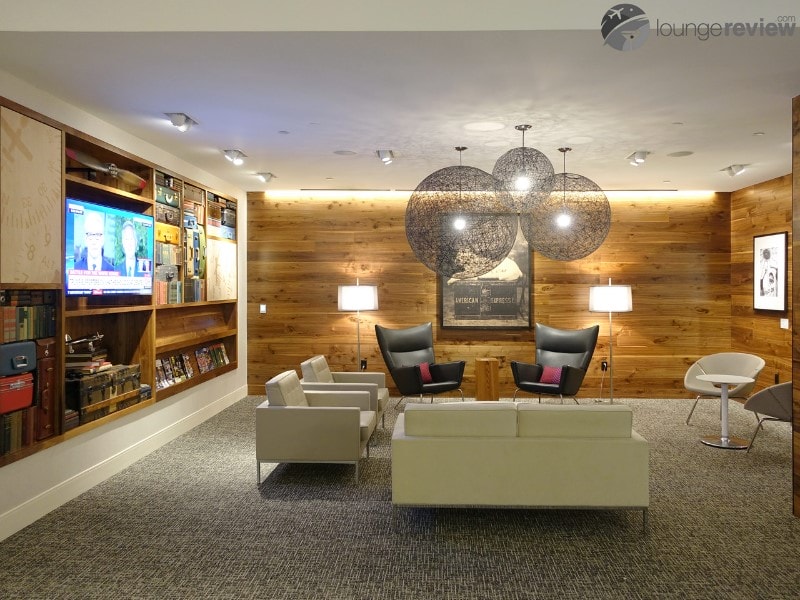 Bottom Line
The Centurion Lounge at Denver airport is fashionably late, but it's a game changer for passengers traveling from or passing through the Mile High city.
Despite its status as a United hub, a recent influx of new international routes, and increased domestic competition, Denver airport has long suffered from a lackluster lounge scene. United has no plans to open a Polaris lounge, and the American Admirals Club and Delta Sky Club are uninspired spaces with few amenities. All three clubs have kept their original design from yesteryear. And despite new international routes, none offer showers or hot meals.
With cooked-to-order meals, a high-end bar, and shower suites, The Centurion Lounge at Denver airport is bound to be a popular destination post-COVID.