The last few years have seen Zurich airport undergo a quiet but effective transformation, with a steady delivery of thoughtful upgrades to operations and the overall passenger experience.
Late last week, SWISS unveiled the culmination of three years of incremental design upgrades, with the opening of the more refined and authentically unique airport lounges: the SWISS Alpine Lounge in Dock A.
In this post:
Three years of SWISS design
In 2016, Zurich's hometown carrier SWISS, a member of Star Alliance, unveiled three radically different new Business, Senator, and First Class Lounges at Dock E, the departure point for most long-haul flights. The new lounges marked an evolution from the airline's legacy minimalist decor to a richer design language celebrating the history and natural beauty of Switzerland.
While the First Class Lounge, complete with private rooms with en-suite showers, and fondue service on the open-air deck, is the epitome of luxury, the Business and Senator Lounges were also widely acclaimed for their elegant and upscale touches. Guests enjoy a deck with panoramic views of the Swiss alps, Vitra furniture, and an exquisitely furnished (and well-stocked) whiskey bar.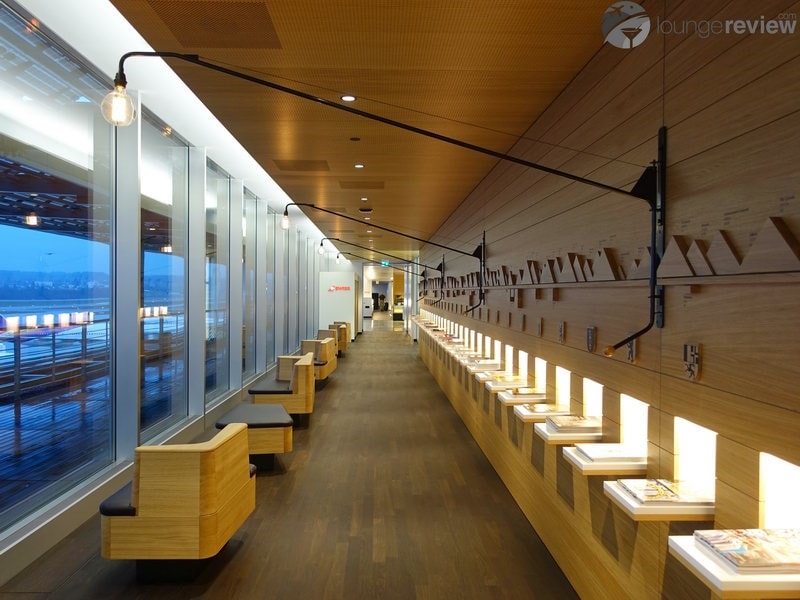 Two years later, SWISS relocated the First Class Lounge in Dock A to a vibrant new space, complete with a private security checkpoint, a complimentary a-la-carte restaurant, and limousine transfers to remote concourses. The First Class Lounge Dock A decor builds upon the success of the Dock E lounge, with an oak parquet floor, Vitra and de Sede furniture, Jura limestone walls, and a subdued palette of natural tones.
Then, in July 2018, the airline completed the remodel of the popular Dock A Business and Senator Lounges for intra-Schengen flights. The formerly dark and cavernous clubs, where the most dramatic space—the longest airport bar in the world—used to be reserved to smokers, went through a complete makeover. The new lounges boast lighter colors, a more open design, and a more residential feel.
But ask frequent travelers what they think of the new digs, and the answer paints a different picture. "Crowded." "Noisy." The adjectives conjure little luxury—and indeed, no design trick can truly compensate for lack of real estate. In truth, the Dock E lounges are typically relatively quiet. But most passengers stay in Dock A, which routinely operates at capacity.
Enter the new SWISS Alpine Lounge, the airline's response to crowding issues—and a marvel of design.
The new SWISS Alpine Lounge at Zurich airport Dock A
The new SWISS Alpine Lounge at Zurich airport is located in Dock A, the bustling concourse dedicated to flights within Europe's Schengen area.
The SWISS Alpine Lounge occupies the 500 sqm (5,400 sqf) space left vacant by the First Class lounge, which moved in 2018. Open Mondays to Fridays from 05:30 AM to 6:30 PM, the club functions as an overflow space to alleviate crowding at peak departure times. Outside the Alpine Lounge opening hours, eligible customers have access to the Business and Senator Lounges in Dock A, as well as six other lounges in Docks A, D, and E.
The entrance to the Alpine Lounge is located near the Dock A transfer desk. There's an elevator to the upper level where the lounge is located, but climbing the spiral staircase is a much more rewarding experience. The staircase is outfitted with a multimedia installation that tracks guest movement, and displays nature scenery and birds following visitors on their brief journey.
The SWISS Alpine Lounge emulates a Swiss mountain hut—albeit an extremely luxurious one. The decor builds upon SWISS' design language with furniture by Vitra and Franke and components of the celebrated Business and Senator lounges, but it also incorporates natural elements such as tree-trunk stools, wooden artwork, alpine-style carpets, and a remarkable stone tap water faucet.
The ensemble was conceived with metronomic precision, yet feels slightly raw and unpolished thanks to the use of bare wood and unfinished surfaces. Large communal tables reinforce the chalet feel—but it merely takes a glance in the direction of the floor-to-ceiling windows to be transported back to the airport.
With capacity for 100 guests, the SWISS Alpine Lounge is an intimate space. The club features a residential zone, outfitted with inviting nooks and booths, and a spacious dining area furnished with communal tables and dining booths.
The SWISS culinary team prepares food at a live cooking station in a rustic oven, with a focus on sustainability and the elimination of food waste. Patrons can choose between several ingredients to customize their meal, or help themselves from the buffet and salad bar, which feature cold cuts and a variety of fresh products. The breakfast offering revolves around breads and grains, which guests may mix to suit their individual taste.
On the beverage front, SWISS offers local spirits, as well as Swiss wines served in eco-friendly dispensers. The lounge has banned plastic—all utensils containers are re-usable, and bottled water has been eliminated in favor of local tap water, which, according to the city of Zurich, is some of the cleanest in the world.
The bathrooms boast Soeder toiletries—which are natural and come in glass bottles—though there are no showers at this location.
And despite the mountain hut theme, the SWISS Alpine Lounge is equipped with fast Wi-Fi and a plethora of power outlets. Civilization is never far away.
SWISS Alpine Lounge access rules
The SWISS Alpine Lounge at Zurich airport breaks the traditional lineage of Business and Senator Lounges—the former being open to Business Class passengers, and the latter reserved for upper-tier elite frequent flyers.
The SWISS Alpine Lounge welcomes all elite and premium passengers, including Business and First Class passengers departing on SWISS and Lufthansa Group airlines, Miles & More Senators, and Star Alliance Gold members. More specifically, the following customers receive access:
Note that Miles & More Frequent Travelers and United Club and Air Canada Maple Leaf Lounge members are not accepted.
The lounge is open Mondays to Fridays, from 05:30 AM to 6:30 PM. For more details, see the SWISS Alpine Lounge page in our global airport lounge index.
Bottom line
The new SWISS Alpine Lounge at Zurich airport is merely serendipity. The mountain hut-inspired decor is like no other and speaks to Swiss values, with a focus on sustainability.
The club, located in Dock A (Schengen departures) welcomes up to 100 customers and functions as an overflow space to alleviate crowding at the larger Business and Senator lounges, during weekdays at peak hours. It is open Mondays to Fridays, from 05:30 AM to 6:30 PM, and welcomes Star Alliance Gold members as well as premium passengers flying on SWISS and partner airlines.