While domestic travel in the US is slowly ramping up—flights are increasingly full, and security lines have returned at most airports—COVID-19 has decimated international travel.
In an effort to boost consumer confidence, airlines are aggressively touting enhanced hygiene protocols. But they're not shedding much ink on service cutbacks, and especially those that impact intercontinental premium cabins.
So what is it currently like to fly business class to Europe with United? Members of the loungereview.com team report on their recent experience traveling in United Polaris business class from Newark to Paris.
---
In this post:
---
United Club and Polaris Lounge COVID-19 closures
Finding a United Club that's still in operation is like finding a unicorn.
United's worldwide lounge network virtually shut down on March 17th. Five months later, the Star Alliance carrier is trailing domestic competitors with regards to re-openings: Polaris Lounges are still closed, and only a few United Club locations remain in operation at key hub airports. As of August 15th, 2020, the following United Clubs are open:
The United Club Newark was the latest to re-open, just a few weeks ago.
United Club service adjustments
After staying mum on the topic for months, United released late July a video highlighting the new United Club experience.
United is staying clear of making any groundbreaking adjustments, focusing instead on the fundamentals: mandatory masks, touch-free check-in, social distancing, cleanliness and electrostatic spraying, plexiglass shields at the bar and reception counters, shrink-wrapped snacks, and hand sanitizer dispensers.
Despite the relatively straightforward approach highlighted in the video, the supporting PR pitch is a master class in creative writing. United's rather loose commitments include a partnership with the Cleveland Clinic and Clorox, "having the goal of disinfecting seats after each use and upon request," "elevated pre-packaged food offerings," and "innovating for a healthier tomorrow through our United CleanPlus commitment," whatever that means.
How does it translate into real life?
The COVID-19 United Club Newark experience: seating and cleanliness
Under normal circumstances, Newark airport is a hive of activity, and United's lounges struggle to cope with the crowds. In addition to the United Club near gate C74, United normally operates a luxurious Polaris Lounge for intercontinental business class customers, a modern, full-service lounge in Terminal A, and a temporary pop-up club near gate 93. The airline is also building a new flagship club near gate C124 in a bid to permanently mitigate crowding.
How does the airline fare with a single, capacity-restricted club? As it turns out, just fine. There may be more travelers than a few months ago, but the severe cuts to the international flight schedule have significantly impacted demand.
Here's what the cramped C74 space looked like mid-afternoon, when the bulk of European flights would normally depart.
The club was so quiet that it was almost unrecognizable from its former incarnation.
United has eliminated roughly half of the seats. Dining tables are few and far between; there's only four to six chairs around high-top workstations; and solo seating is sparse. The arrangement is a much more effective measure than signage encouraging customers to keep seats open. On the flip side, there is no provision for families traveling together.
Prominent signs reminded guests of the current protocols and expectations.
Mask use was spotty at best during our stay, and it is difficult to enforce. Most guests snack and drink and therefore have a legitimate reason to take their mask off. As long as social distancing remains possible, that's unlikely to be a problem, but should traffic pick up, concerned customers may be better off skipping the lounge and staying in the public concourse.
Hand sanitizers were readily available, and the reception and customer service counters were equipped with plexiglass shields.
The bathrooms, however, were abysmal, just like in pre-pandemic times: old, cramped, and of questionable cleanliness.
As for United's "goal of disinfecting seats after each use and upon request", it was indeed merely an aspiration. There was no cleaning staff in sight, despite the fact that the club has many touch points. The old-fashioned work cubicles, in particular, appear that they would require more attention than the new modern desks that are easier to sanitize.
The COVID-19 United Club Newark experience: food and drinks
The deserted buffet area was a shadow of its former self, and for good reason: pickings were slim.
At Newark airport, United's supposedly "elevated pre-packaged food offerings" consist of shrink-wrapped pretzels and cookies. There is absolutely no reason—beyond cost—why the airline cannot offer healthier or more diverse options while still meeting CDC guidelines.
As a comparison point: in North America, American Airlines is offering snack boxes and re-introducing hot food, Alaska has maintained their luxurious handcrafted coffee service, Delta is offering a substantial choice of packaged and fresh food items, and Air Canada is delivering shrimp roll, snack bags, and cold fare to guests at their seats.
In Europe, British Airways, who typically doesn't shine in the lounge department, has rolled out a-la-carte service with mobile ordering and at-seat delivery, for all guests. First Class customers benefit from a dedicated area in London with a higher-end menu.
United isn't trying hard.
At the United Club Newark, the bar area is now entirely clear of furniture, in favor of social distancing markers on the floor. The bar is equipped with plexiglass shields, though they cause so much glare that communication with the bartender is almost challenging.
The COVID-19 United Club Newark experience: exclusive Polaris amenities
Upon seeing our Polaris business class boarding passes, the lovely United Club front-desk agent brightened up and cheerfully welcomed us.
While the Polaris Lounge remains shuttered, he explained that Polaris passengers are eligible for enhanced amenities, including "top-shelf alcohol" and additional food options such as a cheese plate. The sesame to this world of bliss: a (dated a numbered) card, to be presented to the bar tender.
We eagerly made our way to the bar, and asked for a glass of Champagne. As it turns out, there was none, unless we'd settle for rosé, which we gladly accepted. (But, so much for "any top-shelf alcohol.") The bartender opened a mini bottle, poured into plastic cups, and promptly stashed the bottle away. The intention is good, but execution was unremarkable.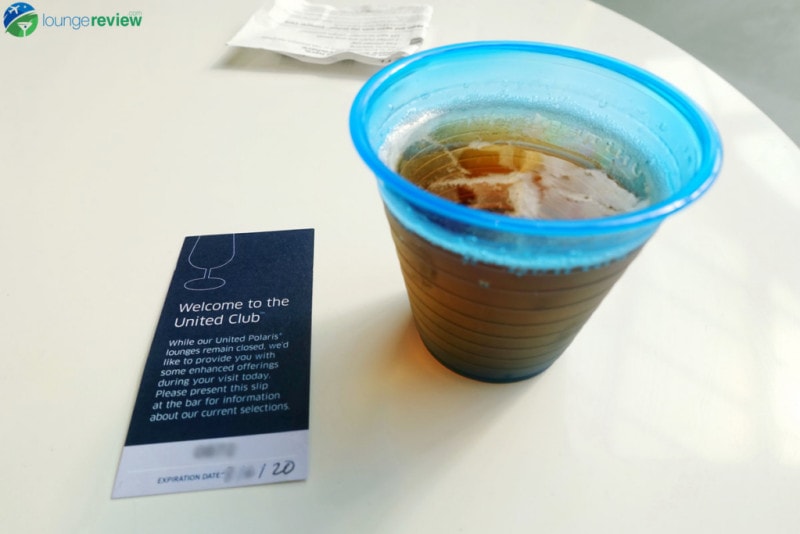 The cheese plate turned out to be a disappointment as well: it was a small refrigerated snack that looked like it was procured at 7/11. There were no other options available. We passed.
Polaris Business Class passengers may also ask for an amenity kit like those that are offered on board. Without an option to shower or even a proper space to freshen up, there are relatively few uses of an amenity kit, but a toothbrush and a comb are always nice to have. As a side note, the United Club Newark still hands out Star Wars-themed kits (which aren't available onboard anymore) for those who collect them.
Overall, the special COVID-19 Polaris service at the United Club Newark was an unexpected touch, but in its current incarnation, it's ultimately a disappointment. Might we suggest at least stocking up the bar, offering full mini-bottles, and perhaps serving quality sandwiches or cold plates?
United Polaris Business Class COVID-19 international service
We left the United Club Newark near gate C74 and made our way to our departure gate. It was a long walk to the international area, past the still-shuttered Polaris Lounge and the future site of the new United Club.
With an extremely light load aboard our 787-10 from Newark to Paris, boarding was swift. The Polaris business class cabin was deserted, and the Premium Plus cabin completely unoccupied. It was social distancing at its finest—and a sad reminder that Americans can only travel to 20 destinations worldwide.
United's signature Saks Fifth Avenue-branded sleep amenities were still available. The gel pillow, full-size pillow, mattress pad, duvet, and slippers make for a restful night, and it's fortunate that they haven't been sacrificed on the COVID-19 altar. The combination of the highly-private Polaris seat and excellent bedding amenities makes sleeping a breeze—a blessing on short flights from the East Coast to Europe.
Dinner, however, was a simple affair. There are no more printed menus—despite the fact that single-use copies don't pose a safety risk. Options were "beef, fish, or pasta", with Economy undertones. The entire meal was presented wrapped on a single tray, express style, to minimize health risks.
We have so many questions about this meal. Where are the veggies? What are the tortilla chips for? Is butter supposed to go on crackers? And why so much "bread" when there's rice already? Why not minimize waste and serve nuts in a ceramic ramekin? Why serve cloying syrup that masquerades as a fruit cup, when perhaps a shrink-wrapped piece of fruit would be tastier, healthier, and equally safe?
To be fair, the salmon was tasty. And so was the cookie (which is traditionally served at the end of the flight.) But the overall experience was terribly disappointing and reeked of cost cutting.
The only available wines were mini-bottles from Economy (other airlines manage to open regular bottles without a health risk.) On the brighter side, the traditional liquor selection is available.
The flight attendants—who outnumbered paying business class passengers—were truly gracious and attentive, and did their best with what they had to work with. And all things considered, a benefit of a quick meal is that there is a bit more time to sleep on a short flight. But, veggies, anyone?
Breakfast was the lowest point of the service: it consisted of a hot sandwich (typically offered as a buy-on-board option in economy) served on the tray table. Spin COVID-19 and hygiene all you want, nothing justifies serving a meal without linen or a tray in international business class. In fact, common sense would suggest that providing linen helps enhance hygiene. Also, if United can provide proper silverware for dinner, why is breakfast all plasticware?
On a more positive note, we arrived early. Paris Charles-de-Gaulle airport Terminal 1 is still closed, leading to minor confusion; so we disembarked at Terminal 2A, on a bus (so much for social distancing.) There is no lounge for connecting passengers.
Bottom line
The COVID-19 pandemic has profoundly altered international travel, and it's still unclear when the situation might stabilize. In response, United has made severe cuts to the international premium travel experience.
At Newark airport, the United Club near gate C74 offers a quiet place to work, but not much else. Polaris passengers are treated to limited complimentary libations, but the lounge isn't cleaned regularly, mask usage is spotty, and pre-flight dining and showers are all distant memories at this time.
Onboard dining in Polaris business class is at economy class levels, and nothing can justify serving breakfast directly on a tray table without a tray or linen. On the brighter side, the Polaris sleep amenities—gel pillow, mattress pads, duvets, and slippers—are still all available, and perhaps that's ultimately all that really matters: the ability to sleep.
At the end of the day, cutbacks are understandable. Airlines are bleeding money, and it's difficult to justify high-end services for a handful of premium passengers per flight. However, some COVID-19 measures are cost-cutting moves that masquerade as hygiene enhancements. United is trailing behind competitors in virtually every regard when it comes to the lounge experience—in terms of lounge availability, food offerings, and showers. If our experience at Newark airport is representative, the promise of an increased focus on hygiene remains unfulfilled too.