From drab to fab—United's lounge-eligible customers at Denver International Airport are in for an exciting upgrade, where comfort and style take center stage.
Last week, United finally shuttered its last 90s-style United Club at DEN Concourse B, and unveiled an impressive new three-story lounge—the airline's largest systemwide. The opening of the Concourse B location comes on the heels of the launch of a first-ever United Club in Concourse A.
In addition, lounge-eligible customers who are short on time continue to receive access to United Club Fly, a new club concept with complimentary grab-and-go offerings and a coffee shop.
And the best is yet to come, including another United Club and a much-anticipated Polaris Lounge for international business class passengers. By the end of 2025, United will offer over 100,000 square feet of lounge space at Denver International Airport.
---
In this post:
---
The new flagship United Club at Denver International Airport Concourse B is the airline's largest worldwide
The era of cookie-cutter, monochrome clubs is over. In May 2022, United surprised us at Newark airport with the unveiling of a bespoke, locally-inspired United Club near gate C123 packed with thoughtful features and amenities. Sixteen months later, the carrier's Midwest hub received an (almost) similar treatment.
Spanning across 35,000 square feet, the new United Club at Denver International Airport near gate B44 is a tale of superlatives. The new lounge, which replaces the former "United Club East", is the airline's largest club systemwide. As a comparison point, Newark's sprawling new club stretches across 30,000 square feet, while United's impressive Polaris Lounge San Francisco—the carrier's largest business class lounge—has "only" a 28,000 ft. footprint.
The new Concourse B outpost boasts more than 600 seats across three levels. Amenities aside, the additional club capacity alone should markedly improve the ground experience for United's premium flyers.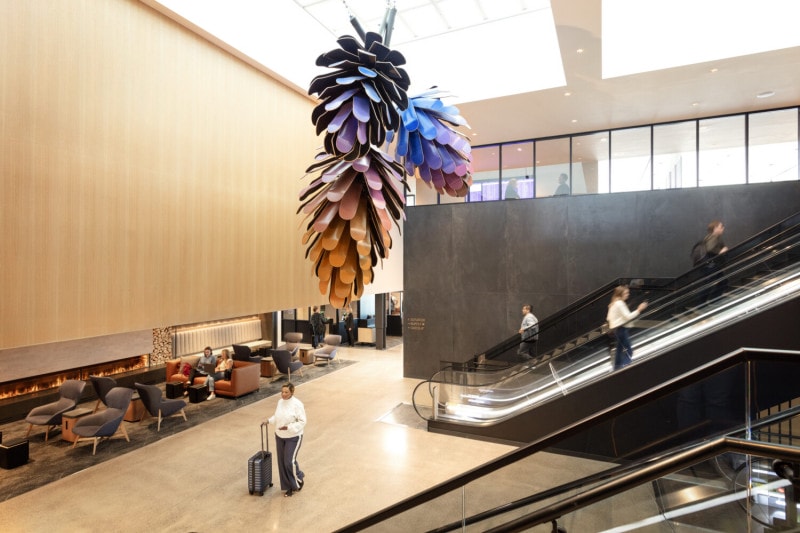 The new club's design language takes hints from the airline's wildly successful Polaris Lounges, with common elements such as directional signs and fonts, dark blue upholstery, and dramatic ceiling light fixtures. The designers have also incorporated the ethos of the latest United Club at Newark airport, including a warm color palette and a similar flow and furniture arrangement. And while that's probably unintentional, we can't help but feel that United is also following the Lufthansa playbook—while the furniture was locally sourced, it bears a striking resemblance with the German flag carrier's lounge furnishings, down to the dominant orange tones.
But the new United Club DEN Concourse B has its own particular vibe and soul. Concrete flooring and exposed ceilings evoke Denver's urban areas, while wood-filled partitions and fireplaces celebrate the great outdoors that Colorado is famous for.
United's new approach to lounge decor is very much in line with the industry's shift to more residential designs, embodied by Singapore Airline's "Home Away From Home" concept, Cathay Pacific's aesthetics, WestJet's Flagship Lounge, and American Airlines' latest design language. It's a welcome reprieve from the sterile decor that has been the hallmark of United Clubs for the last ten years.
Guests will find their choice of inviting couches, solo seats, booths, egg chairs, and communal tables, all outfitted with power outlets and USB ports within arm's reach.
The luminous space features floor-to-ceiling windows with panoramic tarmac views, as well as vistas of the celebrated Jeppesen Terminal's peaked roof designed by Fentress Bradburn Architects.
United's new flagship club at Denver airport also incorporates artwork from local artists. The dramatic piece in the lobby (see photo above) was crafted by Will Schlough and inspired by the cones of the Colorado Blue Spruce. Murals artist Pedro Barrios created a backdrop for one of the bar areas.
The culinary offering is a major step up from the legacy clubs. United promises a complimentary premium, locally-inspired hot and cold spread, with delicacies such as oatmeal with Colorado honey, egg frittata inspired by the Denver omelet, and Colorado Club sandwiches and pork green chili.
Patrons will also find complimentary house wines and well drinks at the bar, as well as as selection of premium options. But beer lovers might want to make a beeline for the mezzanine level, which boasts a beer tasting bar, featuring a seasonal rotation of premium local and craft beers.
The bar is outfitted with five Vestaboards displaying current offerings. The boards are a modern, digital take on the famous Solari boards—split-flap electromechanical displays that used to adorn airports and railway stations worldwide.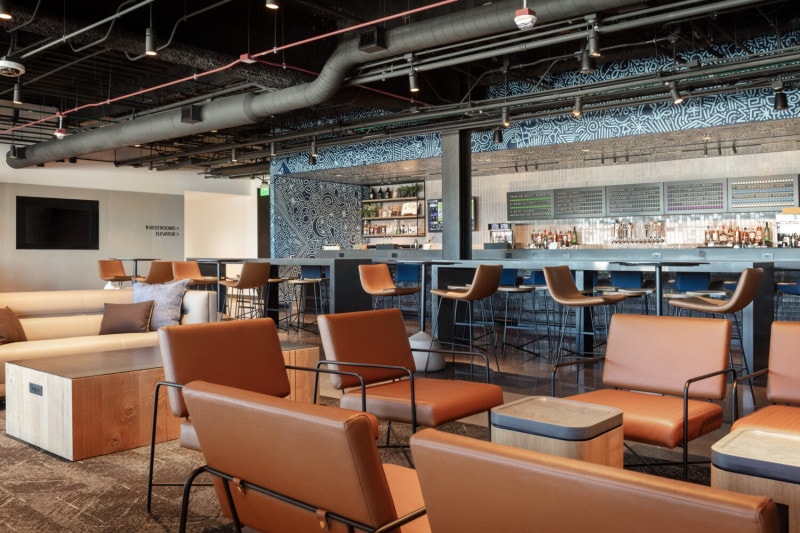 The current tap beer selection hails from Colorado breweries New Belgium, Great Divide, Denver Beer Company, and Upslope.
There's a catch, though—beer flights aren't free. This is very much in line with United Club standards, but United Polaris business class customers, which are used to a complimentary full premium bar at the Polaris Lounges Chicago, Houston, Los Angeles, Newark, San Francisco, and Washington Dulles, won't find the same experience in Denver.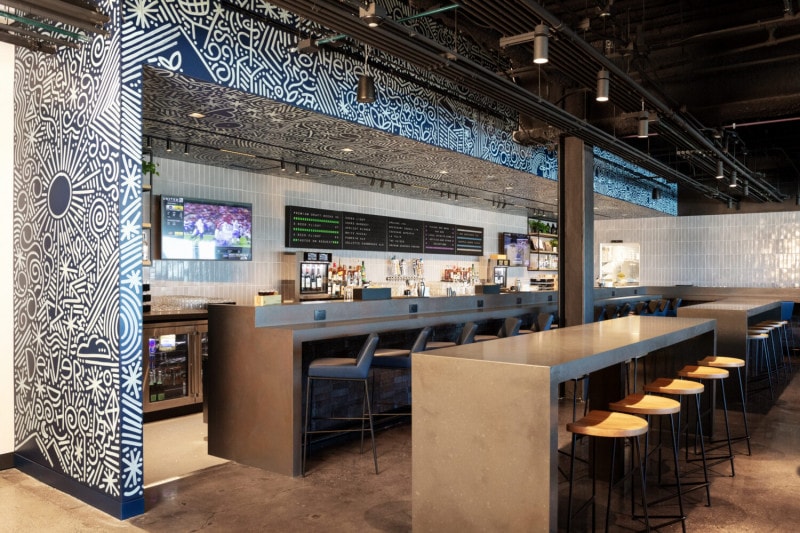 There's another catch: while visually appealing, the new United Club at Denver Concourse B doesn't boast the same impressive line-up of amenities as its sibling at Newark airport. In particular, there are no showers, and no coffee shop (though customers willing to make the trek to gate B60 will find a fantastic complimentary coffee shop at United Club Fly.)
Considering that the vast majority of passengers visiting Denver International Concourse B are flying domestically within the US, the lack of showers isn't a glaring oversight. But it's still unfortunate, considering that the American Express Centurion Lounge in Concourse C offers showers, and that United's competitor Delta has shower suites at every hub.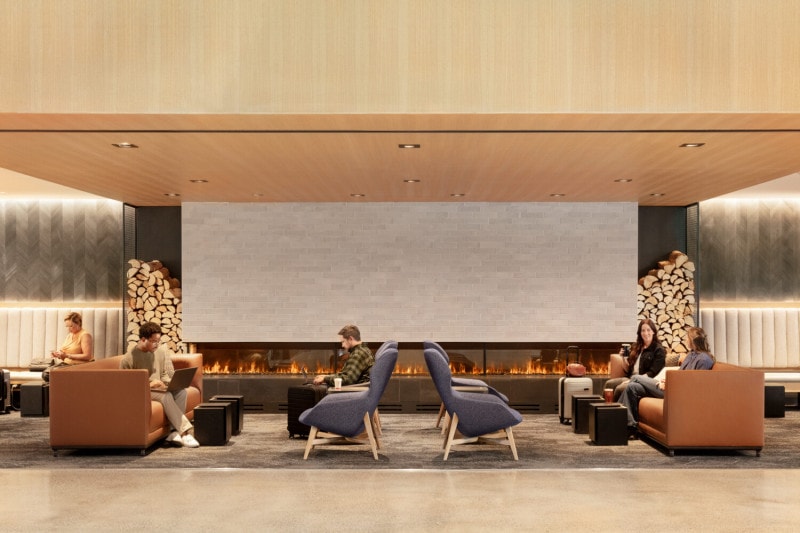 The Concourse B club does feature a wellness room, though. A relatively new amenity within United's lineup, wellness rooms are well-appointed private spaces that can serve as new mother's room or prayer or meditation spaces.
The new United Club at Denver International Airport Concourse B may not be as premium as the latest United Club in Newark, but it sure is stylish. For nostalgia and comparison's sake, this is what the former incarnation of the club looked like. It will not be missed.
United opens its first ever lounge at Denver International Airport Concourse A
United quietly unveiled a new United Club at Denver Airport Concourse A a few weeks ago. The lounge initially operated in "soft launch" mode while the airline ironed out the kinks.
During its storied history at Denver airport, United occasionally occupied gates at Concourse A, though the bulk of its operation has always been in Concourse B. This changed in 2020, when the carrier announced significant expansion plans. Despite COVID-induced delays, the airline delivered on its promise, and recently unveiled 22 gates in a new Concourse A extension. As a comparison point, United's entire footprint at LAX is just 13 gates, and yet, the airline has both a United Club and a Polaris Lounge. A club at Denver International Airport Concourse A was therefore in order.
Spanning over 24,000 square feet and two levels, the first-ever United Club at DEN Concourse A is located near gate A26 and features 400 seats in warm and residential surroundings.
The club bears a striking resemblance with its Concourse B sibling, with common elements such as fireplaces and logs-lined walls.
The aesthetics are subtly different, though. At Concourse A, United wanted to evoke a luxurious ski lodge. Natural oak-lined ceilings, a more muted color palette, and a vintage ski decor transport visitors to a cozy (but resolutely modern) chalet up on the slopes.
The Concourse A location has a slightly more playful air than its Concourse B counterpart. Guests can enjoy a round of shuffleboard in the game room—though United isn't innovating here: American Express was the first to introduce shuffleboard at The Centurion Lounge in Concourse C.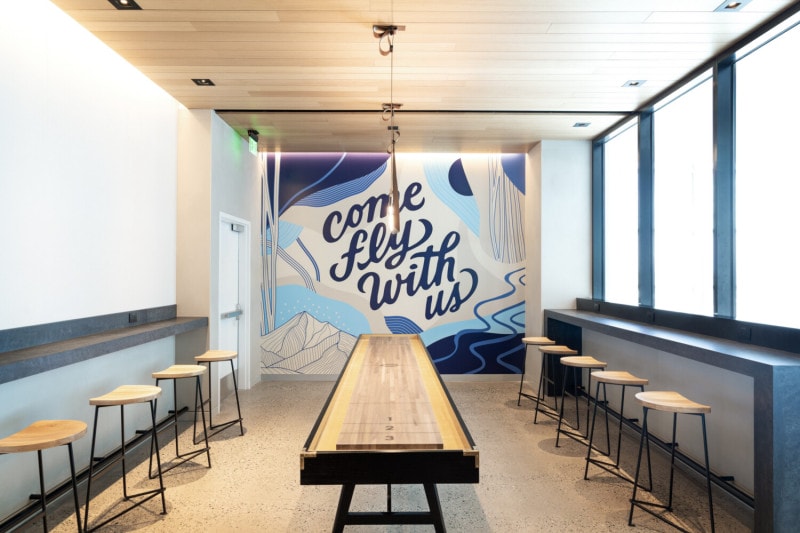 The United Club Concourse A boasts two bars, one on each level. The buffet spread will be the same at the Concourse A and B clubs.
The new United Club DEN Concourse A also lacks showers, which is unfortunate as the airline is planning on moving its international departures to Concourse A (which is where immigration and customs facilities are located.) The shower situation should improve in 2025 when United is expected to open a Polaris Lounge for business class passengers at Denver.
United Club Fly, complimentary grab-and-go options
The overhaul of United's ground services started in in November 2022, when United unveiled "United Club Fly", complimentary a grab-and-go pantry and full-service coffee shop for passengers on the go.
Located near gate B60, United Club Fly gave us many hints about the design direction that the airline would pursue in Denver: the floating structure is meant to evoke a ski chalet or a cabin in the mountains. The slanted roof, wooden beams, Earth tones, soft lighting, and the (fake but realistic) fireplace foster a warm, inviting ambiance.
United Club Fly is meant for passengers with tight connections who don't need or want to enjoy the full United Club experience. There is seating for just about 15 patrons because most guests are expected to quickly go in and out.
The concept—which was inspired by the Air Canada Cafe at Toronto airport and Lufthansa's Senator Cafe and (now-defunct) Delights to Go at Munich airport—is simple, but novel: guests can choose from an array of complimentary food and beverage options to take away and consume on their next flight. It's a win-win for the airlines and customers: it's far cheaper to provide catering on the ground than in the air, and customers have more choices and can pick something that they really like or that fits their lifestyle.
The selection includes breakfast items as well as a variety of snacks, sandwiches, and wraps. Health-conscious guests will find vegan wraps, fresh fruit, and fresh salads. The beverage selection includes juices, soft drinks, flavored milk, and even Naked-brand beverages, luxuries that almost feel out of place at a United lounge!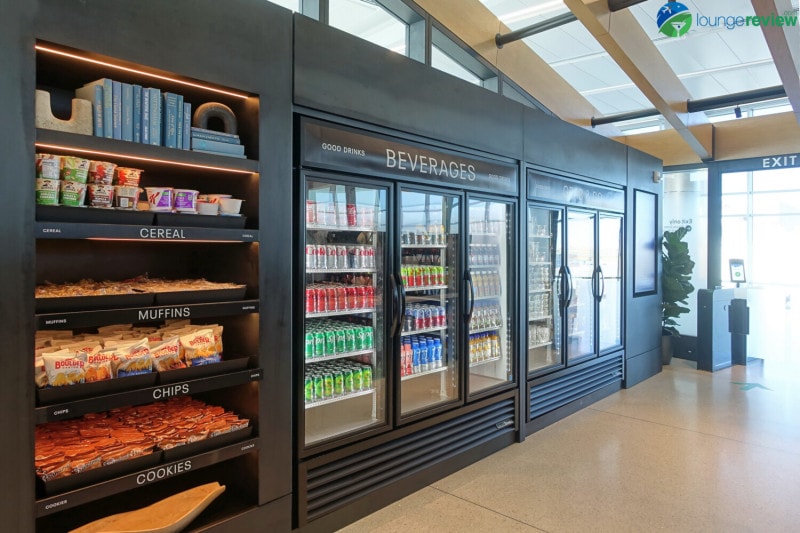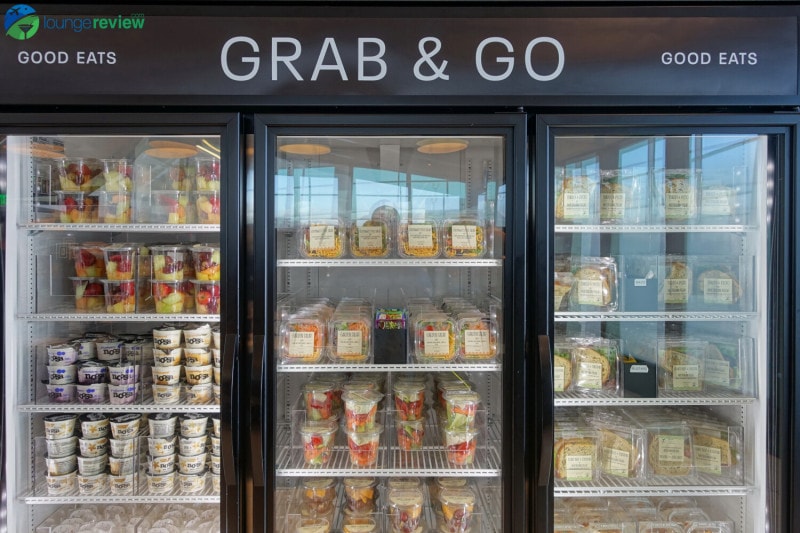 In addition to the self-service pantry, United Club Fly features a free, full-service coffee shop that offers americanos, lattes, cappuccinos, nitro brew, matcha green tea, and iced tea.
Guests who don't have time to order handcrafted coffee can use the automatic, self-service espresso machines.
Read our detailed review of United Club Fly at Denver International Airport
The United Fly is currently unique to Denver airport, where more than two-thirds of United passengers have connections.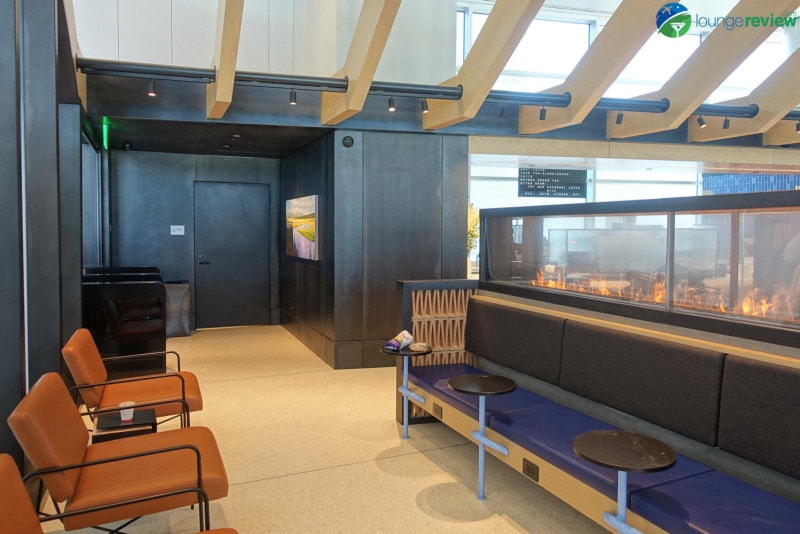 What's next for United at DEN?
The United Club West near gate B32 has closed for remodeling. Construction is expected to take over a year. While United hasn't shared details on the upcoming club, it is expected to be similar to the new United Club near gate B44, just like the legacy United Club East and United Club West used to be mirrors of each other.
The dreadful pop-up United Club near gate B59 has closed permanently, and no one will be mourning its demise. That being said, passengers departing from the west side of Concourse B will need to hike all the way to the East side of the concourse—perhaps a pop-up on the West side would be useful.
United is continuing to add gates, with 12 new gates expected to come online in Concourses A and B by mid-2024.
Finally, a United Polaris Lounge for business class passengers is in the works. The club will be located in Concourse A in a brand new space within the terminal expansion. United has not shared any details publicly yet, though with six Polaris Lounges already in operation, we know what to expect: a complimentary full-service restaurant, a premium bar, high-end shower suites, and private resting spaces.
Who has access to the United Club at Denver International Airport (DEN)?
Like all United Club locations, the new United Clubs at Denver airport welcome:
United Club members departing on a same-day flight operated by United or a Star Alliance member airline, or arriving on a United flight.
United Polaris business class passengers departing or connecting.
United Business passengers departing on an United international flight (to/from Mexico, Guam, Caribbean, Central America, Columbia and Ecuador) at departure, connecting and arrival airports.
Business and First Class passengers departing on an intercontinental flight operated by a Star Alliance carrier.
Star Alliance Gold Members (except United Premier members and above) departing on a domestic or international flight operated by a Star Alliance carrier in any class of service.
United Club one-time pass holders.
Active U.S. military personnel departing on a same day United flight.
Air Canada Maple Leaf Club members departing on a flight operated by a Star Alliance carrier.
This list is not exhaustive. To find out what lounges you have access to, use our Lounge Access Wizard or download the LoungeReview app.
Bottom line
United has opened two dramatic new lounges at Denver International Airport, which both boasts a locally-inspired design, comfortably seating, complimentary hot meals, and high-speed Wi-Fi.
At 35,000 square feet, the new United Club in Concourse B is United's largest systemwide and it features a beer tasting bar and plenty of nooks and workspaces, as well as expansive tarmac views.
At 24,000 square feet, the new United Club in Concourse A is the carrier's first-ever lounge in Concourse A and will serve primarily international passengers. The lounge offers a substantial food selection, though there are no showers.
By the end of 2025, United will offer over 100,000 square feet of lounge space at Denver International Airport.
Photos of the United Club Concourse A and United Club Concourse B courtesy of United