Luxury may not the first word that travelers associate with Canadian airline WestJet. And 2020 might happen to be one of the worst years in recent history to launch a new airport lounge. But the Calgary-based airline is defying all odds and plowing ahead with its plans to move upmarket.
Founded in 1996, WestJet started as a low-cost carrier. By 2009, it had become the second-largest airline in Canada, behind Air Canada. Last year, the WestJet unveiled, to critical acclaim, a premium business class product on the Boeing 787-9 Dreamliner. The opening of the Elevation Lounge at Calgary airport marks another milestone in the airline's transformation to a full-service carrier.
---
In this post:
---
WestJet Elevation Lounge location
The new WestJet Elevation lounge is now open. It is situated at Calgary airport, Domestic Concourse B, after security.
The lounge is available to all domestic and international passengers (departing from Concourses A, B, C, D) except those traveling to the United States (Concourse E), due to pre-clearance requirements.
Passengers departing from international Concourse D can reach the lounge via security checkpoints B or C, before proceeding to Concourse D.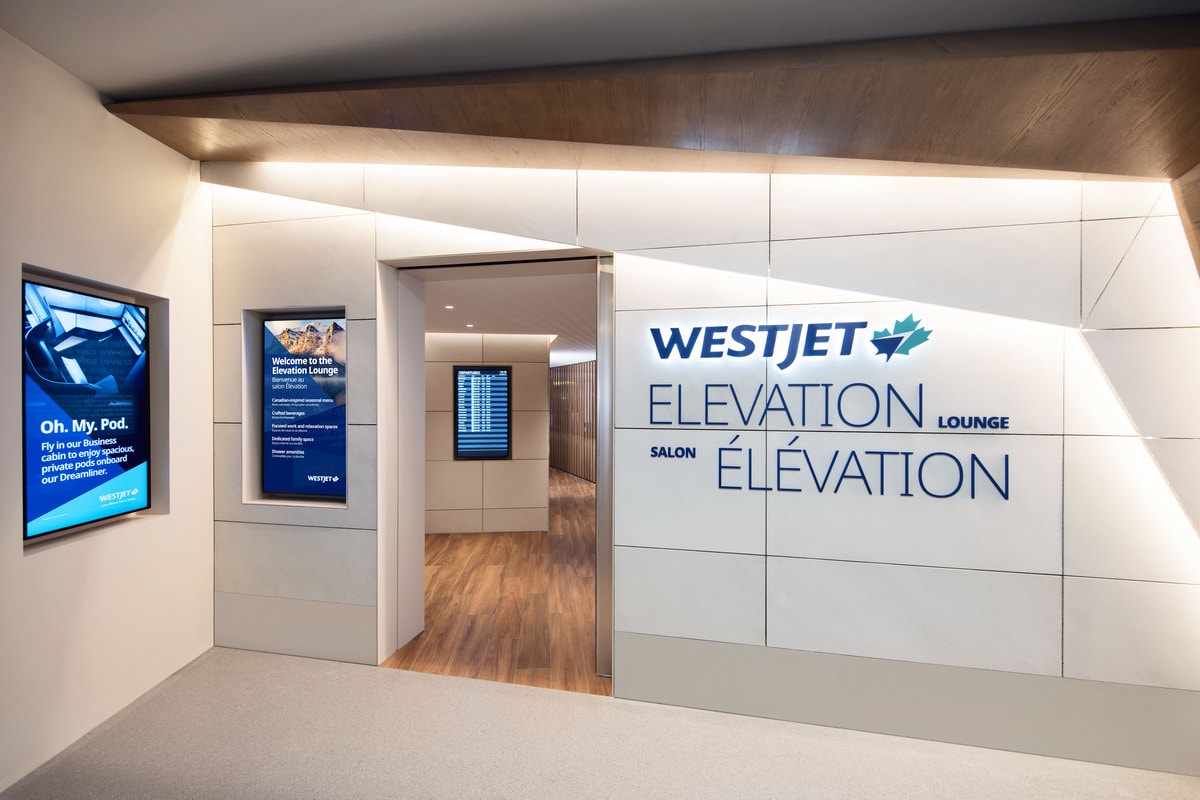 WestJet Elevation Lounge design and amenities
WestJet pulled all the stops for their flagship—and only—lounge. The Canadian airline partnered with architecture firm Gensler, whose aviation portfolio includes masterpieces such as Seoul-Incheon International Airport's new Terminal 2, Air New Zealand's new lounges, and the Etihad Airways First & Business Class Lounge at New York JFK airport.
The design of the Elevation Lounge blends modern luxury with Canadian-inspired touches. Spreading over 9,3000 square feet, the club sports a timelessly elegant residential décor with a dramatic dual-sided fireplace, and panoramic tarmac views. The décor incorporates artwork by Calgary-based artist Mandy Stobo, as well as an evocation of Canmore's Three Sisters mountain peaks above the bar.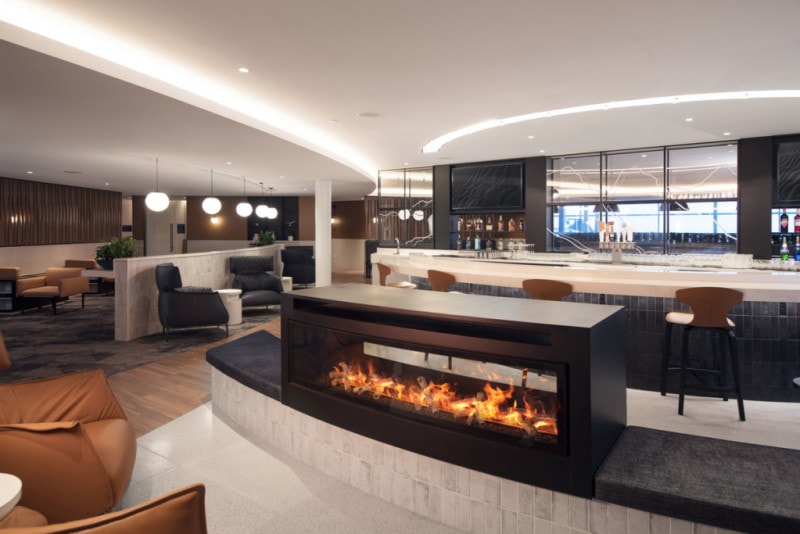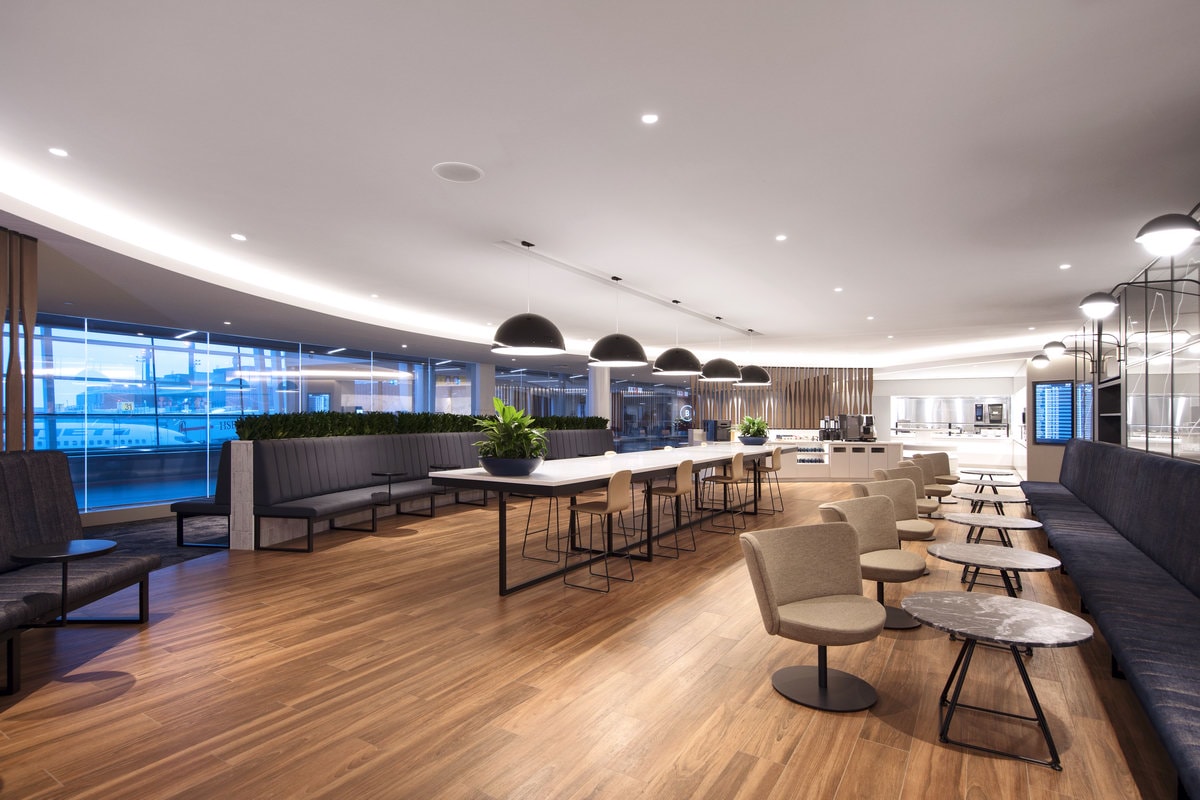 The lounge accommodates solo passengers with highly-private seats and daybeds, business travelers with individual offices and conference rooms, and younger guests with a dedicated family room.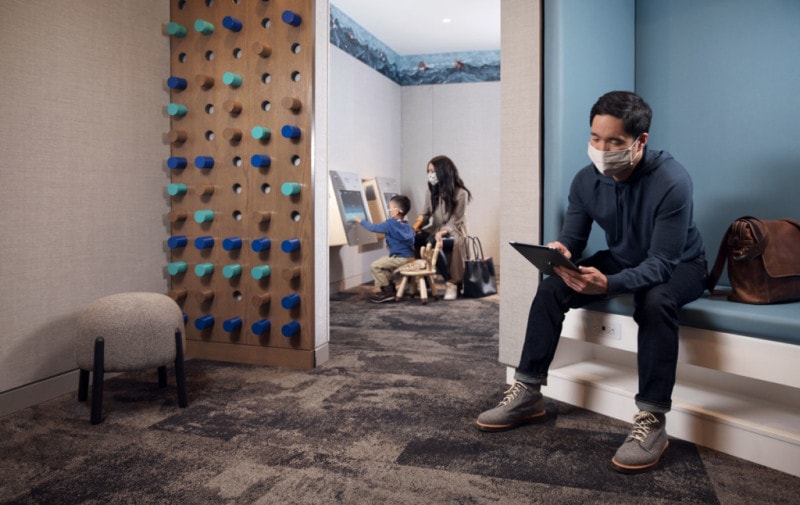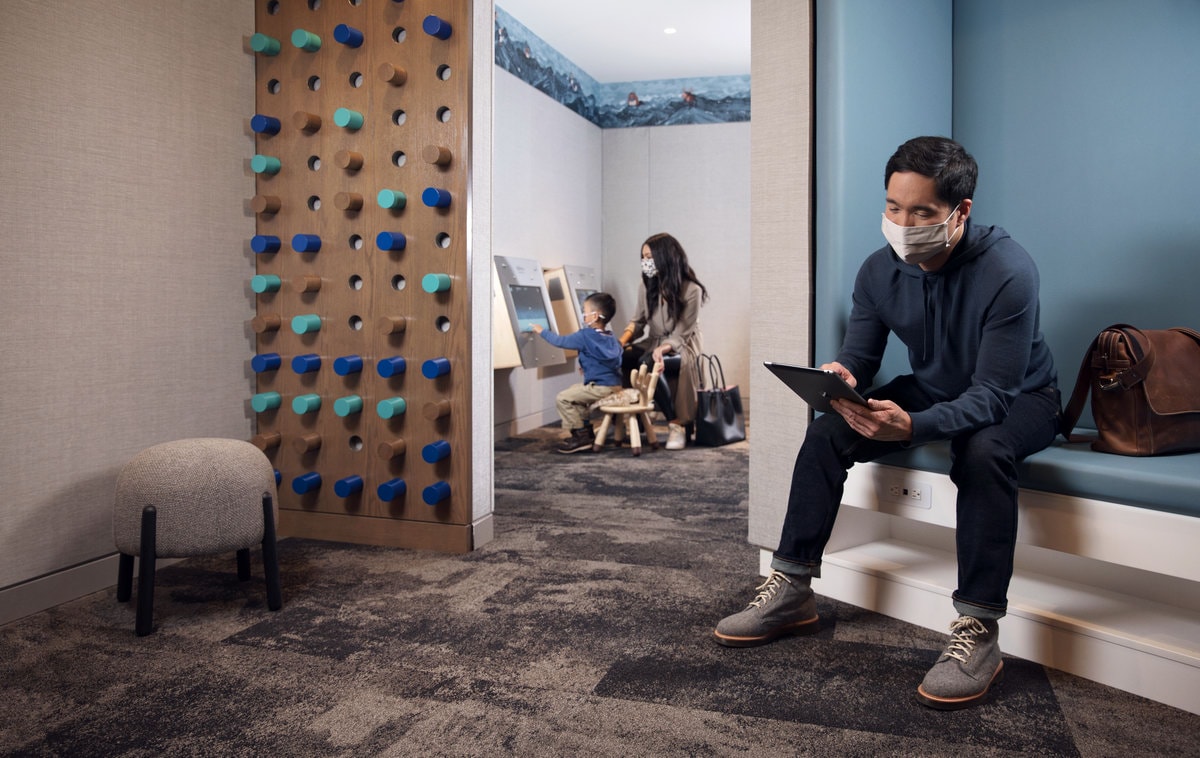 Soothing Earth tones help guests relax ahead of their departure, while judiciously designed partitions foster privacy while allowing natural light to flow throughout the space.
The line-up of amenities checks virtually every box.
Beyond the basics such as fast Wi-Fi and power outlets near every seat, business travelers will find printers, meeting spaces (available for reservation), and projection devices. Guests departing on long-haul overnight flights will appreciate the gorgeous, fully-accessible shower suites outfitted with a rainshower and ample space to change.
The food and beverage offering promises to be strong, with a full bar, local beers on tap, and a variety of snacks and hot entrees which will be delivered to patrons at their seat.
WestJet naturally had to make a number of adjustments to deal with the pandemic, so for the time being the buffet will be closed and all food will have to be ordered from a personal device. Guests will also be expected to wear a mask while they're not eating or drinking.
WestJet Elevation Lounge access rules
The WestJet Elevation Lounge at Calgary airport welcomes:
WestJet long-haul Business Class passengers departing or connecting to/from a flight operated on the Boeing 787-9 Dreamliner.
WestJet Rewards Platinum and Gold members departing on a WestJet flight, along with up to 5 family members.
WestJet Rewards Silver members departing on a WestJet flight, upon redemption of a lounge voucher.
Members of the Priority Pass, Lounge Club, and Lounge Key worldwide lounge access programs, as well as Diners Club International card holders.
All other passengers—whether flying WestJet or another airline—can purchase access:
WestJet customers can purchase access for CAD$ 59 + tax ($30 for children.)
All other passengers can purchase access for AD$ 65 + tax ($33 for children.)
Regardless of mode of entry, the maximum stay in the lounge is 3 hours and customers need to present a boarding pass for a flight departing within 3 hours.
The best way to verify if you have access to WestJet Elevation Lounge at Calgary airport is to use our Lounge Access Wizard: plug in your itinerary, frequent flyer status and membership cards, and we'll tell you what lounges are available to you during your trip.
Bottom line
The new flagship WestJet Elevation Lounge is a sumptuous addition to Calgary airport. The club boasts a refined residential design, an impressive array of amenities, and an elevated dining experience.
WestJet's access rules are particularly generous: in addition to guests departing on the airline's Boeing 787-9 service in business class, WestJet Rewards Platinum and Gold members receive unlimited access when flying WestJet, and Silver members may redeem a voucher for access. In addition, the Elevation Lounge welcomes Priority Pass and Lounge Club members. The club is bound to be popular post pandemic.
The Elevation Lounge is an incredible upgrade over the vintage Chinook Lounge, which previously hosted WestJet's elite and premium passengers. WestJet is also giving Air Canada a run for their money; the nearby Maple Leaf Lounge lacks showers and conference rooms. Here's to hoping that WestJet weathers the COVID storms and keeps innovating.
All photos courtesy of WestJet.