The basics
Food:
Complimentary snacks
Complimentary hot buffet
Complimentary full service restaurant
Drinks:
Complimentary soft drinks
Complimentary house wine and beer
Complimentary liquor
Premium drinks for sale
Description
Plaza Premium First is the world's largest independent airport lounge operator new upscale and more exclusive offering, offering all passengers, regardless or airline or class of service, access to an elegant space and personal services for a fee.
Access starts at USD $110 for 3 hours. Priority Pass members benefit from a discounted $25 rate. Plaza Premium also operates two traditional—and much more affordable—clubs near gates 1 and 40.
Lavishly decorated, the Plaza Premium First Lounge is open 24 hours a day and spans over 8,770 square feet, offering ample space to work, relax or socialize.
Plaza Premium First HKG design
The design incorporates natural materials, stylish furniture, wooden textures, and a soothing ambiance. Highlights include a large forest mural, marble surfaces, and inspiring monochrome photography and motifs. However, the club is windowless—an unfortunate trait at an airport known for its expansive spaces and striking architecture, and where most lounges boast open-air mezzanines with panoramic views.
Customers have their choice of high-backed seats with a power outlet within arm's reach, dining booths and tables, and loungers. Small groups will find convivial living-room arrangements around coffee tables; while larger parties may reserve a private "Infinity Room" with seating for 20 or more guests and an array of customizable options.
Plaza Premium First HKG amenities
Guests receive a tour of the lounge by an "Ambassador", prior to being trated to a refreshing welcome tea mocktail.
Plaza Premium First offers a self-service buffet with a selection of snacks, salads, and desserts. The crown jewel of the lounge is the complimentary full service a-la-carte restaurant, Primo, where guests may dine in serene surroundings and order from a generous menu which includes Maine Lobster and Capellini served with aromatic lobster velouté, Traditional Marinated Goose with Marinated Egg served with steamed rice, and a vegetarian plant-based burger dubbed Beyond Meat Burger, served with sweet potato fries. Kids benefit from a special menu with staples such as mac and cheese and sweet potato fries.
The bar dubbed AeroBar features over 50 drinks with a focus on whiskeys in partnership with Pernod Ricard (including Glenlivet 25 years old, Aberlour A'bunadh, Longmorn 16 years old, and Scapa Glansa), a full range of cocktails, and barista-crafted Lavazza coffee and espresso.
Other amenities include shower suites with Elemis skincare products, a ten minute complimentary neck and shoulder massage, Wi-Fi, and a selection of newspapers and magazines.
Fore more information on the Plaza Premium First concept, read our blog post.
COVID-19
Plaza Premium First is open and operating with several special measures and protocols to keep you safe.
Enhanced cleaning protocol
All commonly touched surfaces are sanitized frequently.
Temperature checks
Body temperature checks are offered at selected locations, with guest's permission.
Hand sanitizer available
Hand sanitizer dispensers are available.
Social distancing
Lounge is operating at limited capacity.
Blocked or removed seats to allow for social distancing.
Face coverings required
All customers are required to wear face mask except when eating and drinking.
Modified catering
Limited food service.
Individually pre-portioned food items will be prepared at self-serve food counters.
Some amenities are currently unavailable
Showers are currently unavailable.
Airlines
You may have access to Plaza Premium First as a premium customer of one of the following airlines, or as an elite member of their frequent flyer program. Check the Access rules tab for more details.
oneworld
Access for eligible customers traveling on the following oneworld member airlines only.
| | | | | | |
| --- | --- | --- | --- | --- | --- |
| | Finnair (AY) | | Qatar Airways (QR) | | |
Other airlines
| | | | | | |
| --- | --- | --- | --- | --- | --- |
| | Air Astana (KC) | | Virgin Atlantic (VS) | | |
Access rules
Plaza Premium First at Hong Kong SAR - Chek Lap Kok International (HKG) welcomes:
Pay-in customers: relax at the lounge no matter what airline you're flying. Purchase access now and save time and money.
All passengers, for a fee.
Virgin Atlantic Upper Class passengers departing on a same-day flight.
Lufthansa First Class and HON Circle passengers departing on a same-day flight.
SWISS First Class and HON Circle passengers departing on a same-day flight.
Yelp
Comments
Photos
BOOK
Buy a pass and relax at Plaza Premium First at Hong Kong SAR - Chek Lap Kok International (HKG), no matter which airline you're flying. We offer instant secure online bookings in partnership with Plaza Premium.
Book ahead. Guarantee your spot, and save time and money.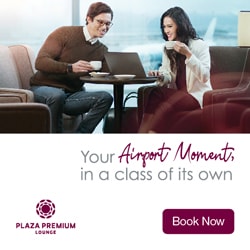 Go to Plaza Premium to complete your booking.