Virgin Atlantic Clubhouse
The basics






Food:
Complimentary full service restaurant
Drinks:
Complimentary soft drinks
Complimentary full bar
Overview
The Virgin Atlantic Clubhouse at New York/Newark Airport is an oasis of design and service within the otherwise uninspiring Terminal B.
Located immediately behind the B51-B57 security checkpoint, next to the British Airways Galleries Club Lounge, the Clubhouse used to welcome Virgin Atlantic's Upper Class passengers. While Virgin Atlantic has suspended flights from Newark, the Clubhouse has resumed operations under management by Plaza Premium, the world's largest independent lounge operator.
The club welcomes all pay-in customers, as well as American Express Platinum card holders.
Virgin Atlantic Clubhouse EWR design
Creative end edgy designs are in Virgin Atlantic's DNA, and the Clubhouse at Newark airport does not disappoint.
Nested on the upper level of Terminal B, right above the Satellite 2 security checkpoint, the Virgin Atlantic Clubhouse occupies a compact room on a utilitarian floor with a skylight as the sole source of daylight. The designers have achieved a remarkable feat by transforming the somewhat lackluster space into the terminal's most remarkable club featuring a creative layout, playful colors, eye-catching shapes and angles, and a unique ambiance.
In typical Virgin Atlantic fashion, the central bar stands as the focal point of the design. It's an invitation to indulge, but also a smart layout that seamlessly breaks out space by carving out intimate areas at the periphery.
There's a profusion of seating options and furniture, ranging from traditional to downright cheeky, and perhaps even a tad provocative.
Near the lobby is the more traditional section of the club. Guests will find their choice of lounge seats arranged in a living-room-like setting, as well as tabletop seating along the wall.
Walking around the bar counter-clockwise, the mood becomes more jovial. The TV area sports oversized chairs with colorful pillows, bright red side tables, and thick curtains that dampen noise while creating an intimate feel. In the opposite corner, the eye is drawn to three intimate upholstered pink booths with accent lighting, offering plenty of intimacy. Virgin navigates a fine line between airline club and private club with lighthearted humor.
A few steps further is a booth seating area that accommodates groups and families with more conservative tones.
The adjacent dining area strikes a careful balance between trendy décor and space efficiency. The space accommodates a dozen tables for two, comfortable booths, and additional counter-style seating for solo travelers.
Approaching the lobby is an intimate and playful seating area furnished with couches and a myriad of pillows. It's a fun place to soak in the VIP ambiance with friends and indulge in a few drinks, or perhaps to catch a bit of shut-eye in a corner at quieter times.
The décor is bold and provocative, but never obnoxious. Background music adds to the ambiance without attracting attention.
The only miss is the relatively limited number of power outlets. And while there's plenty of solo seating, the design favors couples and groups. At peak times, the lounge does get busy and finding a quiet spot might be a challenge.
Virgin Atlantic Clubhouse EWR amenities
The Virgin Atlantic Clubhouse at New York-Newark airport offers a complete line-up of amenities with a few luxurious touches.
In lieu of a traditional buffet, Virgin Atlantic offers complimentary restaurant-style service. Sit anywhere in the dining area and a friendly host will promptly present a menu along with a cocktail list. Highlights include chicken gyoza with soy sauce, smoked blue cheese and organic beetroot flatbread, and baked chocolate mousse. Health-minded patrons will find lighter options including a grilled vegetable salad, a vegetarian pho noodle bowl, and passion fruit sorbet. Service is casual but refined, and the fare is fresh, tasty, and creative.
A creative selection of cocktails and generous wines pair up nicely with the meal. The bartenders-turned-baristas will also craft a wide variety of espresso drinks upon request.
Two boldly-decorated shower rooms (one per gender) are outfitted with an accessible rain-shower, a toilet, a sink, and Cowshed bath products and lotions. With only two bathroom stalls per gender, however, guests should expect the occasional line.
Other amenities include a baggage storage area near the lobby, and a selection of newspapers and magazines.
Despite an otherwise impressive range of amenities, the Clubhouse offer few options for business travelers. Wi-Fi is sluggish, especially at peak times, there are few convenient workspaces with power outlets, and the lounge lacks printing facilities. Evidently, the emphasis is on indulgence—work can wait.
Virgin Atlantic Clubhouse EWR bottom line
The Virgin Atlantic Clubhouse at New York/Newark airport is a hidden-away gem within Terminal B. The fun and cheeky design strikes the right balances between comfort, privacy, and convenience. The line-up of amenities covers all the essentials for transatlantic travel, including Wi-Fi and showers. But it's the luxurious extras such as the full-service complimentary restaurant and handcrafted espresso drinks that make the experience memorable.
The Virgin Atlantic Clubhouse is the best pay-in lounge at Newark airport. Unfortunately, since the B51-B57 section of Satellite B isn't connected airside to any other terminal and lacks both TSA pre-Check and CLEAR, a visit from Concourses A or C is an unlikely endeavor. If you do choose to make the trek to the Clubhouse, be sure to allow at least 40 minutes to get to your gate.
The pluses
The fun, convivial, and edgy design.
The full-service complimentary restaurant.
The friendly service.
The minuses
The lack of business amenities.
The limited daylight.
Access rules
Virgin Atlantic Clubhouse at New York, NY - Newark Liberty International (EWR) welcomes:
Pay-in customers: relax at the lounge no matter what airline you're flying. Purchase access now and save time and money.
Virgin Atlantic Upper Class passengers departing on a same-day flight (+1 guest)
Virgin Atlantic Flying Club Gold members departing on a same-day Virgin Atlantic flight (+1 guest)
Virgin Australia Velocity Platinum and Gold members departing on a same-day flight Virgin Atlantic flight (+1 guest)
Delta SkyMiles Diamond, Platinum and Gold Medallion members departing on a same-day nonstop flight to the U.K. that is operated by Delta or Virgin Atlantic (+1 guest)
All passengers, regardless of airline or destination, on a pay-in basis. Purchase at https://www.plazapremiumlounge.com or at the door.
Cards accepted



Airlines
You may have access to Virgin Atlantic Clubhouse as a premium customer of one of the following airlines, or as an elite member of their frequent flyer program. Check the Access rules tab for more details.
Star Alliance
Access for eligible customers traveling on the following Star Alliance member airlines only.
SkyTeam
Access for eligible customers traveling on the following SkyTeam member airlines only.
| | | | | | |
| --- | --- | --- | --- | --- | --- |
| | Delta (DL) | | | | |
Other airlines
| | | | | | |
| --- | --- | --- | --- | --- | --- |
| | Virgin Atlantic (VS) | | | | |
Food & Beverages
Virgin Atlantic offers a full-service restaurant with table service. All items are complimentary. The selection is subject to change.
Between 12pm and 5pm
Dine
Soup of the day
Classic green salad with vinaigrette dressing
Pasta with marinara or cheddar cheese sauce
Classic green salad with vinaigrette dressing
Crudites with ranch dressing
Fruit cocktail
Bar snacks: cookies, pop corn, potato chips
Drink
Coffee, tea, soda, ice tea, lemonade
Chardonnay, Pinot Grigio, Cabernet Sauvignon
Pinot Noir and sparkling wine
Beers: Yuengling Laber and Miller Lite
Prior to Virgin Atlantic and Singapore Airlines departures
Starters
Grilled vegetable salad (V) with sesame seeds, chilis and a soy lemon vinaigrette
Chicken gyoza with soy sauce
Summer vegetable soup (V), watercress and a herbed sourdough crouton
Classic green salad (V), lemon dressing and a selection of fresh herbs
Main Courses
Clubhouse burger, toasted potato bread, beer battered onion rings, marinated plum tomato, lettuce, dill pickle chips and house made remoulade – a grilled mushroom burger is also available (V)
Crispy breast of chicken Milanese, lemon and caper sauce and wild rocket, with a red onion and parmesan salad
Vegetarian pho noodle bowl (V)
Smoked blue cheese and organic beetroot flatbread, roasted hazelnuts
Beer battered fish and chips with mushy peas, malt vinegar and lemon, fresh herbs, lime, spicy pickled onion and soy seared tofu
Desserts
Baked chocolate mousse, fresh seasonal berries and whipped cream
Crème fraîche cheesecake with a berry compote
Fruit salad (V), freshly cut local and exotic fruits
Artisan cheese selection, pear chutney and assorted bread
Passion fruit sorbet (V)
Champagne and sparkling wine
Lanson Black Label Champagne, NV, France, 12.5% abv
Enza Prosecco, NV, Italy, 12% abv
White Wines
Cartlidge & Browne Chardonnay, 2013, North Coast California, 13.5% abv
Brancott Sauvignon Blanc, New Zealand, 2014, 13.5%abv
Red Wines
Hougue Cellars Cabernet Sauvignon, 2013, Columbia Valley, Washington, 13.9% abv
Cono Sur Pinot Noir, 2013, Sonoma County, California, 13.3% abv
Dessert Wine
Kourkatis Muscat Samos, NV, Kourtaki, Greece, 15% abv
Craft Beer
New Jersey Beer Co., 1787 Abbey Single Ale, 4.8% abv
New Jersey Beer Co., Hudson Pale Ale, 5.8% abv
Soft drinks
Coca-Cola
Diet-Coke
Sprite
gingerale
tonic
Tea
Earl Grey – Traditional Indian tea with a modern twist, contains caffeine
Chamomile – Camomile flowers steep a calming, gentle, delicate brew, caffeine free
Sencha – A fresh, delicate Japanese green tea, low in caffeine
Citrus Mint – Subtle cool mint infused with bright citrus, caffeine free
Rare Imperial Collection
Golden Monkey (Yunnan black tea) – Fragrant and full-bodied, rich with notes of malt and apricot
Tie Guan Yin (Fujian oolong tea) – A smooth infusion with accents of sweet orchid and buttery nectar
Long Jing (West Lake green tea) – A soft floral fragrance suggesting freshly cut grass and chestnuts
White Darjeeling (Arya pearl white tea) – A delicate taste and exquisite fragrance with a flowery note of citrus
Over Ice Collection
White Ginger Pear – A fine white tea with a ginger herbal tisane, low in caffeine
Raspberry Nectar – Red hibiscus, succulent raspberry and a hint of blackberry, caffeine free
Blood Orange – Moro sweet blood orange presents a sweet-tart and refreshing tea
Coffee
Freshly ground Lavazza coffee as you like it: Americano, latte, cappuccino, espresso
Yelp
Comments
Photos
BOOK
Buy a pass and relax at Virgin Atlantic Clubhouse at New York, NY - Newark Liberty International (EWR), no matter which airline you're flying. We offer instant secure online bookings in partnership with Plaza Premium.
Book ahead. Guarantee your spot, and save time and money.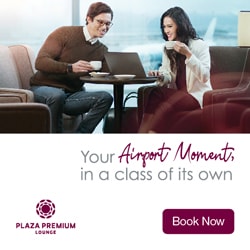 Go to Plaza Premium to complete your booking.