The basics






Food:
Complimentary snacks
Complimentary cold buffet
Complimentary hot buffet
Drinks:
Complimentary soft drinks
Complimentary house wine and beer
Complimentary liquor
Overview
The
Plaza Premium
Lounge at London Heathrow Terminal 2 is the only independent lounge at The Queen's Terminal and offers all travelers, regardless of airline and class of the service, a chance to relax, shower, sleep or even indulge in a massage, for a fee. The lounge, operated by global operator
Plaza Premium
, also welcomes American Express Platinum and Centurion card holders.
Located in Terminal 2A, the lounge is in the general vicinity of the security checkpoint — but note that Terminal 2B, from which most long-haul flights depart, is a 10-15 minute walk away.
Plaza Premium Lounge LHR design
At 8,100 square feet, the Plaza Premium Lounge is one of the larger clubs at Terminal 2. The space is divided into two general sections: from the reception desk, you'll make a left to the showers, nap rooms, and massage rooms, or a right to the lounge and dining areas.
The entrance to the lounge area is stunning – a true highlight of the collaboration between Plaza Premium and interior designer Kinney Chan of KCA Associates. A dim hallway with an LED candle wall and accent lighting leads to the bar area, which is the centerpiece of the design. With recessed lighting, hardwood floors, vibrant ceiling fixtures, abstract art, posh couches, soft background music and an hints of an Asian décor, the bar is reminiscent of a five star hotel lobby. There is something truly intimate and relaxing about the design, and the bar tends to be pretty quiet, with most patrons typically congregating in the adjacent seating areas.
For all its outstanding qualities, the design does aim at mitigating one major caveat: the complete lack of daylight. Indeed, the Plaza Premium lounge is completely devoid of windows and natural light. The dark vibe can feel depressing on longer layovers.
Partitions carve out multiple zones with a variety of seating arrangements, including traditional lounge seating (with power outlets and side tables at every seat), communal tables, and a dining area.
Overall, the layout is pretty dense, and the lounge can feel crowded at peak times. Should you require more privacy, two alcoves with a couch and a table are available in the rear (opposite the bar area and the communal tables) in addition to a small living room like area (next to the TV). There are also a few work cubicles with computers, although Plaza Premium's signature "honeycomb seating" (individual private work areas) is missing at the London Heathrow Terminal 2 location, most likely due to lack of real estate.
Plaza Premium Lounge LHR amenities
The Plaza Premium lounge features a generous buffet with a selection of freshly made appetizers as well as cold and hot entrees. Soft drinks are available from nearby coolers. The bar offers a broad array of drinks, and the bartenders will craft the cocktail of your choice, but note that only two drinks are included in the admission fee. A few premium options, including vintage Champagnes, are also available at an extra cost.
Four shower rooms are available. They're clean, functional and elegant, though decidedly on the small side. The essentials are provided – towels, wall-mounted soap and shampoo dispensers, comb and toothbrush – though washcloths and tissues are missing, and ventilation is painfully weak.
For extended stays or for patrons who would like the ultimate in privacy, Plaza Premium offers five luxuriously appointed day rooms with a full bed, an en-suite shower, and an elegant design that is more reminiscent of an upper scale hotel than an airport. The day rooms are located in the vicinity of the showers, along an elegant hallway decked with fine hardwoods.
Should you be looking for an indulgence, a small spa area is operated in partnership with British brand Ila. A variety of treatments featuring organic products is available. Both day rooms and massages come at an extra cost.
Plaza Premium Lounge LHR bottom line
Overall, the Plaza Premium Lounge at London Heathrow Terminal 2 is an elegant and posh facility and a great addition to the airline operated lounges. The dayrooms and spa are stunning, although the complete absence of daylight in the lounge area may be a turn off.
For a more dynamic vibe, consider purchasing a one-time United Club pass – you will come ahead if you are staying more than two hours or intend to indulge at the bar – but if you have access through a credit card or are departing from Terminal 2A, then the convenience and value of the Plaza Premium Lounge cannot be beat.
The pluses
The elegant design and stunning grand entrance.
The beautiful day rooms and shower suites.
The generous buffet.
The minuses
The lack of daylight excessive darkness.
The noise at peak times.
COVID-19
Plaza Premium Lounge is open and operating with several special measures and protocols to keep you safe.
Enhanced cleaning protocol
All commonly touched surfaces are sanitized frequently.
Temperature checks
Body temperature checks are offered at selected locations, with guest's permission.
Hand sanitizer available
Hand sanitizer dispensers are available.
Social distancing
Lounge is operating at limited capacity.
Blocked or removed seats to allow for social distancing.
Face coverings required
All customers are required to wear a face mask except when eating and drinking.
Modified catering
Limited food service.
Individually pre-portioned food items will be prepared at self-serve food counters.
Some amenities are currently unavailable
Reading materials are currently unavailable.
Airlines
You may have access to Plaza Premium Lounge as a premium customer of one of the following airlines, or as an elite member of their frequent flyer program. Check the Access rules tab for more details.
Star Alliance
Access for eligible customers traveling on the following Star Alliance member airlines only.
| | | | | | |
| --- | --- | --- | --- | --- | --- |
| | LOT Polish Airlines (LO) | | TAP Air Portugal (TP) | | |
oneworld
Access for eligible customers traveling on the following oneworld member airlines only.
SkyTeam
Access for eligible customers traveling on the following SkyTeam member airlines only.
| | | | | | |
| --- | --- | --- | --- | --- | --- |
| | China Airlines (CI) | | | | |
Access rules
Plaza Premium Lounge at London - Heathrow (LHR) welcomes:
Pay-in customers: relax at the lounge no matter what airline you're flying. Purchase access now and save time and money.
Cards accepted



Blogs
Yelp
Comments
Photos
BOOK
Buy a pass and relax at Plaza Premium Lounge at London - Heathrow (LHR), no matter which airline you're flying. We offer instant secure online bookings in partnership with Plaza Premium.
Book ahead. Guarantee your spot, and save time and money.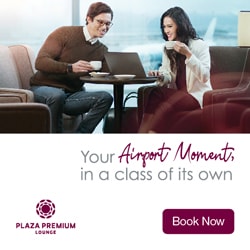 Go to Plaza Premium to complete your booking.