The basics






Food:
Complimentary snacks
Complimentary cold buffet
Complimentary hot buffet
Drinks:
Complimentary soft drinks
Complimentary house wine and beer
Complimentary liquor
Overview
Plaza Premium, the world's #1 independent pay-in lounge operator, has a significant presence at Vancouver airport, with no less than three new lounges, catering respectively to international, domestic, and transborder (US departures) passengers.
With surprisingly few airline lounges at Vancouver airport Pier D (international) – the only two clubs are run by Air Canada and Cathay Pacific – the Plaza Premium lounge is the de facto contract lounge for most carriers. In addition, the Plaza Premium lounge welcomes pay-in customers, regardless of airline and class of service, as well American Express Platinum and Centurion card holders.
Plaza Premium Lounge YVR design
The gorgeous entrance of the Plaza Premium Lounge at Vancouver airport Pier D doesn't fail to impress. Decked in fine dark woods, and shaped in a soothing oval, the foyer is likely to turn heads, making passersby wondering what luxuries lie ahead.
Indeed, the design of the Plaza Premium Lounge is one of its main assets. The elegant décor, conceived by Kinney Chan of KCA, is pretty typical of Plaza Premium, and combines earth tones with fine materials and recessed lighting in an upper-scale ensemble.
Unlike many Plaza Premium lounges worldwide which lack windows and daylight, the Plaza Premium Lounge at Vancouver airport's International Pier boasts floor to ceiling windows, though the views are unremarkable (in the left seating area, an emergency staircase virtually obliterates the view.)
The lounge is divided into four general areas: two seating zones to the left, a bar and business area in the center, and a dining room to the right. A variety of seating options is available, including individual seats with side tables, clusters of chairs with coffee tables, enticing sofas, and a large marble communal table in the hallway linking the foyer and the dining room. Most seats – but not all – come with power outlets. Even in the densest area of the lounge, there is roughly one outlet per two seats, an incredible oversight for a new facility. There are also few spaces suitable for laptop users – the high shared table is probably the best spot, though it's hardly the most private one.
An interesting and somewhat unique feature is the small "patio" behind the bar: the lounge extends into the concourse area, with a few seats setup as in a restaurant terrace, with front row views on the concourse activity.
Many premium touches – marble surfaces, vases, elegant dividers – dot the lounge, and light classical music plays in the background for a classy and relaxing touch.
So, what's not to love? Simply put, the Plaza Premium lounge is chronically crowded. At peak times, finding a seat might be challenging, and finding two seats together with power outlets might just be a fantasy. And then, there's the constant noise – the carts picking up cups and plates, the crowds congregating around the bar, the rollaboard bags swirling around. The Plaza Premium Lounge is a haven when it's quiet, but nothing can make up for excessive crowding.
Airlines are aware – and thus the leftmost seating area is often reserved for passengers of a specific airline (such as Air France KLM) – but it's equally busy, and the restriction isn't enforced anyway.
The lounge has a small enclosed "VIP" area that may be reserved for a fee. It's unfortunate that it is not open to the public when it is not in use, in order to accommodate guests more comfortably.
Plaza Premium Lounge YVR amenities
Plaza Premium has built a reputation around their food offering, and the Vancouver international lounge doesn't disappoint. The main buffet is located in the dining room, and features an assortment of hot and cold entrees, with a focus on Asian fare and healthy options. The broad selection includes items as varied as dim sum, chicken stroganoff, quinoa salad, congee, green bean soup, as well as Plaza Premium's signature fish ball noodle soup. The food is fresh, tasty, and prepared live by chefs in the lounge. Nearby are an espresso machine and drink coolers with bottled water, juices, and soda.
Over in the main seating area is a bar with a smaller buffet. The hot food selection is substantially the same as in the dining room, but in addition, patrons may order sandwiches, desserts, handcrafted espresso drinks, as well as beer, wines and liquor. We're not sure why desserts are not self service, all food and beverages are complimentary. The alcoholic beverage selection is pretty basic, but the barista service is appreciated.
A few shower suites are available. They're popular, so inquire early at the reception desk. Should there be a wait, the staff does an admirable job at finding customers in the lounge despite the crowds. The shower rooms are spacious though relatively basic. They come with a sink, toilet, and large walk-in shower. The amenities are minimalistic – Plaza Premium provides a single rough towel (there is no bathmat and no washcloth) and the shower gel is the wall-mounted, industrial kind. Still, nothing beats a refreshing shower before a long flight.
Plaza Premium also offers a few individual napping rooms. Availability may be hit or miss, but if you can snag one, you'll benefit from the ultimate in comfort and privacy.
Other amenities include newspapers and magazines on a stick, so that patrons don't take them away – eco-friendly, but tacky – as well as a rather odd, tiny "business center" consisting of three computers on a small table opposite the bar. It's a perfect place to work… if you don't mind the noise and being bumped into on a regular basis.
Plaza Premium Lounge YVR bottom line
The Plaza Premium Lounge at Vancouver international airport, Pier D (international) has so much potential. With an elegant design, a strong set of amenities, and excellent food, it has the hallmark of a luxurious club. Unfortunately, it also happens to be the airport's busiest lounge, with close to twenty airlines calling it home, in addition to pay-in customers. At peak times, the experience may be somewhat underwhelming. Yet, the Plaza Premium lounge is in many regards superior to the dominant carrier's club: the Air Canada Maple Leaf Lounge has limited food and lacks showers.
Come in for the food, stay for the drinks – just don't expect much peace or space to work.
Book your stay at the Plaza Premium Lounge at Vancouver international airport (international)
The pluses
The elegant design.
The tasty food selection.
The napping rooms.
The minuses
The excessive crowds at peak times.
The lack of work spaces.
COVID-19
Plaza Premium Lounge is open and operating with several special measures and protocols to keep you safe.
Enhanced cleaning protocol
All commonly touched surfaces are sanitized frequently.
Temperature checks
Body temperature checks are offered at selected locations, with guest's permission.
Hand sanitizer available
Hand sanitizer dispensers are available.
Social distancing
Lounge is operating at limited capacity.
Blocked or removed seats to allow for social distancing.
Face coverings required
All customers are required to wear a face mask except when eating and drinking.
Modified catering
Limited food service.
Individually pre-portioned food items will be prepared at self-serve food counters.
Some amenities are currently unavailable
Reading materials are currently unavailable.
Airlines
You may have access to Plaza Premium Lounge as a premium customer of one of the following airlines, or as an elite member of their frequent flyer program. Check the Access rules tab for more details.
Star Alliance
Access for eligible customers traveling on the following Star Alliance member airlines only.
oneworld
Access for eligible customers traveling on the following oneworld member airlines only.
British Airways (BA)
Japan Airlines (JL)
Qantas (QF)
Other airlines
Air Transat (TS)
Condor (DE)
Edelweiss (WK)
Hong Kong Airlines (HX)
Icelandair (FI)
Philippine Airlines (PR)
Sichuan Airlines (3U)
Sunwing Airlines (WG)
WestJet (WS)
Access rules
Plaza Premium Lounge at Vancouver, BC (YVR) welcomes:
Pay-in customers: relax at the lounge no matter what airline you're flying. Purchase access now and save time and money.
Select premium customers and elite members departing on an airline served by this lounge (see airlines served).
Cards accepted



Blogs
Comments
Photos
BOOK
Buy a pass and relax at Plaza Premium Lounge at Vancouver, BC (YVR), no matter which airline you're flying. We offer instant secure online bookings in partnership with Plaza Premium.
Book ahead. Guarantee your spot, and save time and money.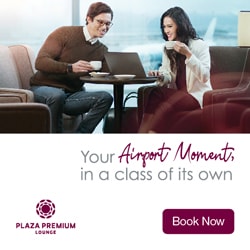 Go to Plaza Premium to complete your booking.