Virgin Atlantic Clubhouse
The basics






Food:
Complimentary full service restaurant
Drinks:
Complimentary soft drinks
Complimentary full bar
Overview
The Virgin Atlantic Clubhouse at San Francisco international airport brings Virgin's trademark chic and swanky vibe to the Bay Area. Despite operating just a few flights a day from San Francisco, the British airline remains true to its reputation and runs a spectacular club with an unparalleled array of services and amenities.
The Clubhouse is located in International Terminal A, immediately after the security checkpoint.
The Clubhouse welcomes Virgin's Upper Class guests and Flying Club Gold members, China Eastern premium passengers, as well as Air France La Premiere (First Class) passengers (Air France's business class customers receive access to the Air France Lounge.) In 2021, Virgin Atlantic outsourced lounge operations to the Plaza Premium Group, the world's largest independent airport lounge operator. Under Plaza Premium's management, the Clubhouse has retained its appeal and features, but expanded the guest list–the club now also welcomes pay-in customers and American Express Platinum and Centurion card members.
Virgin Atlantic Clubhouse SFO design
The Virgin Atlantic Clubhouse at San Francisco airport brings a slice of the British airline's design ethos to the Bay Area. The surprisingly small lounge is a far cry from Virgin's sprawling flagship clubs at London airports, but it delivers a unique experience that sets the Clubhouse apart from other airline lounges.
Situated in a prime location in Terminal A, the Clubhouse benefits from a long window wall and boasts gorgeous views of the tarmac and the hills in the distance. Colorful mobile glass panels filter sunlight while casting playful hues onto the swanky interior, and can be adjusted to create the perfect mood.
With light background music, hardwood wall paneling, designer furniture, and an effusion of colors, the ensemble is vibrant and resolutely modern, yet relaxing and tasteful, in an image of the city by the Bay. Touches of red make a bold statement and underscore Virgin's brand without detracting from the overall balance of the ensemble.
The sparse but effective furniture arrangement caters to solo and group travelers alike. On the far left of the lounge when entering are booths with round dining tables for two. Next to the window is a seating area with clusters of seats ideal for small groups. The informal arrangement with oversized chairs, stylish coffee tables, and floor-standing lamps, creates intimate small living rooms within the larger space. On the right side is a more traditional and compact dining zone, along with another plush seating area. If work is on the mind, the dining tables provide a comfortable environment.
The well-stocked bar stands out as the centerpiece of the design. The tinted glass shelves highlight an impressive collection of wines, liquor and spirits. Look carefully and you may spot a bong, which was brought by Sir Richard Branson himself. He allegedly received it as a gift while signing a deal, and left it at the Clubhouse as a souvenir on his way home.
Across the bar, facing the window, is a series of egg chairs, which solo travelers may favor for a more private space.
The trendy décor is already fifteen years old—which would hardly be noticeable if it weren't for the overall unfortunate lack of power outlets. The lounge is still in a pristine shape, and most of the furniture was recently refreshed. Best of all, it's truly unique, and a welcome departure from the typical airline clubs.
Virgin Atlantic Clubhouse SFO amenities
The spectacular food and beverage offering is at the epicenter of the Clubhouse experience.
The Virgin Atlantic Clubhouse at San Francisco airport does away with the traditional buffet, in favor of a full-service restaurant with table service. The approach is bold and challenging, as passengers may prefer a quick snack in lieu of a formal sit-down dinner. Others may come in too late to have a chance to experience the generous menu. We had a chance to observe the service and were impressed with the polished delivery. The kitchen typically delivers meals in less than ten minutes, thanks to a menu selection which balances quality with preparation time. All patrons may therefore enjoy a bite, regardless of the length of their visit. The service is personal and elegant, yet genuinely friendly and unpretentious. The restaurant-style service doesn't detract from the traditional airport lounge experience, and patrons will feel comfortable eating while working or socializing.
The menu features a selection of appetizers, hot entrees, and desserts, with a good mix of comfort food and healthier fare, and plenty of options for vegetarian guests.
The meals are beautifully plated and served with genuine grace and attention to detail by white-cloth bearing servers. Our soup was poured at our table, in a classy touch. We thoroughly enjoyed the salmon, which came in a bamboo steaming basket and was moist, flavorful, and cooked to perfection. Our drink came on a red napkin echoing accents of the space, in a nod to Virgin's brand. When we visited, the Chef was roaming the room, greeting patrons as in a fine dining establishment.
We were wondering about the intricacies of the service and had a chance to meet with the Chef, who gave us an enthusiastic backstage tour. Virgin Atlantic has chosen Sodexho as their caterer. The Chef supervises both food preparation and table service. In a closet-sized kitchen, his team performs an intricately choreographed ballet. All meals are prepared on site from fresh ingredients and plated with millimetric precision. While the kitchen was designed closed to 15 years ago for a single flight, the staff now serves up to three flights a day with menu rotations on a quarterly basis. Even Emirates, who usually sets the standard, uses outside catering for hot meals at the Emirates Lounge SFO in lieu of an on-site kitchen.
On the drinks front, patrons enjoy a full bar with a large beer selection, local wines, Champagne, liquor and spirits—including a remarkable collection of 70 whiskeys. The soft drink menu is no less impressive, with barista-made coffee, a substantial collection of teas, fresh squeezed juices, and daily smoothies.
Adjacent to the reception area is a small business center equipped with a large work desk, two shared computers, a printer, and a variety of office amenities. Complimentary Wi-Fi is also available throughout.
The Clubhouse features four oversized unisex bathrooms with sinks and plenty of space to change. Two rooms double as shower suites. While compact and space-efficient, the design means that only two bathrooms remain available when both showers are occupied. Virgin Atlantic is toying with the idea of expanding bathroom space into the business center, which sees little use nowadays. For now, there may an occasional line at peak times.
The shower rooms are ultra-functional, and somewhat plain compared to the rest of the lounge. Towels are provided, as well as Cowshed products in wall-mounted dispensers.
Other amenities include a selection of international press, as well as a Virgin Galactic discovery station—for when you're ready to book your next trip to space.
Virgin Atlantic Clubhouse SFO bottom line
The Virgin Atlantic Clubhouse at San Francisco international airport is an outstanding lounge. With an eclectic but posh design, a complimentary full service restaurant with fresh cooked-to-order food, a remarkable beverage selection, showers, and exciting views, the Virgin Atlantic Clubhouse earns one of the top spots in our ranking of all airline clubs at SFO, outranking other fine clubs such as the American Express Centurion Lounge, Delta's new Sky Club or even the upper scale Emirates Lounge.
Under Plaza Premium's management, the Clubhouse isn't as exclusive as it used to be, but it retains its distinctive flair, extensive amenities, and polished service. Best of all, pay-in customers also have access to the excellent restaurant service.
The pluses
The swanky and vibrant design.
The complimentary full-service restaurant.
The outstanding alcoholic beverage selection.
The minuses
The lack of power outlets.
Access rules
Virgin Atlantic Clubhouse at San Francisco, CA (SFO) welcomes:
Pay-in customers: relax at the lounge no matter what airline you're flying. Purchase access now and save time and money.
Virgin Atlantic Upper Class passengers departing on a same-day flight (+1 guest)
Virgin Atlantic Flying Club Gold members departing on a same-day Virgin Atlantic flight (+1 guest)
Virgin Australia Velocity Platinum and Gold members departing on a same-day flight Virgin Atlantic flight (+1 guest)
All passengers, regardless of airline or destination, on a pay-in basis. Purchase at https://www.plazapremiumlounge.com or at the door.
Cards accepted



Airlines
You may have access to Virgin Atlantic Clubhouse as a premium customer of one of the following airlines, or as an elite member of their frequent flyer program. Check the Access rules tab for more details.
SkyTeam
Access for eligible customers traveling on the following SkyTeam member airlines only.
| | | | | | |
| --- | --- | --- | --- | --- | --- |
| | Air France (AF) | | Delta (DL) | | |
Other airlines
| | | | | | |
| --- | --- | --- | --- | --- | --- |
| | China Southern (CZ) | | El Al (LY) | | Fiji Airways (FJ) |
| | Virgin Atlantic (VS) | | | | |
Food & Beverages
Virgin Atlantic offers a full-service restaurant with table service. All items are complimentary. The selection is subject to change.
Starters
Red pepper soup, brioche croutons
Prawn summer roll, wweet chilli sauce
Traditional green salad, truffle dressing
Israeli couscous niçoise salad, baby artichokes
Mains
Seared cod, cauliflower purée with an asparagus, tomato and basil dressing
Pesto pasta, toasted pine nuts and shaved Reggiano parmesan
Clubhouse burger, toasted brioche bread, marinated plum tomato, lettuce, dill pickle and your choice of potato or sweet potato fries – a vegetarian burger is also available
Smoked blue cheese and organic beetroot flatbread, roasted hazelnuts
Hot Reuben sandwich, corned beef, Swiss cheese, sauerkraut, Russian dressing and rye bread
Desserts
Mango Sorbet
Fruit salad, freshly cut seasonal fruits
Artisan cheese selection, pear chutney and assorted biscuits
Strawberry and peach shortcake with sweetened cream
Beers
21st Amendment Brewery - Opened in 2000 the 21st Amendment Brewery in  San Francisco vowed to do things differently,  raise a pint and celebrate
Brew Free! or Die IPA, 7.0% abv – 70 IBUs
Black IPA, 6.8% abv – 65 IBUs
Hell or High Watermelon – Wheat beer 4.9% ABV – 17 IBUs
Anchor Brewing Company - Dating to the California goldrush of 1849, Anchor brewing  is the longest operating craft brewer in San Francisco
Anchor Steam – 4.9% ABV – 37 IBU's
Anchor Porter – 5.6% ABV – 40 IBU's
Lagers, Pilsners and Ciders
Samuel Adams – Boston – deep amber lager
Stella Artois – Belgium – clear, pale yellow pilsner
Stella Artois Cider – Belgium – dry Cider
Heineken – Holland – pale, finely beaded lager
Amstel Light – Holland – light pale malt lager
Corona Extra – Mexico – pale lager
St Pauli Girl – Germany – non alcoholic
Juices and smoothies
Fresh squeezed orange juice
Fresh organic apple juice
Ocean Spray cranberry juice
Ocean Spray pink grapefruit juice
Dole pineapple juice
Fresh fruit smoothies
Soft drinks
Coca-Cola
Diet-Coke
Sprite
gingerale
tonic
Champagne and sparkling wine
Monthuys Pere et Fils Brut Reserve, NV, France, 12.5% abv
Mumm Napa Brut Prestige, NV, California, USA, 12.5% abv
Valdo Prosecco, NV, Veneto, Italy, 12% abv
Wines
Four Graces Pinot Gris, 2013, Willamette Valley, Oregon, USA, 13.3% abv
Coppola Directors Cut Chardonnay, 2012, Russian River, Napa Valley, California, USA, 13.8% abv
Vogelzang Sauvignon Blanc, 2010 Reserve, Happy Valley,  Santa Barbara, California, USA, 14.2% abv
Conundrum White Table Wine, 2013, California, USA, 13.50% abv
Charles Krug Merlot, 2011, Napa Valley, California, USA, 13.70% abv
Atlas Peak Cabernet Sauvignon, 2012, Napa Valley, California, USA, 14% abv
Morgan 12 Clones Pinot Noir, 2012, Santa Lucia Highlands, Central Coast, California, USA, 14.2% abv
Paso Creek Zinfandel, 2012, Paso Robles, California, USA, 14.60% abv
Port and Dessert wines
Graham's Reserve Porto, 19.5% abv
Sandeman's 10 year Tawny Porto, 20% abv
Eos Late Harvest Moscato, 2012, 10% abv
Coffee
Caffe Trieste Italian Roast – San Francisco
Teas
Tea Forte teas
English breakfast – Classic breakfast tea, full bodied, perfectly balanced, contains caffeine
Earl Grey – Traditional Indian tea with a modern twist, contains caffeine
Chamomile – Camomile flowers steep a calming, gentle, delicate brew, caffeine free
Sencha – A fresh, delicate Japanese green tea, low in caffeine
Citrus Mint – Subtle cool mint infused with bright citrus, caffeine free
Rare Imperial Collection
Golden Monkey (Yunnan black tea) – Fragrant and full-bodied, rich with notes of malt and apricot
Tie Guan Yin (Fujian oolong tea) – A smooth infusion with accents of sweet orchid and buttery nectar
Long Jing (West Lake green tea) – A soft floral fragrance suggesting freshly cut grass and chestnuts
White Darjeeling (Arya pearl white tea) – A delicate taste and exquisite fragrance with a flowery note of citrus
Over Ice Collection
White Ginger Pear – A fine white tea with a ginger herbal tisane, low in caffeine
Raspberry Nectar – Red hibiscus, succulent raspberry and a hint of blackberry, caffeine free
Blood Orange – Moro sweet blood orange presents a sweet-tart and refreshing tea
Blogs
Yelp
Comments
Photos
BOOK
Buy a pass and relax at Virgin Atlantic Clubhouse at San Francisco, CA (SFO), no matter which airline you're flying. We offer instant secure online bookings in partnership with Plaza Premium.
Book ahead. Guarantee your spot, and save time and money.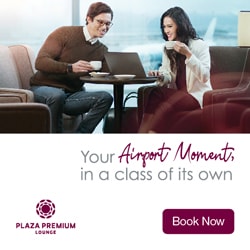 Go to Plaza Premium to complete your booking.