The basics
Operated by

United (UA)
Alliance

Star Alliance






Food:
Complimentary snacks
Complimentary soups
Complimentary finger food
Drinks:
Complimentary soft drinks
Complimentary house wine and beer
Complimentary liquor
Premium drinks for sale
Overview
United operates three United Clubs at San Francisco international airport. The spacious and centrally located club by to the rotunda in Terminal 3 Concourse F serves the bulk of domestic passengers. The location is ideal for passengers departing from gates F1-F22.
A smaller, newer club in Terminal 3 Concourse E may be more convenient to passengers departing from gates E1-E13. The lounge in International Terminal G caters primarily to international passengers.
United Club SFO design
The United Club at San Francisco Airport Terminal 3 Concourse F used to be a flagship lounge, with ample space and a unique décor inspired by the golden age of travel.
The club still impresses at a first sight. A long entrance hallway opens onto a spacious and elegant customer lobby decked in fine marble and adorned by a four-faced clock. Adjacent is an intimate seating area featuring a nautical theme with ship models on display.
A long window wall in the main seating area lets plenty of natural light in and offers great views on the tarmac, although mostly on United Express operations—for a prime view on jumbo jets, head to the United Club in International Terminal G instead.
The seating arrangement offers a comfortable amount of privacy. The décor—wood partitions, granite surfaces, decorative stacks of luggage—is dated, but pleasant. Power outlets are widely available.
For all its intrinsic qualities, the space is definitely past its prime. The furniture is in need of replacement, and the yellow hues scream old fashioned. The club also suffers from chronic crowding, given its central location at one of the airline's busier hubs.
The best feature of the United Club at San Francisco Airport Terminal 3 Concourse F is the quiet room located in the rear, to the right, beyond the bar next to the business center. Shielded away from the noise of the bar area, and seemingly unknown to most patrons, the large room features comfortable chairs, classy consoles and ottomans, soft lighting, indoor plants, windows with tarmac views and automatic curtains, and a general feeling of serenity accentuated by the LED candle wall. Formerly called Westin Renewal Lounge, the room was decorated by Westin hotels during a short-lived partnership between United and the hotel chain. While the space has lost much of its former glory—United has removed the comfy couches and flower arrangements—the quiet room remains an oasis of calm and privacy.
United Club SFO amenities
Despite its location at a major hub, the United Club at San Francisco Airport Terminal 3 Concourse F offers a modest set of amenities, in line with other domestic United Club locations.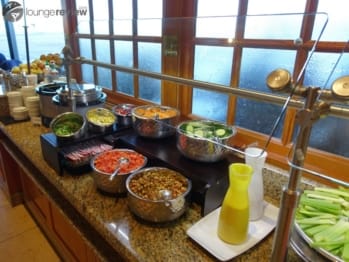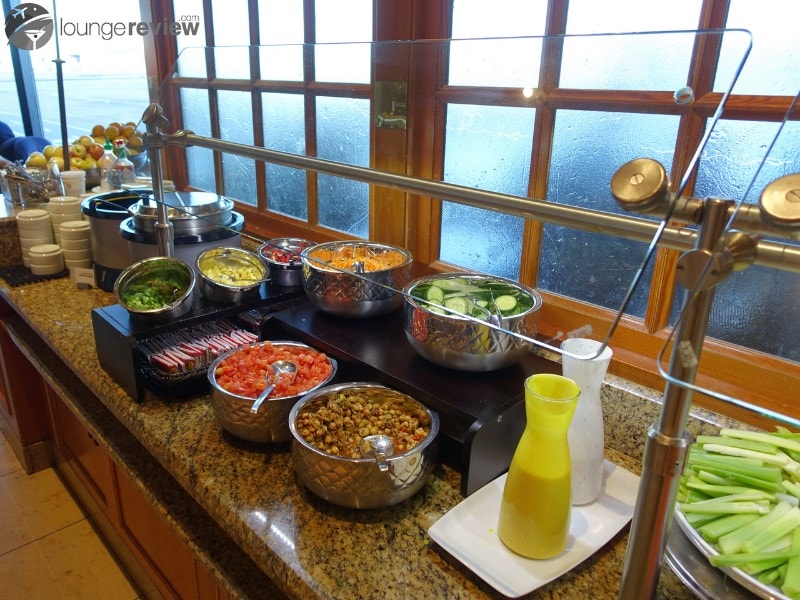 Two buffet areas offer continental breakfast, as well as snacks, soups, salads and cold cuts throughout the day. The spread is suitable for a substantial snack but is no substitute for a real meal. House wines and well drinks are complimentary at the bar, while premium drinks come at a cost.
Soft drinks are complimentary. Several espresso machines are also available.
Next to the bar, in the rear of the lounge, is a business center with several work cubicles. The area is dim but very quiet and relatively private. Other business amenities include a photocopier/fax/printer, complimentary Wi-Fi throughout, as well as a FedEx drop box in the lobby. An elegant conference room is also available, and may be reserved in advance. The use is complimentary, though the amenities—flip board chart and desk phone—date from another era.
Spacious bathrooms are available, along with a large family unisex stall. Unfortunately, the United Club does not offer showers. International business class passengers may however use the shower suites at the Polaris lounge, and premium international inbound passengers arriving in the morning may use the Arrivals Lounge located outside security.
United Club SFO bottom line
The domestic United Club at San Francisco Airport Terminal 3 Concourse F has the blueprint of a flagship lounge and retains a few nice touches such as the beautiful lobby, comfortable relaxation room and large business center. Unfortunately, time has passed, the design has faded, and the lack of showers is truly unfortunate at a major hub such as San Francisco.
The United Club is a pleasant place to sit and wait between flights, but don't expect much more.
For information on possible alternatives, other lounges at SFO and rankings, check out our Definitive Guide to the SFO Lounge Scene.
"The
The ample seating space and large business center.
The quiet room.
The large bathrooms.
The minuses
The tired furniture.
The crowds at peak times.
The lack of showers.
The recent downgrades—United has removed the sofas from the quiet room.
COVID-19
United Club is open and operating with several special measures and protocols to keep you safe.
Enhanced cleaning protocol
Electrostatic spraying at select hub airports to disinfect high-touch surfaces.
High-touch service areas disinfected on a regular basis.
Seats disinfected upon request.
Hand sanitizer available
Hand sanitizer stations located throughout the Club.
Social distancing
Club operating at reduced capacity.
Blocked and/or removed seats to give guests more space.
Face coverings required
All customers are required to wear face coverings except when eating and drinking.
Complimentary masks available.
Touchless experience
Customers scan their own boarding pass.
Modified catering
Pre-packaged food offerings in accordance with local policies.
Full bar service available; single-use glassware provided upon request.
While Polaris Lounges remain closed, United Polaris business class customers are eligible for complimentary premium beverages at the bar. Inquire at the reception desk. The offer applies at all connection points on a journey including at least one Polaris business class segment.
Plexiglass shields
Plexiglass shields at reception, bar, and service areas.
Food & Beverages
All food items are complimentary. Soft drinks, house wines and well drinks are complimentary, while premium drinks are available for purchase. All selections and pricing are subject to change.
Breakfast (until approximately 10am)
Banana nut breakfast bread, mini corn muffin, selection of bagels, sliced whole wheat bread, rye bread and white bread, served with butter, cream cheese and preserves.
Fresh cut honeydew and cantaloupe.
Rotating: fresh blackberries, fresh cut pineapple, orange segments, minted grapefruit segments.
Whole apples and bananas.
Greek vanilla yoghurt.
Granola.
Selection of cereals: Raisin Bran, Cheerios, Special K and Corn Flakes; whole milk, semi-skimmed milk.
Orange juice, grapefruit juice, cranberry juice.
Assorted teas with steeping ingredients: honey, lemon, fresh mint, sliced ginger
Citrus infused water (lemon, orange, lime)
Rotating infused waters: Cucumber mint; Mango and ginger; Strawberry basil; Watermelon; Apple and mint; Cranberry lime.
Lunch menu
Rotating soup 1: Chicken corn chowder with sweet peppers, mushroom onion bisque; Cheddar cheese and beer; Chicken noodle; Beef pot roast; Butternut squash; Beef barley.
Rotating soup 2: Mushroom onion bisque; Roasted vegetable; Southwestern vegetarian chili; Broccoli and cheddar; Italian wedding; Roasted tomato and red pepper.
Fresh chopped herbs, chopped green onions, croutons, baked tortilla strips, whole wheat crackers, whole wheat roll, and seeded parker house roll.
Salads: Spring, romaine, kale mixed green; Chopped tomatoes; Sliced red onions; Sliced cucumbers; Shredded carrots, served with LF ranch, honey mustard, olive oil and balsamic vinegar.
Rotating signature composed salads: Tuscan bean; Honey bean barley; Wheat berry crunch; Cranberry quinoa and pumpkin; Tri‐color chickpea; Pad Thai.
Rotating desserts: Lemon bars, Toffee brownie bites; Oreo brownie bites; Blondie bites; Melt-a-way bar; Carrot cake bars.
Double chocolate chip cookies.
Whole apples and bananas.
Afternoon menu
Cheeses: Swiss, Cheddar.
Rotating artisanal feature item: Wheel of parmesan; Chandoka; Smoked gouda; Fontina; Brie; Ementhaler.
Crudites: carrot sticks, celery sticks, cucumber slices, ranch dressing, blue cheese dressing.
Mediterranean board: prosciutto, chorizo, salami, mortadella, served with capers, gherkins, whole grain Pomery mustard, sliced baguettes.
Mediterranean board rotating options: Sopressata, Capicola; Bresaola; Pate or terrine.
Snack mix: 4 hour power trail mix (cashews, pumpkin seeds, golden raisons, dried blueberries.)
Hydration station: citrus infused water (lemon, orange, lime.)
Rotating infused waters: Cucumber mint; Mango and ginger; Strawberry basil; Watermelon; Apple and mint; Cranberry lime.
Complimentary drinks
Water, soft drinks and juices.
Red Bull and Red Bull sugar free.
Coffee, espresso, latte, cappuccino, tea, hot chocolate.
House red and white wines.
Prosecco: Mionetto.
Vodka: Smirnoff.
Red Gin: Beefeater.
Rum: Cruzan.
Whiskey: Evan Williams, Black Label.
Scotch: Cutty Sark.
Beer: Miller Lite, Bud Lite, Budweiser.
Premium cocktails
That Toddlin' Town: Chicago distilled Koval Four Grain Whiskey, Rare Tea Cellar Sicilian Blood Orange Tea, Balsam American Amaro, Strawberry, Citrus and Mint: $10
The Hanky Panky: A modern twist on the classic 1903 cocktail first introduced at London's Savoy Hotel American Bar Hendrick's Gin, Blood Orange, Sweet Vermouth, Fernet Branca, and Rosemary: $10
Basil Raspberry Margarita: Delightfully refreshing with a hint of the unexpected Patron Reposado, Lemon, Lime, Cointreau, Pure Agave, Raspberry Puree, fresh Basil & Salt Schmear on the side: $10
Mule Cocktails: A delicious combination of house-made ginger beer, juicy lime and any spirt of your choice topped with aromatic bitters: $10
Texas Mule: Tito's Handmade Vodka and Angostura Bitters: $3
Spicy & Stormy: Captain Morgan Rum and Dale DeGroff Aromatic Bitters: $3
Orange Ginger: Veuve Cliquot Champagne and Regan's Orange Bitters: $3
London Buck: Bombay Sapphire Gin and Regan's Orange Bitters: $3
Presbyterian: The Duke Whiskey and Angostura Bitters: $3
Moscow Mule: Grey Goose and Angostura Bitters Grand Marnier Float: $3
Premium beers and wines
Beer
Local craft: $3
Blue Moon: $5
Corona Extra: $5
Goose Island 312: $5
Heineken: $5
Lagunitas IPA: $5
Revolution Anti-Hero IPA: $5
Sam Adams: $5
Stella Artois: $5
White wines
Esperto Pinot Grigio: $9
Love Block Sauvignon Blanc: $12
Moonlite White Blend: $9
Rombauer Chardonnay: $15
Fleur de Prairie Rose: $8
Champagne
Moet & Chandon Imperial Brut: $15 By the Glass
Piper-Heidsieck Rose: $30 Half Bottle
Red wine
Layer Cake Pinot Noir: $9
Decoy by Duckhorn Merlot: $9
Motto Gun Ho Red Blend: $9
Bonterra Zinfandel: $9
Jordan Cabernet Sauvignon: $15
Stag's Leap Wine Cellars Artemis Cabernet Sauvignon: $15
Premium spirits
Vodka
Deep Eddy: $7
Ketel One: $9
Grey Goose: $12
Gin
Bombay Sapphire: $9
Hendrinck's: $12
Tequila
Patron Silver: $9
Patron Reposado: $12
Rum
Bacardi: $7
Captain Morgan: $7
Bourbon, Whiskey & Rye
Jim Beam White Label: $7
Buffalo Trace: $9
Bulleit Rye $9
Jameson: $9
Crown Royal: $12
Maker's Mark: $12
Scotch & Cognac
Glenfiddich 12 year: $12
Courvoisier VS: $12
Macallan 12 yr: $15
Glenlivet Founde's Reserve: $12
Balvenie DoubleWood: $15
Liqueurs
Baileys: $7
Campari: $7
Cointreau: $7
Airlines
You may have access to United Club as a premium customer of one of the following airlines, or as an elite member of their frequent flyer program. Check the Access rules tab for more details.
Star Alliance
Access for eligible customers traveling on any Star Alliance member airline.
| | | | | | |
| --- | --- | --- | --- | --- | --- |
| | ANA (NH) | | Aegean (A3) | | Air Canada (AC) |
| | Air China (CA) | | Air India (AI) | | Air New Zealand (NZ) |
| | Asiana (OZ) | | Austrian (OS) | | Avianca (AV) |
| | Brussels Airlines (SN) | | Copa Airlines (CM) | | Croatia Airlines (OU) |
| | EGYPTAIR (MS) | | EVA Air (BR) | | Ethiopian Airlines (ET) |
| | LOT Polish Airlines (LO) | | Lufthansa (LH) | | SAS (SK) |
| | SWISS (LX) | | Shenzhen Airlines (ZH) | | Singapore Airlines (SQ) |
| | South African Airways (SA) | | TAP Air Portugal (TP) | | Thai Airways (TG) |
| | Turkish Airlines (TK) | | United (UA) | | |
Other airlines
| | | | | | |
| --- | --- | --- | --- | --- | --- |
| | Aer Lingus (EI) | | | | |
Access rules
United Club at San Francisco, CA (SFO) welcomes:
United Club members departing on a same-day flight operated by United or a Star Alliance member airline, or arriving on a United flight (+2 guests, or the member's spouse and children under the age of 21.)
United Polaris business class passengers departing or connecting (no guests)
United Business passengers departing on a United transcontinental Premium Service flight at the origin and destination of their premium transcontinental flight (no guests)
United Business passengers departing on an United international flight (to/from Mexico, Guam, Caribbean, Central America, Columbia and Ecuador) at departure, connecting and arrival airports (no guests)
Business Class passengers departing on an intercontinental flight operated by a Star Alliance carrier (no guests)
First Class passengers departing on an intercontinental flight operated by a Star Alliance carrier (+1 guest)
United Premier Gold, Premium Platinum, Premier 1K, and Global Services members departing on an intercontinental flight operated by a Star Alliance carrier in any class of service (+1 guest)
Star Alliance Gold Members (except United Premier members and above) departing on a domestic or international flight operated by a Star Alliance carrier in any class of service (+1 guest)
United Club one-time pass holders (paper or electronic passes) (no guests)
Active U.S. military personnel departing on a same day United flight (+family members)
Amtrak Guest Rewards Select Plus and Select Executive members departing on a same day United flight (+1 guest and children under the age of 21.)
Air Canada Maple Leaf Club members departing on a flight operated by a Star Alliance carrier (no guests for Air Canada Maple Leaf Club North America members, +1 guest for Air Canada Maple Leaf Club Worldwide members)
Notes:
Passengers in domestic First class do not receive United Club access. United Business passengers flying on a Premium Service flight between San Francisco/Boston, San Francisco/Newark, or Los Angeles/Newark receive access at the origin and destination of their premium transcontinental flight.
A government-issued photo ID (such as a driver's license, passport or military ID) may be required.
Cards accepted

When flying Star Alliance. North America Plus and Worldwide memberships only

Yelp
Comments
Photos